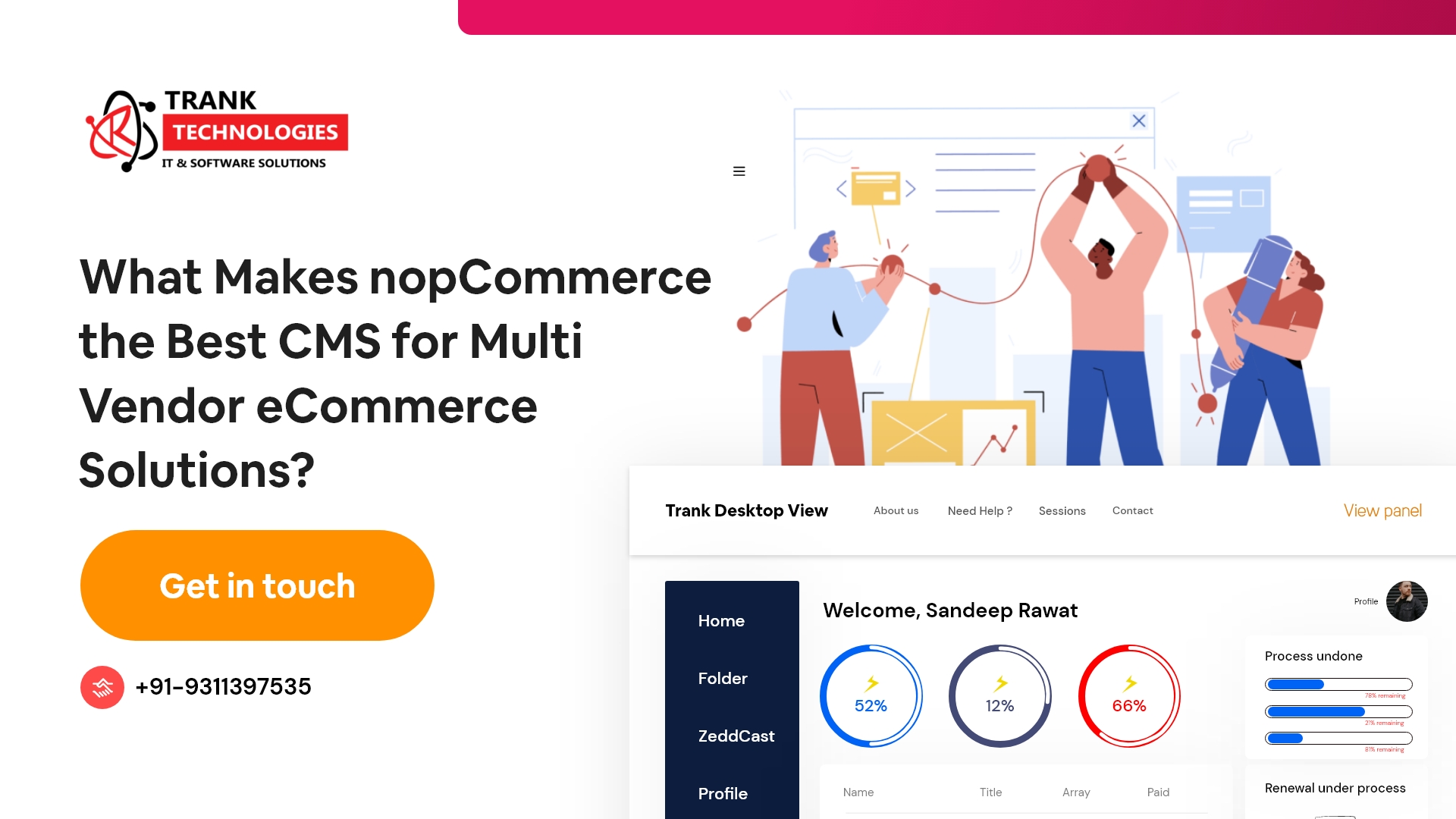 What Makes nopCommerce the Best CMS for Multi-Vendor eCommerce Solutions?
In the age of modern-day shopping, eCommerce has gained extensive popularity. It made shopping easy and viable for everyone. Today, there are almost 12-24 million online stores worldwide. These virtual stores are gradually becoming a business need. Therefore, you need a potent eCommerce development platform. However, choosing a top CMS for developing your online store is difficult. According to our market research, we have seen that nopCommerce CMS solutions are the best for your eCommerce business. 
nopCommerce was launched in 2008 by Andrei Mazulnitsyn. It is one of the most used platforms among other popular CMSs like WordPress, Joomla, Shopify, WooCommerce, etc. This CMS platform is flexible enough to be employed by all sizes of businesses. As per stats, eCommerce sales are anticipated to reach $7.4 Trillion by 2025.
You can also read – Top 5 Most Suitable CMS Options For An ECommerce Website
If you have an online shopping store idea in mind and need a nopCommerce development company for professional assistance, Trank Technologies can help you out. Before carrying out a project development roadmap, you must acquire a clear idea of how this CMS can help you out with your online store. We have created a detailed guide on why you should choose nopCommerce for a multi-vendor eCommerce platform. 
Distinct Features of the nopCommerce Platform
The robust functionality of nopCommerce assists small, medium, and large businesses. It combines all the features for the efficient functioning of B2B, B2C, D2C, and B2B2C sales locally and globally. Let's look at some of these distinct features of nopCommerce:
1. Mobile Commerce
Today, a mobile-friendly eCommerce store is a must for your online shopping business. It is because almost every customer likes to buy something while surfing the internet on their smartphone. nopCommerce platform offers a mobile version of your website with a feature-rich and graphically pleasing storefront. It also helps virtual store owners to provide relevant offers, products, and promotions without extra extensions. Offering a mobile responsive website is one of the best features of nopCommerce CMS solutions. 
2. Open-Source Platform
Unlike other platforms, nopCommerce doesn't contain any transaction fees. It is a free open-source platform. nopCommerce meets the requirements of various industries and distinct businesses. For example, a health & beauty industry owner wants to sell medicines & beauty products online.  nopCommerce is the perfect CMS platform for enhancing the brand's online presence by creating an intuitive customer experience & automation process. 
You can also read – How Much Does It Cost To Build An Ecommerce Website In India?
3. Multi-Vendor eCommerce
A multi-vendor eCommerce platform is a unique place where multiple vendors can sell their products or services. The most popular examples of multivendor marketplaces are Amazon, Etsy, and eBay. nopCommerce offers a multi-vendor feature for growing marketplaces. With nopCommerce, you can create B2B, B2C, or D2C multi-vendor stores for selling niche-specific or other types of products. Moreover, you get complete admin control of the marketplace. 
If you want to leverage the nopCommerce CMS solutions, then take professional assistance from top website developers. 
4. Payment System
Payment is the main attribute of an eCommerce website. Allowing customers to pay in their convenient mode is a sign of a user-friendly experience. And the one platform that allows various types of payments and improves your online store's user experience is nopCommerce. It accepts payment from every mode, be it credit or debit card. With the help of nopCommerce, you can set payment modes. In addition, it also supports refunds and void functionality. 
Besides, nopCommerce has PCI DSS certification that ensures all the information regarding a credit or debit card is being maintained in a secured environment. It is one of the most significant features of nopCommerce CMS solutions. 
5. In-Built SEO Tools
SEO plays a vital role in digital marketing that increases the visibility of your website and boosts traffic. Having a great eCommerce platform is not enough. You need to make it seen on search engines. nopCommerce understands the significance of SEO for your online store and helps you gain higher rankings which leads to increased organic customers. 
It offers SEO-friendly URLs, sitemaps, microdata for SEO, Google Analytics integration, breadcrumb navigation, etc. For administering this feature on your e-store website, it is always good to take the help of nopCommerce CMS solutions. 
You can also read – Top 10 E-Commerce Web Development Companies In Delhi
nopCommerce VS Shopify
Deciding the most effective CMS for your eCommerce website is extremely important since it can be responsible for the success or failure of your store. Before selecting a platform, it is crucial to consider how it will serve your business needs. nopCommerce and Shopify are two feature-rich eCommerce platforms that transform your small or medium stores into large businesses. 
Here are the three differentiating factors between nopCommerce and Shopify:
Design – Shopify has a distinctive website design approach. It offers hundreds of appealing themes available at the Shopify theme store. These themes are mobile-friendly. On the other hand, nopCommerce has seven free themes. However, you can install any free-to-download themes as it is an open-source CMS solution.
Themes & Templates – Shopify provides a wide variety of themes and provides users with trendy templates for your store. It also offers some customization options like a predefined color scheme, drag & drop creator, etc. On the contrary, nopCommerce offers high-quality themes and allows you to create a business-like website in minutes without coding skills.
Add-ons– nopCommerce is considered suitable for small to medium-sized businesses. It is a growing platform that offers many add-ons like social media, payment alternatives, SEO, etc. Shopify provides paid and unpaid add-ons for your store that incorporate additional features & functionalities to your eCommerce store. 
Undoubtedly, both Shopify and nopCommerce are the best in business CMS platforms. They have certain features that differentiate them from each other. However, there are a few factors that make them distinguishable. If you are a small or medium-scale brand, then nopCommerce CMS solutions are best for your business. In the case of large enterprises, Shopify works wonders. 
You can also read – 3 Best Ways To Create Flawless B2B ECommerce Mobile Apps
nopCommerce VS WordPress
WordPress and nopCommerce are two successful content management systems in the market. While nopCommerce is a brand new introduction, WordPress has been there for a long time. However, both CMS work efficiently for your website with distinct features and functionality. 
Below is the list of discriminating factors between nopCommerce and WordPress:
nopCommerce is the ideal solution for eCommerce platforms that want to customize their customers' journey while buying. It is designed to cater to your store's needs. On the other side, WordPress is perfect for those whose business depends on content creation like blog posts, etc. However, if you want to build an e-store and captivate users, then the nopCommerce CMS solution is the right choice. 
Both nopCommerce and WordPress are cost-effective. WordPress can build any design with thousands of free and low-cost themes. Moreover, nopCommerce is an open-source platform where most things are free and easily downloadable. 
WordPress sometimes runs into problems that take a lot of time to settle and cost money. Meanwhile, nopCommerce has a great architectural design that helps to maintain the application and includes new features from time to time. 
You can also read – Why Is Hybrid App Development The Best Recourse For Mobile Commerce?
nopCommerce may be a recent launch, but its performance is far better than some CMS alternatives. If you run a store and want to enhance its online presence, then build a powerful website with the help of a nopCommerce development company. 
Final Thoughts on nopCommerce CMS Development Services
Today, the internet world is winning everyone's attention. Be it a 5-year-old kid or a 50-year-old entrepreneur. Everybody is surfing many things online. Isn't it an ideal way to connect with your target audience? All you need to do is to create an online presence for your brand. It is possible with the help of a content management system that optimizes your site to attract customers. 
If you own an eCommerce business but struggling to engage the right audience, then it's time to pick a suitable CMS that builds your brand value. By going through the above guide, it can be said that one of the best content management systems is nopCommerce. It is a universal platform for every type and size of eCommerce business. nopCommerce is the only CMS that offers premium features for free. 
If you are searching for a nopCommerce development company, look no further than Trank technologies. It is one of the top-notch nopCommerce web & application development agencies. We provide nopCommerce CMS solutions across different industries such as clothing & accessories, health & personal care, food & beverages, gadgets & equipment, etc.
You can also read – Why Hire ECommerce Website Development Services For Magento 2 Migration?
Besides nopCommerce, we also specialize in other CMS platforms that encompass Shopify, WordPress, PrestaShop, OpenCart, CS-Cart, BigCommerce, Magento, and more. You can also consider our custom eCommerce services with MEAN and MERN technologies.