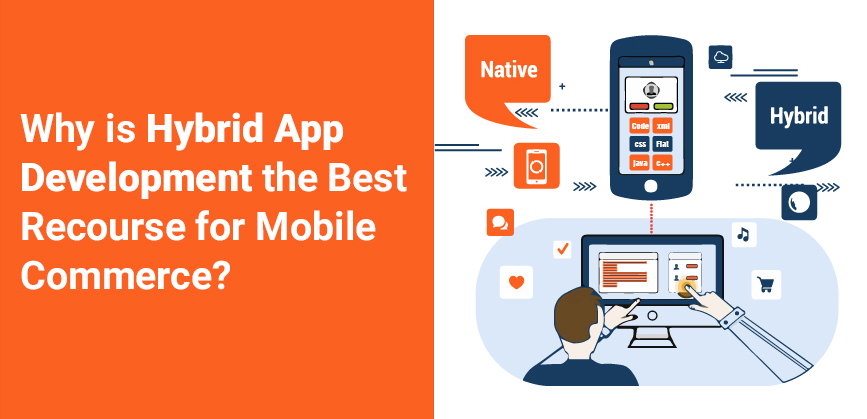 Why is Hybrid App Development the Best Recourse for Mobile Commerce?
Online shopping has become a staple for millennials because it saves time and maneuver. Customers have embarked on the path of mobile applications with a brilliant user interface where they can find the sorted list of products and buy them in a bit. Online shopping made its way in the market through websites but soon shifted to mobile apps. It's clear that retail businesses can thrive only with a customized ecommerce application. But mobile app design is very extensive and there are so many frameworks and patterns to choose from. So does native app development works for mobile commerce or hybrid app development?
You can also read – Why Hire ECommerce Website Development Services For Magento 2 Migration?
Android and iOS app development methods have certain limitations that are not quite easy to subdue. Hybrid app development methodology on the other hand comes with a series of benefits for both users and developers. In the following post, we will discuss the reasons for considering hybrid app development services for mobile commerce solutions. Before that, we will decode the rise of hybrid applications in recent years.
Hybrid App Development & User Preferences
The structure of a mobile app must contemplate the fulfillment of the brand's needs and users' expectations. Different app design practices have distinct advantages, but hybrid apps have defeated the popularity of native applications in the past few years. Adaptability throughout numerous platforms and faster deployment sum up to be lucrative for both ends of the market. App development agencies create hybrid apps due to the streamlined coding part of design and development. On the flip side, users prefer these apps because of their broad accessibility. 
A hybrid app is initially created as a native container with a mobile web view object. When a user accesses the app, the data comes up as web content. Several technical arrangements of HTML and JavaScript technologies make it possible for developers to distribute the info in this way. Using this method, either the entire content of the app can change to a web view display or just a few selected parts. The inclusion of JavaScript APIs in hybrid app development is another cause of enhanced functionalities.
You can also read – Real Estate Mobile App Cost – 12 Elements That Define The Development Budget
Hybrid App Development Benefits for Mobile Commerce
Distinguished Budget Goals
In terms of investment, hybrid app development is hands down the best choice for mobile commerce. A brief overview of the technology trends in the last decade clearly depicts the user behavior and consequences of innovations. Mobile commerce is the future of retail, but hybrid app development is the future of mobile commerce and retail businesses. Hybrid app methodology of development has the capacity to combine the best features of native and web applications.
There is no doubt that hybrid app development is an ultimate choice for mobile commerce. Not only is it immensely beneficial, but it's also cost-effective. All the time retail brands spend waiting around for native and web app development is relatively overrated. With this mode of development, the process of project completion gets comparatively faster and more budget-friendly. It is certainly the best selection of framework for a retail business struggling to manage its technology expenses.
Agile Development with Better Control
This lucrative aspect of hybrid app development deals with the structural angle of mobile commerce. When the development cycle follows an agile hierarchy, the cost of app design settles in a controllable periphery. Moreover, hybrid apps lift the limitations that Apple App Store has set for its users. On App Store, submission of a new app is rather time-consuming and requires validation. The same goes for application updates. On the contrary, retail businesses can update their ecommerce hybrid apps at their convenience.
You can also read – Healthcare Mobile App Development – 8 Must-Have Features You Shouldn't Miss
Expedient UI/UX Design
Hybrid app development gained significance in the IT arena because of the consistency and user experience it provides across all platforms. It usually entails a simplified development and deployment process that works on both web and mobile. Among many advantages of hybrid app development for mobile commerce, loading content is easier on this platform. These apps are lightweight and this is why data streaming is so smooth and precise. It also means that displaying products on hybrid ecommerce apps is effortless.
Manageable Backend with Native Appeal
Undoubtedly, native mobile apps can deliver a better user experience. But hybrid apps can also replicate the user experience of a native design. Despite similar experiences, hybrid apps are better than native applications because of the undemanding backend setup. It is easy to choose a comprehensive framework in hybrid app development. A wide framework with multiple features helps in building an improved hybrid app UI/UX. This UI/UX design then changes into a shoppable app with device-related functionalities.
You can also read – On-Demand Delivery App Development Cost – How Much Should You Invest?
Final Thoughts – A well-researched mobile commerce project can flourish with the hybrid app development services of a reliable app design agency. If you are on the hunt for a company with substantial experience in mobile commerce, Trank Technologies is the place you need to be. A quick call and free consultation with our technology team can turn into a profitable collaboration for your retail enterprise.