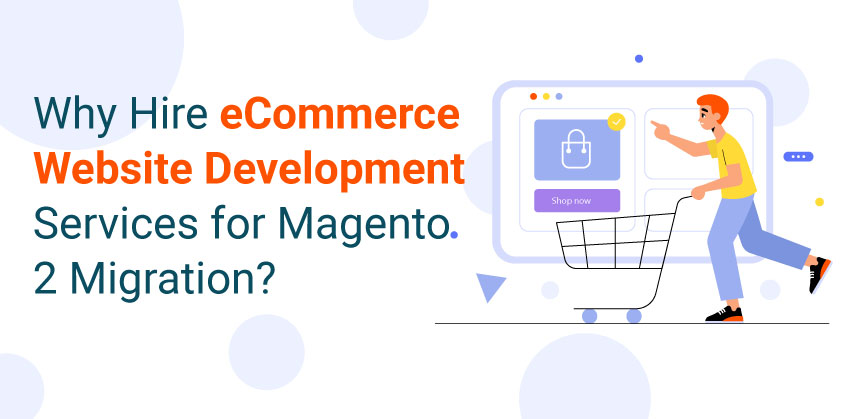 Why Hire eCommerce Website Development Services for Magento 2 Migration?
Magento 2 was released in 2015 by Adobe to enhance the eCommerce experience for users worldwide. E-Commerce wasn't a big deal when it was initially launched in the market, but the picture has entirely changed now. The online marketplace is filled with online shopping stores. More and more companies are showing interest in version updates due to the increased scale of website security and convenience. This is why Magento 2 Migration has been on a roll in eCommerce Website Development Services.
Top eCommerce Web Design and development companies in India and overseas prefer Magento to create online stores because it offers a lot of options for developers. Apart from this, the user-friendly layout of Magento simplifies product management on the store extremely simple. Just like its older version, Magento 2 has also captured the eyes of eCommerce firms. Every other store is hiring website developers to migrate the website from Magento 1 to Magento 2.
You can also read – 6 Uses Of Magento 2 Elasticsearch In ECommerce Website Development Services
Indeed, the migration of online stores to Magento 2 is urgent. Since Adobe has suspended the technical support for Magento 1, website migration will now be a hassle. Besides this, there are many other amenities of this latest Magento version that you can use to upgrade the quality of services and customer experience in your store.
You can either hire a professional company for migration or hire a dedicated developer to do the same. Your store will benefit from this technical shift both ways. Here's what you need to know before migrating your online shopping store to Magento 2:
Plan Your Magento 2 Migration Map
Instead of jumping on the idea of eCommerce website development and migration services, you can consult with your internal team and stakeholders to inform them about it. In addition to this, segregate your migration plan in different stages to sustain the technicalities of eCommerce arrangements. Your migration plan must include the following:
Migration planning for products, various categories, buyers, orders, product page descriptions, and other types of content.
The navigational structure for every corner of your website to maintain the exact same level of user-friendliness that you had in your previous website version.
A comprehensive list of project formalities including the step-by-step goals and defined timelines.
Develop Testing Arrangements for the Website
Migration is an essential part of website development improvements. To make sure that everything goes as planned, you must begin with an exclusive testing arrangement. Also, you should make all the changes and data shifting using an allocated server. This way, the actual performance of your website will not undergo downtime. To avoid this, you can consult a DevOps professional who can create a test development environment for your online store.
You can also read – ECommerce Marketing On Social Media – These 7 Techniques Can Never Go In Vain
Be Careful with Functionalities & Extensions
An errorproof Magento 2 migration plan exhibits strong preparation for extensions and various functionalities of the eCommerce store. You must ensure that you have a mapped layout of extensions and other components of the navigation. This way, you will be able to configure the relevant extensions and addons after migrating the entire data on Magento 2 hassle-free.
Aim for an Undisrupted Data Migration
When there is a whole lot of information to be shifted on the latest version of the Magento 2 platform, overwhelming can become palpable. The good part is, Magento already has an automated transferring tool that you can consider for migrating data from the existing website. During the migration, you will also come across the incompatibility issue between the themes of older and new versions. In that case, you can consider switching to the new theme options for undisrupted data migration and website performance.
Wrap Up with Database Synchronization & Final Launch
Once you surpass the testing, design, and addon configuration phases of website migration, you will need to make hosting server arrangements as per the upgraded requirements to comply with Magento 2 database. To accomplish this, you can spend some time in database synchronization before launching the website with new updates. Also, make sure that your team keeps an eye on the new platform for smooth performance on the web during the initial phases of launch.
You can also read – Headless Shopify ECommerce Development – 10 Pros & Cons For Online Stores
Things that might go wrong during Magento 2 Website Migration:
The latest version of your eCommerce website might end up looking completely different and slightly less user-friendly than the previous one. It might be a possibility because technical migration is far away from easy drag and drop.
Internal data structure covered with complex coding can lead to a maze of custom adjustments to the website.
Magento 2 website migration is a beneficial idea, but it can certainly affect the SEO performance of your online store for a while.
Some of the extensions that you used in Magento 1 may not get effective in Magento 2 migration and affect the functionality of your website.
You can also read – 5 Ways To Choose The Best E-Commerce Development Technology For Online Stores
Conclusion 
Instead of coiling your perfecting running eCommerce site with the disastrous impact of DIY Magento 2 migration, you can contact a web development professional. At Trank Technologies, we have a team of immensely trained web developers. These professionals can handle the migration part of eCommerce web design and development quite methodically. These web developers know the basics of online store setup and accomplish the migration faster and more securely than you can. For cost-effective eCommerce website development services, get in touch today!