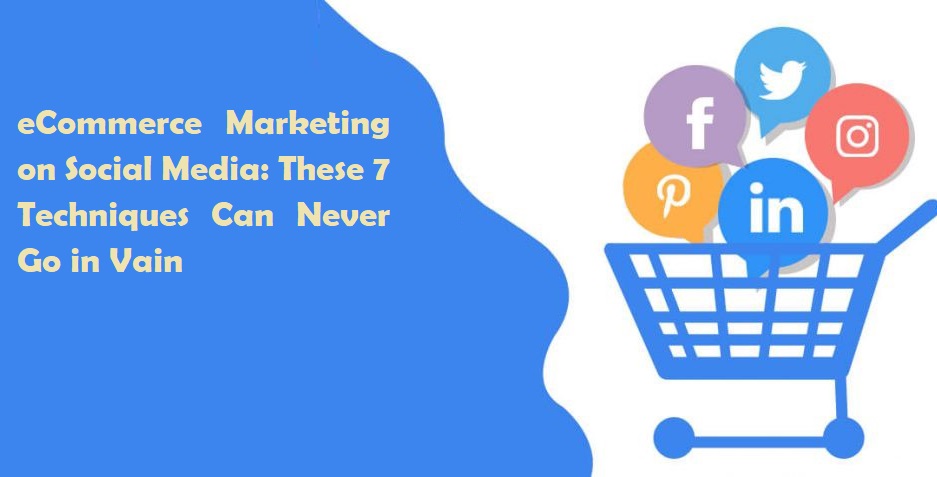 eCommerce Marketing on Social Media – These 7 Techniques Can Never Go in Vain
There is a famous retail excerpt that says, 'Sales go up and down. But service stays forever!' While these words may not completely reflect the intensity of this adage, the context conveys a very strong significance. It depicts the prominence of delivering a service over goods, even in a retail business. No matter how effective and unique your products are, it's always the engagement that you sell to your buyers. In this post, we will discuss the most efficient social media marketing techniques for eCommerce websites and mobile apps.
Current times are witnessing the scale of competition an eCommerce brand has to endure at the early stage of its growth. To lead a successful route in the eCommerce retail line, you either have to offer something new and innovative, or you will need to combat the usual market rush. So, what's the best possible way to market a new eCommerce website or mobile app on Facebook, Instagram, and social networking platforms?
A brief overview of social media effectiveness has been explained to let you comprehend the influence of social networking marketing on retail and eCommerce.
You can also read – 5 Ways To Choose The Best E-Commerce Development Technology For Online Stores
Impact of Social Media Marketing on eCommerce Industry
As per the recent trading surveys, more than 70% of global consumers buy daily supplies and other essential products online. On the other hand, more than 44% of online users choose social media platforms to shop for their favorite products hassle-free. With quick and simple phone apps, they get to browse thousands of options in a single click.
Smart search integration has elevated the quality of online shopping, making social media a free and effective billboard for developing businesses. Social media marketing is impeccably vast, given different methods of user engagement on various popular platforms. However, some similar terms such as social commerce and social selling are often confused with social media marketing.
In contrast, all these terminologies have discrete meanings. Social commerce involves the use of Facebook & Instagram shops, Pinterest product pins, and others. On the flip side, social selling entails the direct practice of connecting with the buyer through engaging posts and live videos. Social media marketing for eCommerce can be described as a collective step to communicate with the buyer on a broad level.
Now, let's move on to the part and discuss some of the most efficient social media marketing methods to launch and promote an eCommerce business.
Social Media Marketing Techniques for New eCommerce Websites & Mobile Apps
1. Create A Relatable Identity
Marketing experts choose to commence this social media marketing phase before the actual launch. Now that you are on to something big, start your ecommerce social media marketing campaign in the pre-launch span. The deal is simple! Begin with a page where you can share engaging and relatable posts. You can either create your unique shopping-oriented memes or release a shopping guide as a tips-&-tricks series.
Some of the most popular pages on Facebook & Instagram often gather their audience using funny posts. Once the page starts to receive sufficient engagement, the posting pattern gradually shifts to product discussions. All-in-all, there are different ways to lay the existence of a growing business. It is up to your functional approach whether you want a direct promotion or hierarchical campaign development.
You can also read – B2B Mobile App Development – 5 Rules Service Providers Swear By
2. Generate Shoppable Social Media Posts
Selected social networking platforms like Instagram and Facebook have now upgraded with many exceptional features. The communication paradigm has taken a drastic turn on social media. The apps and websites previously used for connecting with friends can now be used to sell stuff in a far more transparent way.
Though, you need to be more straightforward with your message to the buyers. Instead of creating a long social media blurb about the products, you can present your customized collection in a post. Selling on social media platforms can become easier with the help of well-designed shoppable posts. There's no unique algorithm for such posts.
However, you must provide actionable details along with brief info about the range and price. Customizing an existing product image with pricing, availability, and other relevant information is an efficient way to do so. On the other hand, you can also consider sharing a series of product images and add essential details in the caption. Interested customers can send the request through comments and messages directly.
3. Leverage Stories & Reels for Exposure
Instagram reels and Facebook stories are some of the most influential means of promotion for social media ecommerce marketing campaigns. We all know how often people check these social media posts in their free time. And that free time can be your promotional space for optimal exposure that your ecommerce brand needs in the initial stage.
To begin with, you can choose some of the best products from your collection. Now, set the place and shoot small videos with your products with prices in the subtitles. Although, you will also need to make sure that your social media stories and reels don't look like those telemarketing ads that people usually skip.
4. Experiment with User-Generated Posts
Nothing works better on a campaign than an actual testimonial. No matter how harsh the market competition is, user-generated posts always work. Your potential buyers on social media are fascinated by the scale of authenticity and trust you offer through your service.
You can also read – Mobile Commerce Development Services In India – An Overview Of Mobile Dominance In ECommerce Industry
To make this ecommerce social media marketing technique work, you will need to spend more time responding to your recent buyers. It also involves the encouragement to convince them to share their experience with the purchase. While it seems like a lot of work for an online promotional campaign, user-generated posts will paint a bigger picture of your ecommerce business on social media.
5. Build A Consistent Posting Schedule
Consistency is the only key to draw the image of a trustworthy brand amongst social media users. There may not be any hard and fast rules to sell products on these platforms, but you can always leverage the free internet space as a free reminder for your buyers. The social networking realm acts as an open passage for booming businesses that can deliver reliability to online buyers and a structural posting system is one way to do so.
You can select different days for various types of posts and schedule all of your postings accordingly. You don't need to create social media ecommerce marketing posts every day. Make them collectively and schedule them for each day through the week.
6. Collaborate with Popular Pages
Let's face it! You have a proliferating ecommerce business to promote. Therefore, you can't avoid the scope of collaborations coming your way. Many social media influencers diligently promote good-quality products offered for online buyers at amazing prices. Finding these influential social media pages is all you have to do to accomplish a lucrative collaboration for your upcoming business.
7. Invest in Pinterest Carousel Ads
Facebook and Instagram offer multiple routes for ecommerce businesses to flourish using customized 'Shops' and designated 'Ads' options. If you are not quite sure about paid social media marketing, then you can consider using Pinterest carousel ads to showcase some of your best products online. Properly clicked images with a slight hint of editing can go a long way in terms of impact and effectiveness. 
You can also read – Headless ECommerce Web Development – What's New For Shoppers & Sellers In India
Conclusion – With such an evolved technology paradigm and free platforms for promotion, selling goods online doesn't have to be so complicated. Make sure that you create and follow a tangible strategy to put forward your upcoming eCommerce brand through social media marketing.