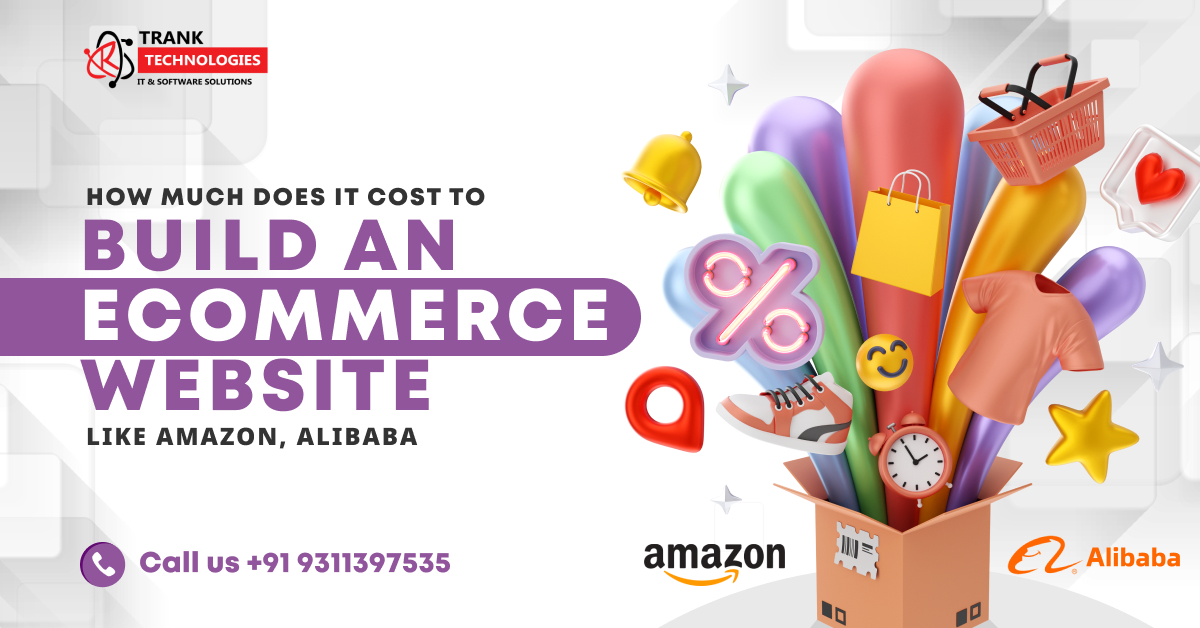 How Much Does It Cost To Build An eCommerce Website Like Amazon or Alibaba?
The e-commerce sector greatly adds to people's quality of life by making it easier for them to purchase the goods they need and want. When purchasing online, people will surely spend more money than usual. Customers consider e-commerce websites like Amazon to be well-liked and well-known as a result. However, that doesn't mean you can launch your e-commerce website and anticipate it to gain the same level of notoriety as Amazon. But how to create an online store that is as well-liked and lucrative as Amazon still has to be addressed. It will all be covered in this blog on eCommerce website development cost.
What Are The 2 Top E-Commerce Companies?
Here are the 2 giants of the eCommerce world. Let's have a look at them.
Amazon
A major online retailer like Amazon began as an online bookstore. However, it now accepts a variety of goods, from groceries to electronics. The company sells a variety of gadgets and provides services including cloud computing and video streaming.
Amazon is renowned for its rapid shipping and top-notch customer support. Close to 341 million goods, or three times as many as Walmart, are listed on Amazon.com. The website ships to 100 different countries and is available in 10 different languages.
Alibaba
A sizable portion of the e-commerce business is controlled by the Chinese corporation Alibaba. Jack Ma created it as a business-to-business organization in 1999. The 2003 launch of the e-commerce website, which is today ranked as the eleventh most popular website on the whole internet. With a $480 billion market valuation, Alibaba is more valuable than Amazon.
Other websites operated by Alibaba, including Tmall, Taobao, and AliExpress (the majority of which are either free to use or cost very little to use), are utilized by 800 million additional users. Alibaba focuses on selling goods produced in Asia, particularly in China. As a result, you may get goods for a lot less money than you would if you bought them from Amazon or another major international retailer. 1/3 of all online consumer spending is made on e-commerce sites like Amazon, eBay, and Alibaba. Over $1 trillion USD was spent on e-commerce websites globally in 2015.
Given these facts, a crucial issue arises: what qualities exist in an online store like Amazon that contribute to its success?
You can also read this: Top 5 Most Suitable CMS Options for An eCommerce Website
What Characteristics Make Amazon Unique?
The following are some characteristics of Amazon that have contributed to its success:
Personalization:
This is the process of tailoring a website to each user's wants and interests. This could contain material tailored to the consumers' geographic area, age, and gender. Before beginning their online shopping on Amazon, consumers may connect with their social network accounts, such as Facebook, Pinterest, and Gmail. As a result, Amazon can offer a smooth shopping experience and make suggestions that are unique to you.
Easy Payments
Amazon offers a variety of payment options, including online and mobile banking, mobile wallets, credit/debit card payments using Visa or Mastercard, and payment through your bank account. Users now have the opportunity to shop on the site with a variety of payment methods available to them.
Easy Returns
Amazon makes it very simple for customers to return items. Depending on the product the customer bought, there are two return options: Standard return and Super Saver refund. Within 30 days of receiving your goods, a normal return may be completed simply and at no cost. Similar to a conventional return, a super saver return necessitates the self-shipment of the item.
B2C (Business To Customer)
Amazon provides B2C (business-to-customer) vendors with a variety of alternatives. These include Amazon Web Services (AWS), the most well-known B2C program that offers hosting for websites and mobile applications, and the Fulfillment by Amazon (FBA) program, which offers comprehensive services for sellers.
How Can I Create an Amazon-style E-Commerce Website?
The following are the actions you should take to create an Amazon-style website before the cost of eCommerce website development step-by-step:
The first step is to draft a plan outlining all of your objectives for your e-commerce website as well as your short- and long-term objectives.
To ensure that the web design follows the plan, wireframes must be created in tandem with the design. These wireframes will enable you to make your website more user-friendly without affecting the aesthetic of the web pages.
Next, make a list of all the features that are necessary for the website. One or more of the features may be the ability to register and log in, explore and search the website, get information about and reviews on specific products, add items to a shopping cart, create a wish list, and monitor orders.
After allotting space for each and every file, create an approximate estimate of the number of pages on your website and their page size in KBs. You will then need to create an overall timeline for designing the complete website.
Before developing a design strategy for your website, designers must conduct extensive research on your niche and the competition. A wireframe draft document that depicts how your site will appear at each step of development will be created by the designer as a final product.
Understanding what to anticipate from a typical web development business may help you when asking for quotes from various web development firms. Services including content management, hosting, domain registration, and site design are offered by web development businesses. To obtain the greatest value for your money, shop around as the pricing range for these services varies greatly between businesses. For your project, be sure to either employ or outsource a competent developer.
Next, since your users will need to reveal their personal information, take extra security procedures to protect it. A successful website should constantly prioritize user privacy and security.
Finally, it's time to launch your website. At this point, concentrate on using effective marketing strategies to draw ever more visitors to your website.
How Much Does eCommerce website development cost?
When attempting to create an entirely working online marketplace like Amazon, there are several aspects to take into account before the cost of eCommerce website development. These elements consist of:
The kinds of things you want to sell on your website, such as apparel, sports equipment, etc.
Whether your business will take care of order fulfillment
How much say do you want in terms of the price and shipping?
Whether you want to accept the processing of online payments or not
What level of technical knowledge do you have on staff?
The average eCommerce website development cost for a simple e-commerce website starts at $7000 for a new site. Depending on the complexity of your website this cost of ecommerce website development can go higher.
Additionally, the price of eCommerce website development varies greatly from one region to another. Since you won't have to pay for office space and equipment if you hire remote developers, you'll probably save money. Similarly to this, if your company is established in a developed nation like the US but its developers are located in India and are working remotely, it's likely that the minimum salaries vary and you may make financial savings as a result.
Wrapping Up!
You may get started on your own e-commerce website right away after learning all the important facts about creating an online store like Amazon.
According to our experience, it takes months to create a product from scratch that has all the characteristics listed above and is ready for launch. Nevertheless, the length of time may vary based on the sort of website you intend to construct. There are several freelancers and firms who create e-commerce websites today. Before employing someone for the position, make sure to conduct an extensive investigation of the cost of eCommerce website development.