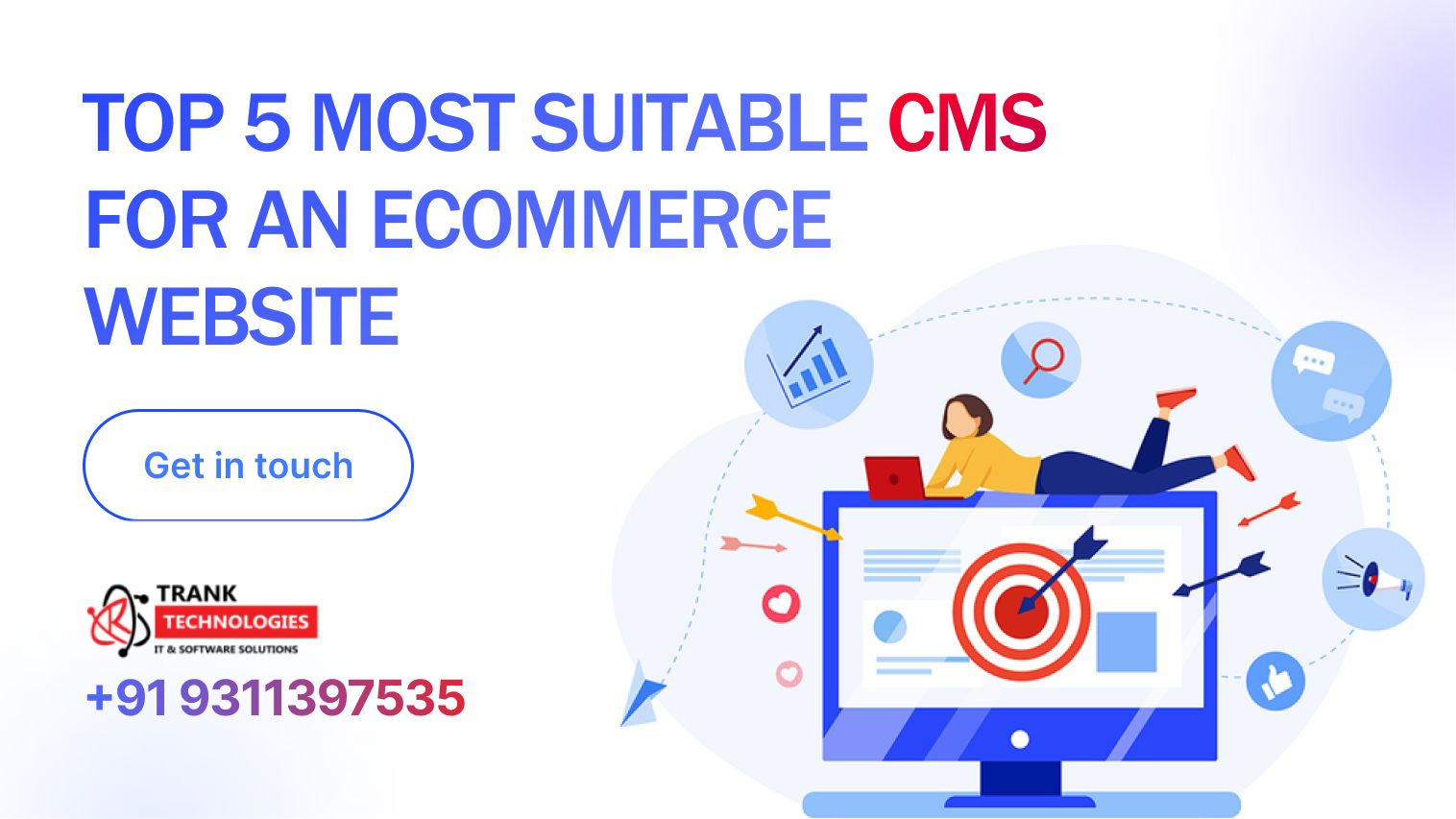 Top 5 Most Suitable CMS Options for An eCommerce Website
The amount of online stores is rapidly growing as more and more people are deciding to use online platforms for running their businesses. Even a brick & mortar store owner is attempting to create his online presence to connect to as many buyers as possible. The retail shops have lost patrons, while the online stores have gained numerous users over the years. According to Statista, there are over 2 billion digital purchasers, which shows how online businesses are increasing. In our today's post, we will breakdown the eCommerce website domain and the top CMS options along with a brief discussion of their features.
The making of an online shopping store can be tremendously meticulous. Fortunately, web development techniques have evolved over the past few years. Instead of running after highly expensive custom development services, eCommerce websites can now be created with a CMS. A CMS or content management system offers a pre-defined set of tools needed to create online shopping portals.
You can also read – How Web Development Companies Deal With The Biggest ECommerce Challenges
However, using these platforms requires prior knowledge in web design and development. You may even consider hiring an eCommerce website development company. Either way, you must look for a professional alliance to make sure that you are investing your money righteously in web design and development solutions.
Indeed, CMS eCommerce web development is an efficient way to kickstart your online shopping venture. But, selecting a suitable content management system can be difficult owing to the vast set of options available on the web. Here, we have listed a few alternatives that you might want to consider as the best CMS for an eCommerce Website.
List of top CMSs for an eCommerce website
1. Magento
Magento was officially founded in 2008 as one of the adobe ventures. It is one of the popular CMS platforms for developing online websites. There are almost 7,80,000 websites currently running on this platform, including some of the biggest brands such as Ford, Helly Hansen, Coca-Cola, etc. Magento has some immensely effective features that make it the most suitable CMS for an eCommerce website.
Top Magento Features for eCommerce Website Development
Customization of content and product-based promotions
Personalized customer shopping experience
Simplified techniques to drive with the right product recommendations
Highly intuitive order and inventory management
Viable for multi-channel marketing
Mobile-responsive platform for efficient expansion
Advanced search engine optimization
Easy edits, preview, and scheduling options
You can also read – 3 Best Ways To Create Flawless B2B ECommerce Mobile Apps
Pros
Open-source platform for online store development
A platform with that can be turned into a multilingual interface
Variety of options to get insights related to sales and buyer engagement
End-to-end customization with optimized admin control
Availability of resources to fully comprehend the website
Cons
It is critical for non-technical people to use Magento without any professional assistance.
Magento development can be slightly more expensive that other CMSs.
2. Shopify
Shopify is an eminent eCommerce platform that you may have heard about via TV and social media ads. It helps small and medium-sized businesses to set up an online store and manage the products, tags, shipping, collection, etc. with utmost resonance. Shopify is popularly known as one of the leading CMS choices for eCommerce websites. 
Best features of Shopify for eCommerce Web Design & Development Solutions
Easily customized storefront with various themes
One-click setup for multiple orders 
In-built SEO for reduced marketing efforts
Broad array of custom-built tools
Mobile commerce setup for businesses with scaling customer base
Store customization for social media selling
You can also read – Why Is Hybrid App Development The Best Recourse For Mobile Commerce?
Pros
Shopify is a streamlined CMS platform and you don't need any technical proficiency to run your website on Shopify.
An extensive array of eCommerce themes lays the passage for creative store design.
Robust customer support is another advantage of using Shopify.
Cons
Lack of flexibility as compared to other customizable CMS options for an eCommerce website.
You might need to pay for your favorite Shopify eCommerce website theme. 
Its mobile support is only available in the US, New Zealand, UK, and Australia.
3. PrestaShop
PrestaShop is a CMS platform that helps eCommerce businesses with many online solutions for their digital presence. At present, over 3,00,000 online stores are using PrestaShop worldwide. It has 600+ features that are useful for an online store in its growing phase. However, you will need the help of an eCommerce website development company that knows how to maximize the ROI with the best features of PrestaShop CMS.
Top Features of PrestaShop for eCommerce Development Services
Instant setup of menus and layouts for products
Customized categories based on user's buying behavior
Simlified registration and log in processes for users
Expedient arrangement of discounts based of buyer's purchases
Quantity customization and automated setup applicable on certain products
You can also read – Why Hire ECommerce Website Development Services For Magento 2 Migration?
Pros
User-friendly interface
Free to download and upload host
Personalized themes and extensions
Secured and reliable payment getaways
Advanced search feature for elevated engagement
Cons
PrestaShop is not as scalable as other CMS options for an eCommerce website.
Customer support is not as trustworthy.
Some of its tools and add-ons are expensive.
4. WooCommerce
WooCommerce is the top CMS for eCommerce websites which host over 28% of all online sites. It offers more than 1300 themes and 300+ free and paid extensions. It was introduced in 2011 by a company named "WooTheme." WooTheme has developed some advanced features that are easily functional for administrators and users. 
Compatible Features of WooCommerce for Online Store Development
Quick and simple store setup
Flexible and secure payment method configuration
Easy order management with modernized WooCommerce design
Handy addition and customization of product categories
Pros
Aside from being a free WordPress plugin, it also comes with many other useful options that don't cost a single penny.
It is an easy-to-use CMS solution compared to other meticulous platforms.
Instant setup of themes and extensions is possible with this CMS.
Cons
A brief knowledge of WordPress is essential.
Some crucial extensions come with a pricing.
WooCommerce only works with WordPress themes.
You can also read – Top 8 Shopify Plus Features For Fast-Growing ECommerce Brands
5. CS-Cart
CS-Cart is one of the most popular eCommerce web development services in India. It is a robust, flexible, and fully-featured CMS platform that allows you to build your business's online presence. As more people are leaning towards customized platforms for creating a digital existence, it is vital to choose the right platform. And CS-Cart has been one of such efficient platforms with all the essential features. 
CS-Cart Features for eCommerce Platform Design
It offers a simple checkout process for buyers.
The taxes are automatically set up based on the buyer's location.
CS-Cart is known for delivering the promise of security to website users. 
An in-built layout manager is available at CS-Cart.
Pros
There are multiple mobile-friendly storefronts.
It has countless product categories and listings.
There are several in-built marketing tools and multilingual options.
Over 200 storefront themes and 50+ add-ons are available on this CMS.
Cons
It asks for payment after 30 days with an additional fees.
You can also read – ECommerce Marketing On Social Media – These 7 Techniques Can Never Go In Vain
Final Thoughts on Top CMS alternatives for an eCommerce website
This was a round up on the top 5 CMS options for an eCommerce website that suit the needs of a thriving retail brand. As a growing shopping-based venture, you might want to go through this precise list of features, pros, and cons to reckon the best CMS alternative for your digital storefront. You can also consider eCommerce web migration services to revamp your existing website and reinvent the experience with Trank Technologies and its trusted ecommerce web developers.
Trank Technologies was established in 2013 with a focused aim to provide the top IT solutions for ventures that manifest value and transformation. We have expert developers with years of expertise in building interactive digital platforms. We aslo acquire market understanding to impart our best ideas into our eCommerce projects.