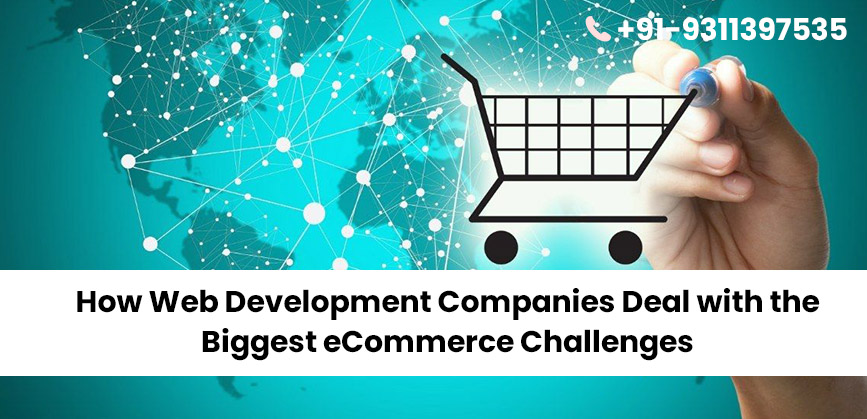 How Web Development Companies Deal with the Biggest eCommerce Challenges
A shopping website might seem like a colourful online presence of a regular store. But there is a lot that goes on behind that exciting eCommerce portal that needs constant monitoring. The last decade has been more of a hay day for the retail industry. The majority of the masses are actively taking part in online shopping, raising a wide share of eCommerce in the growth of the sector. But this contribution has also raised a myriad of challenges for this domain that only eCommerce web development companies can deal with.
We know that demand for high-end user experience is the need of the hour. Digital stores are struggling to meet customers' demands and expectations through quick carts and easy checkout options. However, beating the competitive edge is a tough call in this era. Several obstacles in eCommerce website and app development continue to be an inevitable part of growing shopping platforms. Though, professional web design agencies know how to tackle recurring eCommerce issues and move beyond limitations.
You can also read – How Much Does It Cost To Build An Ecommerce Website In India?
Adapting to the digital realm while sustaining the essence of reality, is indeed a critical transition for a business. But leading eCommerce web development companies in India now excel in a plethora of methodologies. They have development prodigies who can easily pave the way to seamless accessibility. In this post, we will take a comprehensive look at some common eCommerce challenges and their solutions embraced by web design and development firms:
1. Lack of Data Utilization
Using retail data up to its maximum benefits is more of a setback than an actual challenge. It is crucial to expand an eCommerce platform as per its usability and demand amongst target users. It should also include a sales and inventory section for the admin. Moreover, an active customer support mechanism is also an essential façade of online shopping.
At present, all booming digital stores are leaning towards integrated ecommerce solutions powered by data capitalization. Key performance integrals and average order values are some elements that don't get credit for their collective impact on ecommerce development. Lack of data utilization in digital store setup and management is a challenge that requires the supervision of an experienced IT team.
How do eCommerce Experts deal with It?
An eCommerce web design and development company is amicably familiar with consumers' behaviour on the web. They put all vital eCommerce functions of the retail brand at the very core of operations. Their team of project leads customizes websites that accumulate user data in smart automated ways. Their data measurement techniques streamline customer mapping, data visualization, cross-digital influence, and sales flow.
You can also read – Top 10 E-Commerce Web Development Companies In Delhi
2. Proliferating Expectations of Target Users
Major retail brands are thriving to build incomparable portals that serve their target buyers in the best possible ways. And yet, there is a palpable gap between customers' expectations and user experience. It is probably because most businesses fail to deliver the claims they make during advertising and marketing.
Consumers these days are well-aware of what they want to purchase. In that case, compromising the website's user experience will be like walking on thin ice. Competing against eCommerce giants like Amazon and Flipkart in terms of tremendous user interface and unmatched user experience is certainly one of the biggest challenges for retailers.
How do eCommerce Experts deal with It?
Shopify came into existence when its founders couldn't find sufficient online resources for building an online sports gear store. That's exactly how some renowned start-ups made it to the market successfully. The dearth of proper customer experience was the reason why some consumers turned to businesses to offer a far more elaborate user experience.
However, eCommerce web development companies know how to tackle such issues with impeccable UI/UX designs. These agencies leverage personalization for buyer retention.
You can also read – 3 Best Ways To Create Flawless B2B ECommerce Mobile Apps
3. Achieving Agility
Agile development remains at the core of high-end eCommerce website design solutions. IT professionals embrace this methodology to customize quick changes and make deployment smooth sailing before the actual launch. But reaching up to this form of customization and scalability isn't simple. Implementing agile practices in eCommerce web design solutions is a challenge that businesses can't handle on their own. 
Retail brands in India and overseas often struggle with the drastic digital adaptation required to meet the needs of customers. Lack of substantial agility also makes it difficult for shopping store owners to assimilate promising technologies into their digital platforms.
How do eCommerce Experts deal with It?
It is essential to bring agility onboard to accomplish eCommerce web project development within the stipulated timeline. Besides, it makes the deployment of digital content quick & easy. Fast-growing eCommerce web development companies tackle this issue by hand-picking the frameworks and programming platforms that support agile development. Their professional team then spurs a thriving buying experience in your digital brand.
4. Not Enough Personalization
We all understand the significance of utmost personalization in shopping portals. It is one of the key reasons why people keep coming to the same website for frequent purchases. In retail, how you serve your buyer determines the possibility of a sale. Even though, all retail brands endeavour to provide personalization in the best possible ways; most businesses fail to get there.
You can also read – Why Is Hybrid App Development The Best Recourse For Mobile Commerce?
Aside from social media communication and email marketing, engagement through custom suggestions is necessary. Moreover, almost 60% of retail consumers skip online stores when they don't receive relevant ads in newsletters. 
How do eCommerce Experts deal with It?
Top eCommerce web design agencies are familiar with users' behaviour. Market research and consumer analysis are integral to their project development techniques. They ensure to maintain one-to-one communication with the end-user by introducing exceptional tools for cart updates and fast checkout. A strategic design approach with the precise implementation of numerous add-ons is a way to come out of this situation.
5. Competition & Consistency
The influence of consistency and market competition entails a see-saw pattern in which the brand struggles relentlessly. Businesses consistently update products and post relevant data to grab users' attention. This practice ends with a plethora of benefits. But market competition is one of those areas where consistency doesn't show that form of impact. Moreover, some brands find it hard to be consistent while managing an entire website with a limited set of products.
How do eCommerce Experts deal with It?
Retail brands must focus on product inventory and sales. To make sure that stores don't confront any operational disruption, web development companies optimize several aspects of the admin panel. They customize eCommerce platforms for both consumers & retail admins. This way consistency becomes convenient.
You can also read – Why Hire ECommerce Website Development Services For Magento 2 Migration?
On the other hand, there may not be a discrete cheat sheet for combating competition in the market. But top eCommerce web and app developers include highly efficient shopping features in new retail stores to instigate reliability and agility in the website or application.
6. Improper Security
The digital realm is a stratum of information and important users' data. But cybercriminals try to steal that data or corrupt a widely-used platform to ruin the entire experience of online shopping. Lack of proper security is certainly one of the most complicated challenges faced by eCommerce businesses. Despite robust development arrangements, hackers manage to intrude the backend of a website or application and steal the crucial data from the platform.
How do eCommerce Experts deal with It?
Security must always remain at the forefront of eCommerce websites and app development services. Well-renowned eCommerce web development companies in India prioritize a fuss-free implementation of data protection at the outset of a project. These agencies work on safeguarding the retail brand they partner with. Besides, their development team keeps the track of HTTP protocol, payment card security accreditation, and other measures to make sure users can enjoy safe shopping hassle-free.
7. User Retention & Lead Management
It is not simple to gain the trust of an online user and build credibility. In the eCommerce sector, customer retention is one of the biggest challenges retail brands often go through. Apart from this, lead management is also a forte where businesses go vague in terms of functional strategies. Despite all major efforts aside from navigable UI/UX, shopping websites face a hard time balancing their visitor-lead ratio.
You can also read – 6 Uses Of Magento 2 Elasticsearch In ECommerce Website Development Services
How do eCommerce Experts deal with It?
To retain your existing buyers, eCommerce web development and marketing companies use email communication. They share newsletters with relevant suggestions and exciting deals that can persuade the user to visit the shopping website yet again. In addition to the newsletter way, they connect with your target users through social media marketing & engagement. To deal with lead management, web design companies include an easy SEO customization option. This way, you can track visitors to your site and run paid ads accordingly.
Final Thoughts on Top eCommerce Web Development Companies and their Problem-Solving Solutions
Fast-growing eCommerce web development companies with years of experience can deal with any given challenge that comes their way. Trank Technologies is one of those firms with comprehensive expertise in this domain. We have designed and deployed eCommerce portals for numerous industries including the construction sector. Our idea of tailored solutions revolves around an inspiration that encourages retail brands to elevate their services.