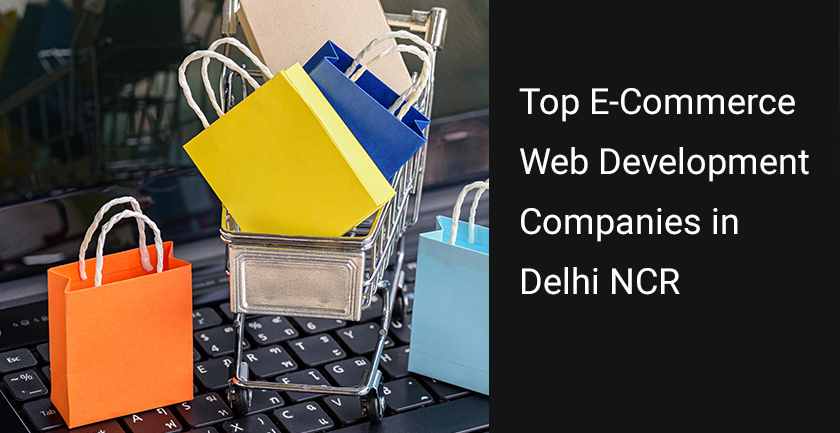 Top 10 E-Commerce Web Development Companies in Delhi
With hundreds of retail businesses of different scales going online, market competition is the biggest hustle for an online shopping platform. It does not matter if you own a well-established online website with impeccable sales every month. You might have to confront a strong comparison from a thriving new portal that gets the nerve of your target audience. The essence of this notion contemplates that the eCommerce industry profusely depends on IT firms for technical setup. In this post, we will focus on the top 10 eCommerce web development companies in Delhi that help leading retail brands with their websites and applications.
Mumbai, Chennai, and other major Indian cities have garnered remarkable expertise and recognition for web and app development solutions across the globe. However, Delhi is still leading the path with all top mobile app development and web design agencies situated throughout the entire capital city. If you are seeking an agency with supreme know-how of buyer engagement, you can easily find one right here in Delhi. Well, not quite easily! That's because choosing the best company among so many options can be a critical chore itself.
You can also read – What Makes NopCommerce The Best CMS For Multi-Vendor ECommerce Solutions?
The following list of top 10 eCommerce web and app development companies in India can help you out. Before moving on to the list, let's take a closer look at the basic challenges the industry endures and yet survives.
Common Challenges in E-Commerce Sector for Budding Brands
According to Statista and other statistical sources, 1/4th of the world's population was buying things online. Not just this, 2023 will be the year when 22% of total retail revenue will come from online shopping. It will raise a whopping economy of $6.5 trillion. Indeed, the domain is thriving, but this growth scale also brings plenty of challenges for the sector. Here's what those challenges are:
Competition
This is the most common yet consistent challenge businesses come across after becoming an active part of a thriving marketplace. While big-scale organizations head to print and television marketing, startups play their cards through influencers' marketing. One way or another, they manage to engage their buyers leading to the overlap of the audiences. With so many shopping options just one tap away, retaining existing buyers can be quite a challenge for small-scale eCommerce stores. However, an e-commerce development company in Delhi, India can help you overcome this part of the market ladder with unique and interactive UI/UX designs.
Cyber Security
Nations like USA and UK have come far on the route of online shopping. More than 50% of people make their frequent purchases online in these countries. On the other hand, users in India hesitate to trust online sellers due to the lack of cyber security. When it comes to making online payments, the new user always hesitates to share their card details on payment gateways. A well-versed team of experts ensures to make shopping payments safe and sound with strategic e-commerce development services.
You can also read – Top 5 Most Suitable CMS Options For An ECommerce Website
Delivery Issues
We may have surpassed various obstacles in this sector, but the quotient of customer services remains to be an enigma. Interestingly, delivery issues are a part of this problem. Hence, it can be seen as one of the many challenges online shopping site owners face. Ecommerce businesses face problems in their growing phase with delivery and similar issues. There are different models of e-commerce service that brands can consider for easy engagement. Integrating a delivery system in the initial phase of the business can be difficult. This is why small-scale e-commerce ventures often go with third-party delivery solutions.
Sale Conversion Rate
When it comes to converting website visitors into real-time buyers, many eCommerce platforms still struggle with the perplexing scenario of the search engine algorithm. Aside from eCommerce website design and development services, marketing is another facet we need to pay attention to. An ecommerce web development company in Delhi also assists booming brands with online sales management, buyer analytics, and revenue management on the portal.
Top E-Commerce Web Development Companies in Delhi
Trank Technologies is one of the top eCommerce web development companies in Delhi NCR. It has developed an impeccably functional and visually spectacular portal for its clients and the construction-based portal BrickWale is one of them. From retail ecommerce and e-learning to healthcare, travel, cryptocurrency, and trading, their project leads can tackle every project with precision.
Apart from significant experience in online retail and eCommerce sectors, their team also acquires vast expertise in application design and development. In case you are planning a mobile commerce brand, then you know where you need to give a call for reliable solutions. 
You can also read – How Web Development Companies Deal With The Biggest ECommerce Challenges
2. Iflexion
Iflexion is one of those leading eCommerce agencies in Delhi, India that cater to all potential needs of a brand. It is equipped with a well-known team of mobile app developers and web designers who work in resonance. Their methodologies and acquaintance with frameworks are some factors that raise their prominence amongst the best IT service providers in the country.
3. Promatics Technologies
While browsing for the top eCommerce design and development firms, you will also come across Promatics Technologies. Their distinct array of IT services covers web development, mobile app development, IT consulting, and cloud consulting. Promatics Technologies helps eCommerce brands with Magento development solutions and custom website design and development services. 
4. Value Coders
When someone types the top eCommerce web development companies in Delhi NCR in the Google search bar, Value Coders is amongst the first names that appear in the best results. It is evident that rising businesses trust this agency for building eCommerce applications and accessible websites. You can also consult their technical team for full-stack development.
You can also read – 3 Best Ways To Create Flawless B2B ECommerce Mobile Apps
5. Pixel Crayons
Other than Trank Technologies and Value Coders, Pixel Crayons is another well-renowned name in the domain of website and mobile app design and development. Some of its main services include software product engineering and digital transformation. In addition to this, BFSI, healthcare, logistics, and transportation are the main industries that receive their all-inclusive services.
6. Revinfotech Inc
If you have a vision and a refreshing idea to stand out in the eCommerce market, then you should choose Revinfotech Inc. Their team of IT professionals acquires specialization in AR-VR technology, Blockchain development, and agile software development. Other than this, you can also contact them for business technology consulting and automation testing.
7. Linea Digitech
You can easily find an eCommerce web development company in India with expertise in mobile app design and online marketing. But looking for an IT enterprise with comprehensive knowledge in AR, VR, AI, and machine learning isn't something that happens every day. Linear Digitech, with all its talents and technologies, can reinvent digital shopping for your nationwide buyers.
You can also read – Why Is Hybrid App Development The Best Recourse For Mobile Commerce?
8. Mobikasa Inc
Have you ever considered hiring top eCommerce agencies that focus on collective growth marketing? If not, then you must consider Mobikasa and their extensive team of UI and UX designers who dedicatedly work on your project. Their development and marketing team ensures to rectify every minor loophole of marketing to help you become a known name in the online shopping sector.
9. Sam Web Studio
Situated in the heart of the capital city, Sam Web Studio is a well-renowned eCommerce website design and web application development company. Their wide services are entirely focused on eCommerce web development. From static web pages to responsive mobile device-oriented portals, they can design and deploy any retail venture. 
10. Grey Chain
Grey Chain is also amongst the best IT companies in India that design collectively caters to their clients with mobile app development, enterprise development, UI/UX consulting, and staff augmentation services. E-commerce brands that wish to enhance the feel and look of their existing shopping platform can get in touch with their IT consulting team.
You can also read – Why Hire ECommerce Website Development Services For Magento 2 Migration?
Final Thoughts 
Being one of the top 10 eCommerce web development companies in Delhi itself, Trank Technologies can guide you through the digital revolution of your retail business and attain the sales numbers you have hoped for. In addition to our integrated eCommerce website and application design and development services, we can also help you with hassle-free customer engagement with the help of our dedicated sales and customer support teams.