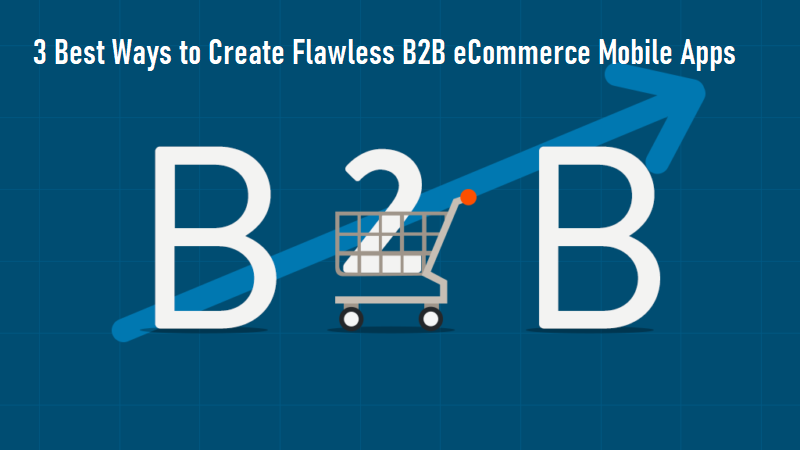 3 Best Ways to Create Flawless B2B eCommerce Mobile Apps
Nothing in the business realm is untouched by the impact of digitalization and technology transitions. Your quintessential target audience is more interested in shopping from their phones rather than paying a visit to nearby marketplaces. Even if your targeted customer runs a business, tailored mobile apps will be more efficient for a seamless B2B eCommerce interaction.
No matter what circle of consumers you are dealing with, a B2b mobile application has the gist to fix communication loopholes. These types of apps can alleviate the buying process by enhancing the sales cycle. Building a venture-oriented mobile app from scratch isn't any challenge, although the structure and design of the application will not be as simplified as B2C applications.
You can also read – 7 React Native Benefits That Resonate With Mobile App Development
B2B ecommerce mobile apps may share certain functionalities with an ordinary shopping website, but several elements need substantial research from the developer's end. Top mobile app development companies in India and overseas sustain a different approach for crafting a smooth and error-proof ecommerce application for business. The idea is to develop a platform with optimal convenience for enterprises that rely on streamlined supply chain management.
What entails a full-fledged B2B eCommerce mobile app?
Moving transformations in the retail sector have elevated the expectations of modern B2B buyers. Now, you must offer the same scale of experience and convenience for your retail partners that you provide for end-consumers. These users need an intuitive and optimized app with all essential functionalities
A full-fledged B2B ecommerce mobile app always gives precedence to user-friendliness over reduced prices and offers. As an experienced professional in the retail sector, your buyer is aware of the sales gimmicks used to lure the generalized audience. Hence, you must be very cautious and creative with your B2B ecommerce mobile app development planning.
In this post, we will take a look at some of the best practices to render while creating flawless B2B eCommerce mobile apps for a well-informed audience.
Custom Optimization for Fuss-Free Purchase Repeat
As we all know, mobile apps are the ultimate future of the retail industry. It's obviously because customers out there count on the ease of accessibility of these applications. You will be able to attract a generous customer base for your B2B venture as long as you deliver the promise of boosted convenience and reduced time consumption. In the B2B segment, your mobile app gets an advantage from the user's end.
You can also read – How Web Development Services Will Change According To 2022 Trends?
The app will target an audience that's already aware of the pricing scenario in the market. Professional business-to-business communication contemplates seamless support from the provider. You just need to make sure that you optimize the shopping and check-out sections of your app for your B2B customers. Here's how exactly you can optimize your B2B ecommerce mobile app for repeated purchases:
Simplified re-ordering for customers who have previously used your B2B mobile apps for their purchase.
Bar code scanner for in-store buyers so they can store products in their online cart and save time on purchase.
Saved templates of the previous shopping history to remind the buyers of what they will need for the next supply chain cycle.
Push notifications that persuade your target buyers to check their inventory and sign up for more products.
The accustomed order list is a feature of B2B ecommerce mobile apps that saves the list of products in the wishlist, so buyers can buy them at their suitability.
Adjustments in Checkout Process                                  
In the ecommerce domain, sales go down the hills when a buyer abandons a shopping cart during random product browsing. While the competition doesn't hold back the growth of a B2B ecommerce venture, lack of conversion is conspicuously affecting the deal for many people in the sector. To boost the conversion rate on your B2B ecommerce mobile apps, you should make your adjustments in the checkout process such as the following:
You can also read – Why Hire ECommerce Website Development Services For Magento 2 Migration?
Single-click checkouts are helpful in saving the previous purchase details that can later be put to good use for the benefit of your B2B buyers.
A saved shopping cart is another major aspect of B2B ecommerce mobile app design optimization. With this feature, you allow your potential buyers to make a sale that they were browsing through the other day.
Multiple payment gateways should be present in the application so you don't lose sales because of irrelevant payment modes. Also, those payment methods must support large transactions made from different platforms.
Relatable Push Notifications
The success of your business apps lies on the ground of customized push notifications. These are the small and relatable notes that remind your buyers of what they are missing. In fact, push notifications have proven to be a better alternative to email marketing. A slight hint of compelling elements in the push message can change the game for your ecommerce mobile app. Here's how you can power up your B2B ecommerce mobile apps to sustain the presence of users:
Choose the most effective app platform where you can easily tailor push messages to reach more buyers.
Spur the creativity in sales with emojis and common slang to mark your business app among the target buyers.
Choose your selection of words cautiously and schedule every message as per the upcoming festival or offer session.
You can also read – B2B Mobile App Development – 5 Rules Service Providers Swear By
Final Thoughts – Apart from basic b2B ecommerce sales management, you should also improve other crucial parts of the mobile app such as interactivity and feedback. Ensure that the content posted on your app is easy to read and understand. Respond to customers' queries and suggestions and optimize the data with the right set of keywords. At Trank Technologies, we specialize in crafting the best-in-class B2B ecommerce and B2B ecommerce mobile apps and websites. If you would like to know more about our services and support on mobile app development and marketing, get in touch today.