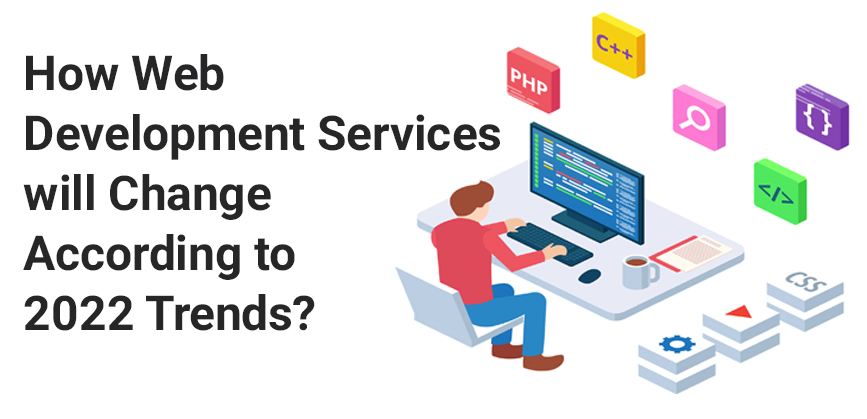 How Web Development Services will Change According to 2022 Trends?
The realm of website and mobile application development survives on the notion of trends that change each year. The interesting part is, even the market-leading service providers eventually deviate from their perennial route of growth. It all happens due to the drastic turn of events inflicted by technology and marketing trends. Therefore, every growing and thriving brand must keep up with these transforming trends. How else would a business stay resilient to drastic economic changes in this digital era? In this post, we are going to throw some light on the Web Development Trends of 2023 and how they will affect the services of prominent web design agencies.
This ultimate list of 2022 trends of website design and development involves the types of online platforms that will effectively attract users in upcoming years. Not only will these modifications save your business from the cutthroat competition, but will also derive a passage for smart communication with the target audience. Let's catch the glimpse of the hottest web development trends of this year and understand their essence.
You can also read – Top 10 Mobile App Development Companies In India 2023
Top Web Development Services & Trends 2022
1. Progressive Web Applications
PWA development services are going to lead the year 2022 for web design agencies in India and other nations. A progressive web app is an application that users can operate in a web browser just like a regular website. PWAs often run independently and clients can access it as a native app.
The main reason why technology experts support the prominence of PWAs is the easy and flexible data distribution. It also comes with quick installation, reduced development costs, smooth upgrade, and quick launch to the market. Users will get used to this trend because of less device storage and system power.
2. Single Page Apps
Single-page applications might be a fresh chapter in web development services, but agencies have got their grip on this trend this year. A SPA is distinctively more efficient than actual websites. The development of these apps involves AJAX and HTML to fabricate a responsive site. This single-page website provides a clear view of the dynamic content to its users.
To build the application's client-side, professionals also use other frameworks such as React, Angular, Vue, etc. Some of its benefits encompass faster debugging, offline support, quick page loading, and comprehensive navigation. As experts put it, SPAs can boost customer engagement of a digital platform. This can even lead to an increased conversion rate of up to 30%-40%.
You can also read – Website Development V/S Web App Development – Know The Difference
3. User Interface in Dark Mode
As a user, you may have experienced the simplicity of dark mode in many social media apps. In fact, smartphones also allow their users to choose the dark mode in their devices. Also, everyone who uses the internet is familiar with Google's incognito mode. Simply put, this form of content representation has a fan base, and users experiment with what comes before their eyes.
Technology has become more accessible in recent years. What was limited to large tech companies like Google and Facebook is now available for growing brands in the world. As per the 2022 trends of web development services, the dark mode user interface is going to rush the online business domain as well. The best part of dark mode UI is that it reduces the pressure of blue lights on the eyes and saves the device battery.
4. Chatbots Run by AI
Artificial intelligence is making its way into our lives pretty gradually. AI-enabled technology will get more extensive this year with effective assimilation in customer engagement and seamless support. Artificial intelligence will help web development companies build online platforms with enhanced communication norms and data accumulation. The simplest way to achieve that scale of user experience, developers will rely on chatbots. These chatbots will function according to the designated AI system added to the site.
5. Voice Search Optimization
Voice search optimization was a trend that had its streak last year as well. Google is all set to upgrade the whole internet paradigm with Web 3.0. Voice search is a 2022 trend that will notably define the services of pioneering web design and development companies in India. Global reports suggest that voice search will dominate the internet by 2025.
You can also read – Real Estate Mobile App Cost – 12 Elements That Define The Development Budget
In simple words, a growing business is immune to tough competition if it has an active voice recognition feature. Interestingly, the voice search technology will have its own industry with a worth of billions of dollars soon. Not only will it improve customer reach, but also generate a stream of more business for technology professionals and agencies. It will also be a part of SEO strategies in 2022.
6. Accelerated Mobile Pages
Unarguably, there is nothing new about accelerated mobile pages. It is a conceptualized technology used to offer the user clear navigation and functionality. However, the involvement of AMP will pave the way for existing online websites thriving to stay strong in the digital domain. The technology shift points to a user-centric paradigm which requires a sublime maneuver of AMP.
Accelerated mobile pages contemplate a simplified web page design that showcases the generic data on a website. AMP pages are device-responsive and fairly understandable to the user. As per 2022 web development trends, developers will now create digital portals that reduce UX costs despite boosting the target reach.
7. Motion User Interface
The future of the internet is going to be dynamic. The inclusion of motion UI in 2022 trends of web development impeccably solidifies this notion. The market competition is brutal out there. Start-ups are now ensuring to embrace the best possible ways to entice their users. Now, businesses can move over catchy taglines and fancy graphic designs. Clearly, a motion user interface will lead the deal for growing businesses.
You can also read – 6 Most Common Web App Security Issues & Their Prevention
Conclusion – In addition to these trends of 2022, web development agencies will also add the internet of things and mobile-first development in their checklist of services. All in all, lots of things will change for the web development sector this year and Trank Technologies is ready for all these changes.