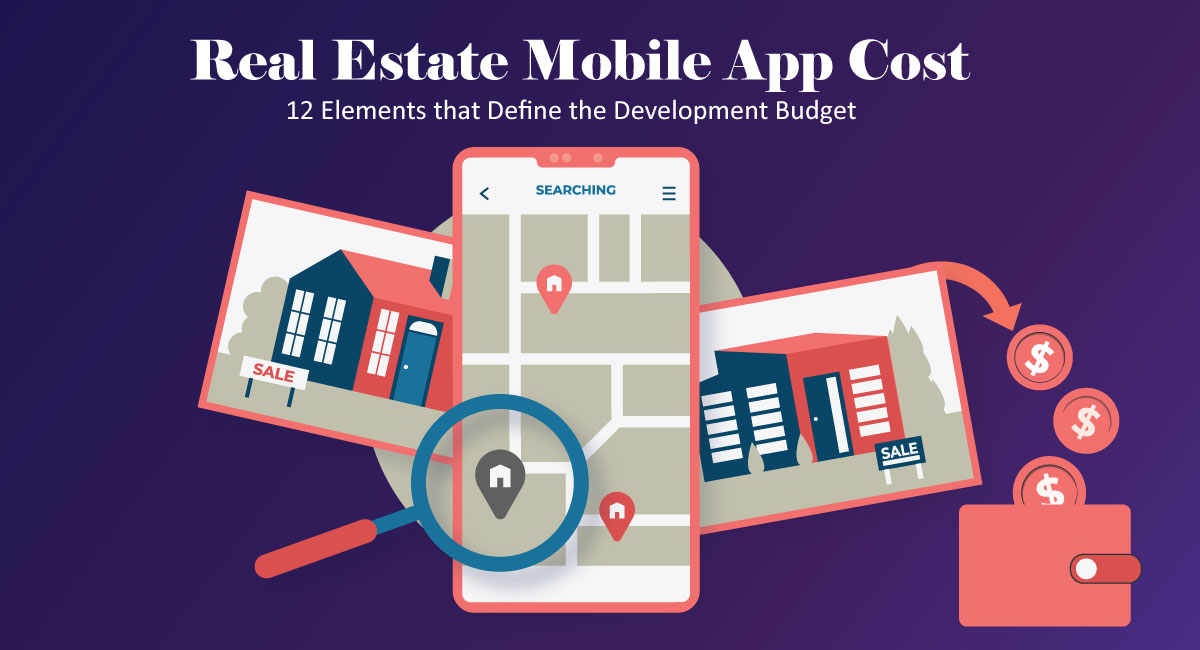 Real Estate Mobile App Cost – 12 Elements that Define the Development Budget
Looking for a new house or a commercial place isn't as time-consuming and overwhelming as it used to be a few years ago. All you need is a functional smartphone application with integral features to get started. You just add your preferences in the phone app along with desired location and other space arrangements. Seconds later, a plethora of considerable results comes before your eyes. And, it all happens without spending a single penny on brokerage. If you are willing to expand your real estate venture in a highly competitive market, a real estate mobile app built on a well-planned development cost is your answer.
It is that one essential innovative step for your business that will craft the future of your housing business. In this post, we will broadly explain the actual cost of a Real Estate App Development Company. This post also contains various other features that can affect the phone application budget.
Real Estate Mobile App Development – Major Advantages 
Before discussing the practical cost of a real estate mobile app development, let's understand the force behind the change. The housing and rental industry didn't transform overnight. Digital trends reached the roots of the real estate domain quite gradually. It was the reason that gave rise to certain benefits that changed the way people buy or rent houses these days. Here's why housing mobile apps became so popular in such a small time:
A remarkable growth in suburbs 
Aside from the big cities like Delhi and Mumbai, housing service in its digital facade turned out to be a game-changer for suburban areas in India and many other countries. The existence of a fully-customized real estate app has made it easier for people to find a house of their dream in selected areas where the rates of property are significantly low.
Traction of co-living and co-working trends 
The concept of co-living and co-working isn't new. But finding a sharable space for living or work has always been a hassle. But mobile apps have made it possible for people to find places where they can share the rent with others. The culture of working in shared spaces such as SOHO became functional after the invasion of these apps.
Simplified commercial real estate 
Properly planned mobile app development costs & features benefit not only the residential real estate but also the corporate sector. Even if you are starting your own company from scratch and looking for a suitable workplace, these apps can help you choose from the best options available in your budget.
Luxury housing and rentals 
Considering luxury housing & rentals without the assistance of an expert broker might sound like a bad idea. Interestingly, a finely developed real estate app can effectively provide some results in this exclusive area as well.
You can also read – Healthcare Mobile App Development – 8 Must-Have Features You Shouldn't Miss
Real Estate Mobile App Development Cost Estimation
The cost of a real estate mobile app mainly depends on the type of features you wish to incorporate in your mobile app. A simple smartphone application with property listings and other generic features will cost approximately $20,000 – $25000. Optimal assimilation of advanced features such as virtual tours and chatbots might raise the development costs by $8000 – $10000. All in all, a fully-functional housing mobile application requires a budget of $30000 – $ 35000 for complete designing and launch.
Features that Affect the Cost of Real Estate Mobile App Development
1. Real-Time Assessment System
The integration of a real-time assessment tool is the foremost aspect that establishes the cost of your real estate mobile app. This feature involves the availability of data that contemplates the ongoing property rates in different cities and towns. A simple user interface in which the details can navigate through the screen as per various locations will suffice. Any given mobile portal with that feature retains the trust of its users by providing accurate information at the required time.
2. IDX (Product Listing)
Internet data exchange or IDX is a practice commonly known as product listing. You may have seen some popular ecommerce marketplace portals where they allow users to put products on the website. This way, traders and manufacturers get to present their products on a wide scale where buyers can see them and place an order. In online real estate, IDX or MLS (multiple listing service) entails the process where brokers and builders list various properties to commence a sale.
You can also read – 7 Essential Fintech Features That Make Your Mobile App User-Friendly
3. Online Auction
Finding a buyer for highly preferred locations isn't hard, but choosing the highest-paid buyer for these exclusive properties is! The feature of an online auction will automate the most critical part of the portal by lining up the data as per available offers. This active auction feature plays a vital role in deciding the cost of real estate mobile app development.
4. HOA & Lead Management
The feature of HOA (Home Owner Association) and dynamic lead management can simplify real estate for your app users. This option will streamline various functions in the application including property prices, annual membership fees, and more. The addition of this feature will rely on your preferences.
5. ERP for User Engagement
Enterprise resource management or customer-relationship management seems like an aspect of corporate arrangements. On the flip side, the assimilation of an ERP-like feature can help you stay in touch with your existing or previous clients. This way, your team will effectively generate leads using client retention through the app.
6. Builder Management
Instead of an ordinary real estate mobile app, you can evaluate the cost of development and turn the application into a full-fledged marketplace by choosing a smart feature for builder management. It's an easy method to connect with small-scale and big-scale builders who build properties in developing cities.
you can also read – B2B Mobile Apps – 5 Rules Service Providers Swear By
7. Broker Management
Broker management will always be one of the most prominent aspects of real estate mobile app development cost. This feature will define the user-friendliness of your application, as your users are browsing the database to connect with trustworthy brokers who can provide the real value of their savings.
8. Map Integration
A housing service-based mobile application can never do without a well-tested mobile integration process. Your users may not be aware of the locations where the property is available in their budgets. To increase the transparency and convenience of your real estate app, you will need to add it to your design and launch costs.
9. Push Notifications
In an era where more than 6 million apps are running through the competition, the inclusion of push notifications can help you reach your audience. Using this feature, you can efficiently inform your target users about the ongoing offers and price drops on their desired property.
10. Currency Specification
When you begin to roll your business on a much larger scale, a custom feature of currency conversion comes in order. This feature can be immensely useful for buyers who are planning cross-border real estate purchases.
You can also read – Headless Shopify ECommerce Development – 10 Pros & Cons For Online Stores
11. Search Filters
Even the world's most popular application wouldn't be able to maintain its market prominence lacking easy search. To promote a simplified search system on your portal, you will need to add search filters. It customizes the results for your users.
12. Messenger for Communication
Aside from HOA, your housing mobile application development cost will also require messenger for improved communication. In general, a property buyer will either contact a builder or a broker through your app. However, potential technical errors might need a direct channel with app support to answer the queries on time.
You can also read – 5 Ways To Choose The Best E-Commerce Development Technology For Online Stores
Final Thoughts – Getting started is all it takes to create something that people can remember for a long time. Your real estate mobile portal can have the same impact on the customers and the market if you assess the cost of development with the help of a reliable technology partner. At Trank Technologies, every minor requirement of your business gets taken care of by best-in-the-industry experts.