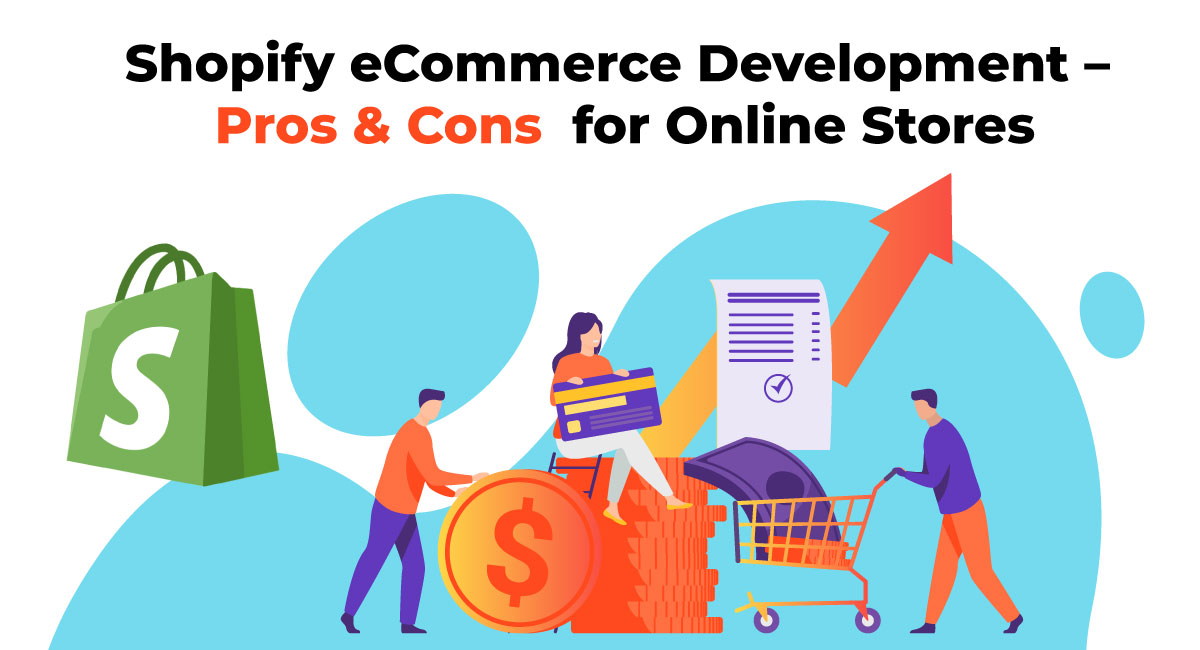 Headless Shopify eCommerce Development – 10 Pros & Cons for Online Stores
Shopify has significantly dominated the eCommerce industry in the past few years, especially after the official launch of the Shopify Plus upgrade. It wouldn't be wrong to say that this globally acclaimed web platform has drastically revolutionized the retail sector in major countries. Besides, the recent storefront API feature is gaining a lot of significance in the competitive realm of eCommerce. Aside from these upgrades, headless Shopify eCommerce development has been a talk in the town for quite some time now.
The headless commerce model comes with a plethora of development benefits. And yet most online stores still prefer to stay loyal to their website's traditional eCommerce layout. In this post, we will take a magnified look at headless Shopify eCommerce website development company. Moreover, we will discuss its worth with the help of a few upsides and downsides of the pattern:
What is headless Shopify? – An overview of Unconventional eCommerce Development
The headless Shopify eCommerce development entails a strategic website setup in which the frontend is different from the backend. Simply put, your website can use the backend of Shopify while using a different framework platform for customizing its frontend segment.
You can also read – Headless ECommerce Web Development – What's New For Shoppers & Sellers In India
This all-creative headless Shopify eCommerce approach allows you to build an online store using your preferred frameworks and languages. The concept of headless eCommerce web development is indeed helpful for website and app developers. But it can also be useful for online shoppers. It involves the option of a custom cart that lets buyers stay on your portal while adding more products to it.
This fascinating shopping functionality is an offering of Shopify SDKs. These development kits are also available for mobile customization. This constructive Shopify Buy SDK utilizes the storefront API to deliver a highly accessible store functionality for online shoppers. In addition to this, it is also helpful in securing the Shopify product data for the admin panel.
Headless Shopify eCommerce Development – Pros
Option to get creative with UI/UX
For someone who is well-aware of an efficient eCommerce idea can leverage the freedom to experiment with technical languages, development frameworks, and interface designs. The headless commerce structure allows you to conceptualize your shopping platform from the very beginning. Even though there is so much more to explore with Shopify's existing options, a decoupled development methodology can carve the foundation of a redefined customer experience.
Shopping cart customization
Web development companies in India and overseas admire the idea of headless Shopify for building eCommerce stores with a customer-first approach. This latest innovation in Shopify development lets you customize every part of your shopping portal and reorganize the shopping experience for buyers. Coupled with ui ux design services fixes, careful A/B testing, and conversion iterations, the headless eCommerce model opens a doorway for small-scale retail owners willing to make it big in the digital sector.
You can also read – Mobile Commerce Development Services In India – An Overview Of Mobile Dominance In ECommerce Industry
Liquid design patterns for optimal user coverage
eCommerce paradigm hinges on a ceaseless sales mechanism that allows an undisrupted transaction of service between the store and the buyer. Custom cart and liquid design criteria are some of those headless Shopify eCommerce development pros that companies can't let go of easily. This online store development model lets you choose your most favorable technology stack, templating language, and storefront layout to enable a prosperous exchange of communication on the website.
Supporting architecture for emerging technology trends
The decoupled pattern of the headless commerce model sets new parameters of personalization for growing online stores in India. Shopify headless is all about crafting a decorous platform that caters to every demand of online shoppers. While it gives booming brands the freedom of creativity in terms of user experience, it also lets web developers play their cards on theme selection for a newly built eCommerce website. Apart from this, it also upscales a website as per the transforming eCommerce trends and upgraded content management systems.
Faster than every third-party integration
Building a new online store is literally a cakewalk for top web developers in India. In fact, choosing an efficient website theme and store template aren't so hard either. But the real issue arises when it comes to configuring third-party applications and functionality add-ons. The highly flexible architecture of headless Shopify eCommerce offers ease of integration for website development. Third-party addition is simple in headless commerce because of its isolated frontend module and direct-to-market approach.
Ease of accessibility in terms of API
The headless model of Shopify eCommerce also comes with several APIs and microservices that directly benefit rapidly growing retailers and existing online shopping websites. With this design, web developers can directly utilize storefront API with the help of GraphQL. The foremost pros of headless Shopify eCommerce development have already covered flexible technology and upgraded content management systems accompanied by round-the-clock technical assistance, online tutorials, and live chat services. 
Headless Shopify eCommerce Development – Cons
Lack of technical support due to the unconventional approach
Shopify headless for eCommerce is synonymous with flexible website design and development. However, you will lose access to certain areas of Shopify support after heading towards the decoupled website model. If there is a performance issue or potential error, you may have to find a way to troubleshooting yourself. Moreover, headless Shopify Plus eCommerce is not a good idea for those who thrive on built-in functionality tools of eCommerce frameworks. Remember that a headless pattern will require you to customize a shopping cart and product option picker from scratch.
You can also read – Online Marketplace Development Guide – Definition, Types, Differences & More
Shopify is a boon for online store owners who don't acquire any technical knowledge of digital platforms. Choosing it in its headless form can take away all the convenience and simplicity this platform is famous for. Even though it is a freedom for experienced web developers, this tradeoff may not suit every online store on the internet. 
No stern arrangements for product metadata
Managing product metadata on an eCommerce website is significant and yet it's often very complicated. In general, Shopify allows you to store metadata at product variant level using metafield. But that's not a possibility in headless Shopify eCommerce which is one of the most disappointing cons of all. A metafield is used to store a precise version of the product's details appearing in the shopping cart. With a headless arrangement, you may have to do those metadata changes manually.
API limitations for storefront
GraphQL serves as one of the upsides of Shopify eCommerce headless development. Although, this API becomes a setback for web developers who have experience with JSON-based APIs. Although, this problem can become nominal if you consult a Shopify developer with expertise in eCommerce API and storefront customization. Also, if you use the latest Shopify Plus version, headless will be a lot simpler and more advantageous for you.
Restricted access to addon apps and image tooling
User-friendliness and instant access to thousands of addons are some specialties that bring essence to Shopify eCommerce development. Just WordPress, Shopify also allows users to simply perform a search in the toolbar and install any functionality module they want in their website. It is not going to be the same with the headless Shopify eCommerce platform. You will need to make your own arrangements for frontend add-ons and built-in tools. Although, it will not affect the use of backend addons as it remains the part of Shopify platform.
Besides this, your efforts for image optimization will double with the implementation of headless Shopify eCommerce. This decoupled design will allow you to crop and adjust images on the website. Though, it will not be as impressive and convenient as Imgix and Cloudinary.
You can also read – What Is Hybrid App Development? A Comprehensive Guide – Trank Technologies
Conclusion – Choosing headless Shopify for eCommerce development can be overwhelming despite an explanatory comparison of its pros and cons. If you are still unsure about it, please feel free to contact the technical team at Trank Technologies and book a free consultation to start your online store.