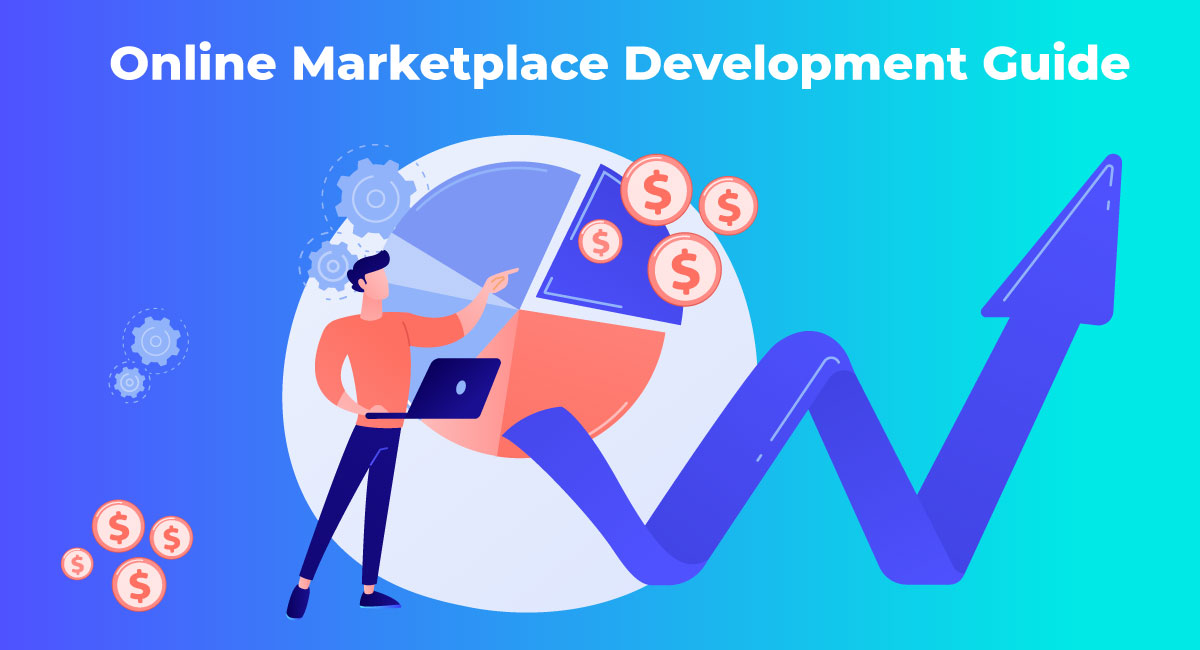 Online Marketplace Development Guide – Definition, Types, Differences & More
The world 'marketplace' got its all-new meaning with the bombarding emergence of internet technology across the globe. What used to be a spot for buying daily supplies and groceries is now recognized as an online platform for thousands of businesses working in the same or related industries. Globally renowned businesses such as eBay and Amazon can better explain the term 'marketplace' for beginners. It has been a decade and every other industry is coming with its online marketplace which boils up a lot of questions for online marketplace development and growing businesses.
A digital marketplace serves as a two-way channel for businesses where retailers and wholesalers can meet and trade. This way, manufacturers and suppliers get to save money on distribution maneuverings and small businesses can get the stack of desired products at favorable prices. With this arrangement, everybody wins! In short, Online marketplace development allows site owners to make money without actually selling anything.
If there is an idea tickling your mind about online marketplace development, then this guide might be helpful for you. In the following post, you will come across different aspects of the digital marketplace setup that you can use to start a profitable platform. Before that, let's get along with the concept of digital trading portals and their various types:
You can also read – 7 Common WordPress Website Security Issues & Their Preventions
What is an online marketplace? Digital Marketplace Definition & Types Explained!
An online marketplace is a digital platform that brings wholesalers, manufacturers, and retailers to one place. A well-management marketplace website or an application eliminates the need for an intermediary entity between sellers and buyers. A marketplace website or a mobile app can also be defined as a multi-vendor portal used and operated by numerous users.
Marketplace development is an extensive process because it involves brief customization of users, businesses, and industries. Different types of the marketplace include the following:
Business to Business (B2B)
Business to business marketplace simplifies the transaction between two businesses. A B2B transaction takes place either between manufacturers and wholesalers or wholesalers and retailers. Alibaba and Amazon are the two most popular examples of B2B marketplace.
Business to Consumer (B2C)
B2C or business to consumers/clients type of commercial transaction occurs between the business and the end-users of the services/products. Any online store that sells products or services on a very large scale and has nationwide or global consumers can be defined as the B2C marketplace type.
Peer to Peer (P2P)
This sort of marketplace arrangement doesn't involve any business or a specific group of users. Peer-to-peer marketplaces contemplate a mediatory website or smartphone app where buyers and sellers can connect with each other. Users post product requests and availabilities on a p2p application to sell and buy used or refurbished goods or hire professional services. eBay and Airbnb are some common examples of this type of marketplace.
You can also read – Beacon Technology For Mobile Apps – Origin, Types, Benefits, & More
Online Marketplace Development – Difference Between Online Marketplace & Online Store
This section of the online marketplace development guide explains the basic differences between an ordinary shopping website and a full-fledged digital marketplace. Before setting up a plan for a new marketplace portal, make sure that you go through these distinctions to avoid development errors.
Sellers
An ecommerce website is run by the store owner who leads the portal as a seller. On the flip side, a marketplace is simply used as the connecting bridge between sellers and buyers. You don't need to sell anything to generate revenue. Marketplace portals make a profit from the service charges received from wholesalers, suppliers, and retailers.
Products
An online store carries a sustained scale of product categories that range between 8-10 different types. But a marketplace serves an array of numerous industries such as clothing, electronics, latest gadgets, groceries, plumbing supplies, jewelry, books, makeup, & more. Globally accredited marketplaces like Alibaba and Amazon deal in more than 30 categories and offer millions of products overseas.
Features
The features and structure of digital marketplaces are different than ecommerce websites. An online store has an admin panel for adding products and managing users, and a user interface where buyers browse products. Online marketplaces have distinctive panels that encompass the admin panel, seller profile, buyer profile, and payment transactions.
Traffic Intensity
An average eCommerce website receives traffic of approximately 10000-15000 visitors every month. On the contrary, a fully customized marketplace is built for managing millions of sellers and buyers across the world. Make sure that your digital marketplace development plan has a sufficient budget for server deployment and maintenance.
Revenue
An online store brings the profits for sales through weekly and monthly sales. The monetization algorithm of online stores is pretty straightforward which is not the case with marketplace websites and apps. Such platforms charge commission fees from manufacturers, suppliers, & retailers for market promotion.
Technology Implementation
A regular ecommerce website doesn't require exorbitant investment and high-end technologies for development. Anyone can create an online store using Shopify, WordPress, Wix, and other streamlined options. But a highly elaborative marketplace will need proper marketplace builders such as Arcadier, 3Dcart, etc. You just need to find the right development service provider for it.
Even though there is a vast difference between an online store and a marketplace; it doesn't mean that you can turn your existing ecommerce website into an online marketplace. Just a planned implementation of online technology, projected promotion, and brand creation will do the trick for you.
In the next segment of this online marketplace development guide, we will focus on crucial technical aspects of platform building.
Things to Consider for the Development of an Online Marketplace Website/App:
As discussed earlier, it is a possibility to transform an existing ecommerce portal into a multi-vendor marketplace application. With strategic precision and careful execution, you can use pre-build features and upgrade them for a more prominent group of consumers. This form of development falls under the category of SaaS (software as a service) technology.
On the other hand, building an online marketplace from scratch isn't a bad idea either. You will just need to hire a professional web and mobile app development company in India for your aspired project. But before jumping on to any conclusion, make sure to pay attention to certain aspects of online marketplace development. Here's what you should know about your upcoming marketplace platform:
UI/UX Design Assistance
Work on the tailored structure of your marketplace to meet the requirements and expectations of your users. Don't forget that there is a group of companies out there that will be relying on your multi-vendor platform. Hire a professional UI/UX designer who is familiar with the ins and outs of customer engagement on websites and apps. You may not require any significant help if you are upgrading your current platform.
Website Traffic Consideration
You must prepare your marketplace application for a huge load of web traffic. Even a minor website performance setback can lead to issues and put your marketplace in the bad books of your target audience. Set a traffic count and make sure that your server is ready to scale that level of website or application visitors. If you are expecting a vast amount of traffic on your portal, go with custom marketplace development.
Timeline Management
Do consider the intricacy of timeframes and try to plan everything. Online markets follow a time-based system. So, the efficiency of your platform can be affected by constantly changing trends and timeframes. Skip the custom development part if you don't have enough time for planning. SaaS development is the way to go.
Feature Research
Research is the most important aspect of platform selection and feature installation. This is the phase where you should decide on essential elements of your marketplace including the addons. Acknowledge that there is so much more to a multi-vendor portal than payment gateways and shopping carts. Apart from this, the structure of your product catalogs will be different as well. Once you are clear with your choices, there will be sufficient space left for important addons and features.
Technology Assimilation
Most businesses these days are well-versed with digital technologies and methods of website development. While choosing domain names and hosting is easier, coding becomes a bit of an 'out of subject' topic for newbies. In that case, hire a developer rather than wasting your time in DIY attempts.
Now that you have a clear understanding of SaaS and custom development, the selection of the top web and mobile app development company in India is totally in your hands. In the next and concluding segment of the online marketplace development guide, you will know how to start a digital marketplace in this age of cutthroat competition.
Online Marketplace Development Guide – Here's How to Commence the Big Project
Now, you have understood the marketplace definition, three different types of marketplaces, and the difference between ecommerce websites and marketplace platforms. It's time to move to the forthcoming part where you will learn to start an online marketplace development project. Let's find out more:
1. Create A Passage for Revenue
Have you decided on the profit model of your multi-vendor marketplace website? If not, work on it before projecting anything else on your checklist. To begin with, you can follow the commission model in which you will receive a commission on every purchase made via your portal. It can be applied to both buyers and sellers.
You can also go for the listing pattern in which you allow retailers to post product listings on your platform. After exceeding the limit, they will submit a fee for listing extension. Other than commission and listing models, paid promotion formula can also be a choice for you. In fact, the promotion model gets you paid in advance and brings easy profit to the business.
2. Visualize Your Marketplace Features
When your business is on the run for a big-scale upgrade on the digital platform, visualization becomes the only possible way to make an effective commencement. Basic website or app infrastructure, features, addons, and user panels are something that you must assess through a deep-rooted research process. Also, remember that buyers, sellers, and admins should have discrete interfaces.
The customer panel of your application must contain custom search options, add to cart, and easy checkout. The buyers' section should have personal details, shipping address, search bar for browsing products, selection of multiple products, and more than one gateway for an easy transaction, and reviews & ratings.
Sellers' panel must consist of complete profile information along with location, business, and bank account info. Apart from this, the product catalog page should be customized to add and edit product listings. A separate order management page will help sellers on your website evaluate periodic sales effortlessly.
3. Choose A Professional UI/UX Design Expert
The web design of your marketplace can be far more complex and crucial than you think. This is the aspect of platform development that will set the pace of business growth and lay the foundation of user-friendliness. Even if you are going for the SaaS development model, you will need a web design expert with a supreme knowledge of website and mobile app UI/UX.
Moreover, the unavoidable need for navigation setup and logo design will also call for professional assistance. A reliable web design and development company in India will fix the best design options for you by defining suitable wireframes and prototypes. At the end of it, you will be amazed to see the progress of your online marketplace development project. Just trust your instinct with a trustworthy service provider.
4. Test Your Platform & Boost the Final Launch
It's important that you don't break the touch with your web and app development service provider while they are working on your marketplace website and mobile application. A portal used by thousands of users across an extensive geographical area requires technical testing. Therefore, you should always review your marketplace as the end-product that covers proper infrastructure, third-party integration, and user accessibility. Once all the tests are complete, launch your platform in the ocean and get ready for the big changes!
Final Thoughts – Online marketplace development indeed is an extravagant idea for a new venture, but it will always lead to brighter opportunities and more profits. Whether to upgrade the existing ecommerce website/application or build something from scratch is your choice.
Trank Technologies and its website design, web development, and mobile app development services will assist in every step of project development. With seamless technical support and well-researched insights, we can easily accomplish online marketplace development in your suggested timeframe.