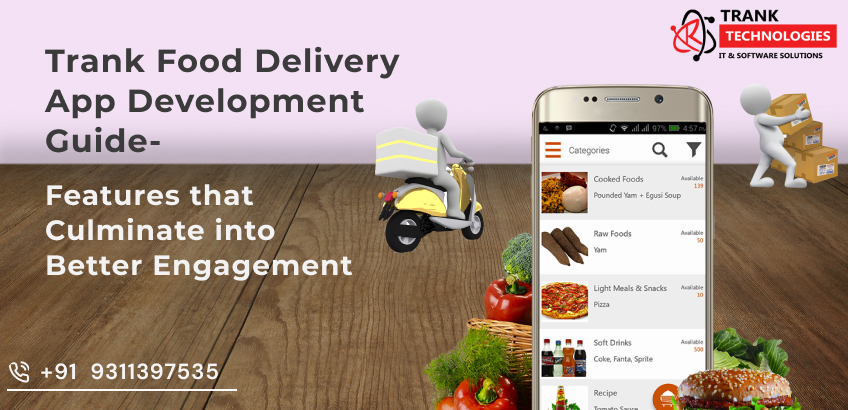 Food Delivery App Development Guide – Features that Culminate into Better Engagement
The innovation of food delivery apps has gained notably more attention than any other technological advancement. With less time on hand, most people like to order food online with just a few clicks on their smartphone. There are numerous reasons for such evident traction on a food delivery app. One among the bunch is that they provide convenience and ease of having food delivered without doing anything.
With constant variation, ideas, and more room to engage customers, businesses are increasingly investing in food delivery app development. They spend millions of dollars and acquire thousands of customers every day. As per Statista, the food delivery app market has reached a whopping $323.30 billion in 2022. However, the number is projected to encompass $466.20 billion by 2027. 
You can also read – 5 Reasons Hiring App Maintenance Services In India Is The Right Decision
Before moving into this industry and developing a food ordering app, you should know that there is massive competition. You will be competing with maestros of the food delivery mobile app. However, if you comprehend the features you want in your application with in-depth wisdom, it will be easy to give a fair competition. For this, we have created this post to help you accomplish your desired goals. 
Food Delivery App Development – Types of Food Delivery App Models
Not all food delivery applications provide similar services. Popular apps like Swiggy and Zomato allow users to order from any restaurant and get all kinds of foods including north Indian, south Indian, Chinese, Italian, etc. On the contrary, Mcdonald's, Domino's, and other globally eminent restaurant chains have their online platforms to accept food orders. 
Different forms of food delivery app development models generate revenue in distinct ways. Some of the most prominent food delivery service models are explained below:
1. Delivery – Service Aggregators
An aggregator platform serves as the mediator between the consumer and the restaurant. As a single application portal, it allows consumers to order food from any nearby diner or restaurant situated in a defined radius. It can also be classified into two separate patterns; order & delivery platform and integrated platform. 
You can also read – Kotlin App Development Services – An All-Inclusive Solution For Cross-Platform Apps
The integrated model is considered to be more aligned than mere order and delivery. While the latter has certain challenges in terms of resonance between delivery structure and food preparation; an integrated food delivery app comes out as a solution for the same.
Also, an integrated food delivery mobile or web app allows restaurants to serve more customers without splurging on third-party delivery services.
2. Inventory App Model
In simple terms, an inventory-based model can be contemplated with the examples of Dominos and similar apps. These food delivery apps have their designated outlets in various cities. No other restaurants or diners can accept orders on these application portals. Even though this model has its merits, it also comes with a few shortcomings. The operational costs of these apps are significantly high. Moreover, the staff sometimes find it hard to tackle orders online and offline at the same time.
The process of food delivery app development relies on varying requirements of the preferred model. However, the integrated model is considered the most prominent form of application platform because it is more consumer-friendly than other patterns. Besides, it also benefits local restaurants and entrepreneurs.
List of Essential Features for Food Delivery App Development
A food ordering app has three interfaces; one is customer, the second is delivery men, and the third is admin. All these three are coupled together to create a more potent application. Each of these panels has features that make the overall services of the mobile app much more convenient. 
You can also read – What Makes NopCommerce The Best CMS For Multi-Vendor ECommerce Solutions?
We have curated a list of all the essential features for food delivery app development that culminates in user engagement:
Engaging Search Filters
The search filter is one of the top features of a food delivery app for a customer. With the help of this feature, a user can easily filter out the order based on the restaurant's cuisine, location, price, or ratings. 
Real-time Location Detection
When customers open a food delivery app, they don't always modify their locations unless an order is placed for a different area. Because the application already detects their current location and delivers the order to that address. All this happens with the real-time location feature, which saves time and enhances the user experience. 
Easy Payment Integration
A convenient payment passage is a must for every food delivery app. Therefore, your application must integrate with different modes of payment like debit cards, credit cards, cash on delivery, e-wallets, etc. You can embed this feature on your meal delivery application with the help of a food delivery app development company. 
Seamless Order Placement
Your customers use the food delivery app because they don't want to run errands to eat their favorite meal. That's why it should provide a coherent order placement experience and smooth navigation for repeated customers. 
You can also read – Dating App Development – Estimated Cost To Build A Platform Like Tinder
Simple User Profile Creation
Creating a user profile must not be a hefty task for a delivery agent. A food delivery app should ask for simple personal details like name, contact information, address, driver's license, etc. 
Trouble-free Chat & Calling
The chat and call feature helps the agent easily connect with customers to ensure smooth communication during delivery. For example, if the agent cannot find the user's location, they can contact them and ask for their correct address with the help of this feature. 
Recurrent Alerts & Notifications
With the help of push notifications and alerts, an agent will know when the order is assigned to him. Also, they will know when a customer expects to pick up their orders. If you plan to build a delivery application, then you can leverage the food delivery app development solutions. 
Order Request Handling
Order request is an essential feature of the admin panel. The eatery owner accepts, rejects, and manages the customer's orders. From order acceptance to rejection, everything is flawlessly managed through their dashboard. Here, they don't have to get in direct touch with customers. 
You can also read – How Fintech Mobile App Development Companies Assure Users' Security
Discount Coupons & Offer Generation
App admin generally offers numerous discounted coupons to engage more users. With the help of this feature, an admin can readily create those enticing offers conveniently. 
Robust Commission Administration
A delivery agent's payment or commission is calculated based on the traveled distance, fuel cost, total time spent, and more at the administration panel. Thus, the admin feature can feasibly calculate the cost correctly and send payment at any time of the day. 
Intrigued Geotargeting
Geotargeting enables restaurants to turn on a setting that highlights the location where they can instantly deliver. It means the users who live within those areas have higher chances of getting the order. By using this feature, you can ensure more imperative customer engagement. 
Final Thoughts on Food Delivery App Development Services in India
If you have a food delivery app development idea, then you must reckon the list of features and a pragmatic revenue model. Besides, the type of app model and the degree of convenience for consumers will set the course of success for your upcoming food order and delivery platform.
Therefore, you must have a clear vision of how your app will serve a giant user base efficiently. This vision should also cover a technical upgrade your application platform will go through every few weeks or months. It is imperative to control the impact of the rising competition.
You can also read – How To Build A Travel Mobile App? A Guide On Development Costs & Features
In a technology-driven era, it might be hard to keep up with innovative changes partaking in the marketplace every day. Now that the online food delivery domain has also come under the umbrella of agile end-to-end solutions, you will need a technology partner with collective expertise in app development, API integration, and app maintenance.
Trank Technologies is one of the fastest-growing app and software solutions companies in India with hands-on experience in the latest frameworks and development languages. Our comprehensive knowledge of custom platform authorization and backend solutions can be a great fit for full-fledged food delivery app design and development services in India.