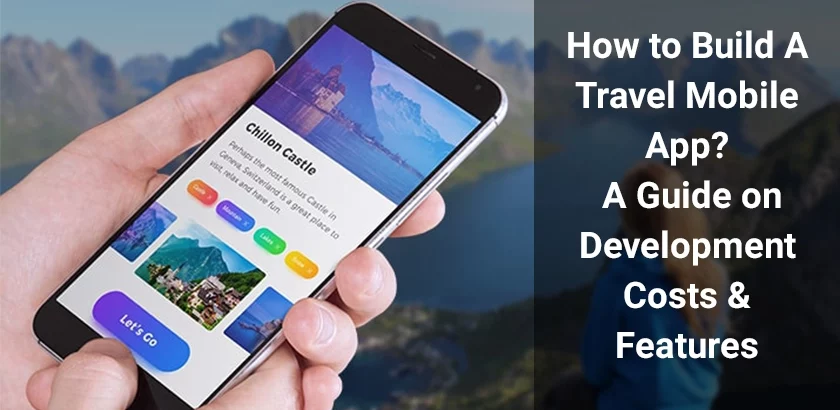 How to Build A Travel Mobile App? A Guide on Development Costs & Features
To travel is to live! This simple yet moving quote tremendously depicts the importance of traveling in life. Most people see it as leisure while some people consider it the ultimate escape hatch from their usual routine. All in all, the travel business has seen an impeccable rise in the industry in the last few years. Boosted interest of millennials in exploring new places has also resulted in the rise of travel mobile app development services. 
Despite a serious decline in the global economy after the COVID-19 pandemic, the travel sector has managed to resurrect the growth algorithm in its structure. In simple words, the travel market will continue to flourish irrespective of numerous challenges and apparent setbacks. People always look for a quick break from their typical work life to achieve relaxation on psychological and spiritual levels.
You can also read – 5 Things Only A Healthcare Mobile App Development Company Can Tell You
In this post, we are going to compare various aspects of growing travel businesses to assess the entire travel mobile app development process. Along the run, we will also take a look at some crucial features of a user-friendly travel app and deduce its costs based on numerous factors.
Travel Mobile App Development – How should It Start?
Building a travel mobile often leads to conundrums and complexities unless you don't figure out the types of application you want. There are different types of travel apps and you need to pick the one that resonates with your service expertise. In addition to that, you should also spend some time on competitors' applications to reckon the scale of usability.
Simply put, the process of travel mobile app development should start with exactly how your app will help the end-users. Apart from picking suitable travel mobile app types and performing competitor research, you must also list out a few essential travel-related features in your application. Several travel mobile app features such as map navigation, local transportation, and weather info might be common choices for your users.
To commemorate a sense of uniqueness in your app, you can also introduce special features. An option of in-app booking is something you can think about. Moreover, a customized travel planner can change the way your target users plan their trips.
You can also read – Why Is Hybrid App Development The Best Recourse For Mobile Commerce?
Types of Travel Mobile Applications
1. Transportation Booking Apps
Mobile applications like TripAdvisor and MakeMyTrip are widely used for booking domestic and international flights by users in India. These platforms contain every bit of information related to different airlines and their schedules in an immaculate manner. You can book an entire vacation via these travel mobile apps in advance. In fact, postponing or canceling processes are also hassle-free on these platforms.
2. Accommodation Booking Apps
Aside from flights, trains, and buses, your target users also need to book a convenient stay in another city. There are plenty of apps used to streamline the process of accommodation booking in different cities and countries. Applications like Trivago and OYO let you do that seamlessly through your mobile phones. MakeMyTrip is one such platform that provides integrated solutions for flight booking and hotel booking at the same time.
3. Travel Guide Applications 
Travel guide mobile apps are widely used by solo travelers and trekkers to visit new towns and cities on their own. These applications consist of an elaborate local map along with food joints and tourist spots. Other than this, people can also explore information about various cities around the world that could be their next travel destination.
You can also read – 7 Essential Fintech Development Features That Make Your Mobile App User-Friendly
How Do Travel Apps Make Money?
Travel mobile app development is just an initial phase of a vastly growing venture. Once this process is complete, monetization will come as the corollary after the official app launch. When it comes to receiving revenue from a travel application, different businesses adopt a different approach. Even though, there are different monetization models; travel companies often go for in-app purchases or in-app advertising.
In-app Purchase – This form of revenue generation encompasses a commission method. It means that app owners get the fee from service providers when a user buys their service through the application. Therefore, most travel apps not only offer multiple options for travelers but also let them buy these packages simply through the application.
In-app Advertising – In-app advertising is also a common and successful mode of generating income through a user-friendly travel mobile app. Some of the most popular blogs and info-based websites make money from Google AdSense. With an impeccable increase in mobile application development services, many apps have also started to get revenue through in-app advertising. Certainly, it can be an efficient choice of monetization for travel apps as well.
Features that Make Travel Mobile Applications Engagement-Worthy
Travel Planner – A travel planner or an itinerary tracker is required to let the travelers know their whereabouts in a new place. Not every travel app contains this type of information. But you can win the game of organic outreach by introducing these uniquely convenient travel mobile app features.
Customized Journal – More than 50% of people who travel these days are either social media influencers or designated guides appointed by travel firms. These users need to accumulate their experience in the form of a journal or a vlog that they can share with their followers. This option on a travel app can efficiently lure travel enthusiasts towards your app. After all, who doesn't want to save prolific experiences during a fun trip? 
Navigation – A well-defined map is one of the most crucial aspects of travel application. Make sure to put this feature on your app during the travel mobile app development process.
You can also read – Healthcare Mobile App Development – 8 Must-Have Features You Shouldn't Miss
In-App Booking – In-app booking is an unavoidable part of travel applications. These days, no user would want to open a desktop to book a flight or a hotel in a neighbouring town. You must ensure that your app lets them make in-app bookings with ease.
Reviews & Suggestions – Reviews of numerous shopping spots and restaurants along with the best suggestion on tourist places will suffice as the features of a flawless travel app.
Info about Everything Local – From local transportation and helpline numbers to weather conditions, your user would want to know every little detail about the place they will soon be visiting on their next trip.
What's the Cost of Travel Mobile App Development in India?
The cost of travel mobile app development can escalate anywhere between $10,000 to & $50,000. Primary elements such as the target user base and the number of features will affect the cost of travel app development services in India. Do you have an enticing travel-related app idea? If yes, then you need the assistance of a specialized travel mobile app development company in Delhi like Trank Technologies. As a rapidly-growing IT company, we are here to share our experience in app design and development with you.