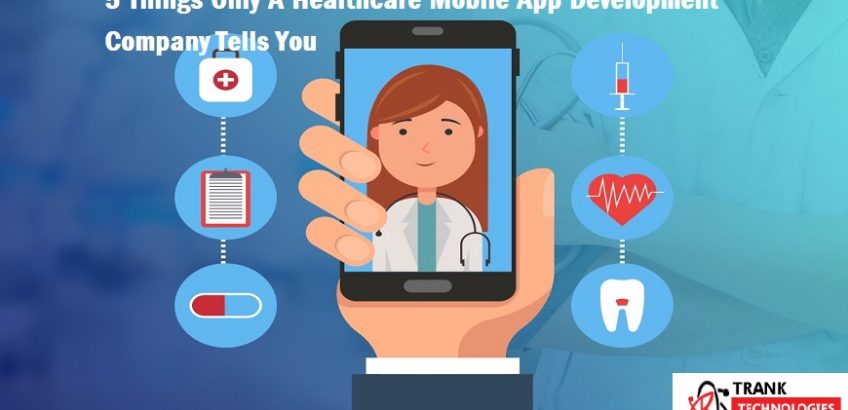 5 Things Only A Healthcare Mobile App Development Company Can Tell You
The Healthcare industry has always been the core of numerous business sectors in one way or another. In fact, healthcare itself is an amalgamation of multiple industries such as logistics, flight management, pharmaceutical, etc. However, the equation has never been the same for this industry since the evasion of COVID 19 in 2020. Various fitness apps and online medicine buying apps have been in the existence before. But the usability of healthcare apps created by a healthcare mobile app development company has tremendously boosted after the launch of the Arogya Setu App.
Simply put, healthcare app development has become an inevitable part of the sector. Every smartphone user across the globe keeps at least one health-related app on his/her mobile. It won't be wrong to say that a healthcare mobile app development company in Delhi and any other city of India has garnered quite a demand in the last two years. Though Bangalore and other well-developed cities have experienced app design firms, the capital city has the best talent in the industry for application design and development.
In today's post, we are going to highlight a complete guide on healthcare mobile app design and development. This extensive guide also points out the crucial information that only a reliable healthcare and medicine app development agency can provide. This explanatory guide will take you through the following sections:
You can also read – 5 Ways To Choose The Best E-Commerce Development Technology For Online Stores
Significance of healthcare mobile app design and development
Types of healthcare applications based on common categories
Trends in the healthcare sector (that a mobile app development company takes care of)
Pivotal Steps of healthcare mobile app development
Mistakes to avoid during healthcare mobile app development
What is the Significance of Healthcare App Development?
The rise of leading healthcare mobile app development companies in Delhi and other parts of the nation has illuminated the significance of these applications. A remarkable increase in medical and health-based apps has facilitated the following for hospitals, pharmaceutical companies, and the users:
Easy access to health records, test reports, doctor's information, and appointment booking has become easier than ever. Now you don't need to wait in line to wait for your turn at the clinic. A phone application does all these things for the patients.
Medical facilities across India now access these applications to collect the essential data of their patients. Hospital administration gets to save a lot of time on database management due to the elimination of complex data arrangements in desktops.
Patients can pick the best doctors in town for their health conditions without roaming around the city. An all-inclusive app can provide you with every vital detail of the doctors along with their history in practice.
In addition to booking appointments, you can reschedule or postpone appointments, receive notifications, medicine reminders, drug prescriptions, etc. These apps also let you stay in touch with the clinic you are getting your treatment from.
Patients and doctors come on common ground and become a part of a community. This way, they both can share their experiences and health updates hassle-free.
Some of these apps also update the users about useful news in the healthcare industry. You can share your symptoms and get to know the simple treatments while sitting at home.
You can also read – Mobile Commerce Development Services In India – An Overview Of Mobile Dominance In ECommerce Industry
Most Common Types of Healthcare Mobile Apps
1. Designated Healthcare Apps
These types of healthcare apps are built specifically for assessing the health of a patient and tracking his/her improvements.
2. Appointment & Clinical Support Apps
This form of the application lets you book an appointment with the best doctors in the city. You don't have to head out of the house to do that anymore.
3. Doctor-on-Demand Apps
These types of phone applications allow the patient to connect with the doctors, right on the demand. With these apps, you can contact any renowned health professional after an injury or any other health problem.
4. Medicine Tracking Apps
Patients with BP, diabetes, or any other health condition take medicines on a regular basis. They can download medicine tracking applications to get an online reminder of medications.
5. Exercise & Fitness Apps
These apps have been on our mobile phones before the pandemic made our lives entirely dependent on healthcare mobile apps. These apps include Yoga, Zumba dance, aerobics, etc.
6. Dieting Healthcare Apps
Health enthusiasts now use dieting apps to keep a count of their calories and measure their health improvement using these designated dieting healthcare apps.
7. Healthcare Apps Dedicated to Women
These special mobile apps contemplate everything related to women's health, pregnancy, menstruation cycle, mental health, and more.
You can also read – Healthcare Mobile App Development – 8 Must-Have Features You Shouldn't Miss
Latest trends in Healthcare Mobile App Development
Only a trustworthy healthcare mobile app development company in Delhi will be aware of the latest trends and techniques spreading throughout the industry. Some of these ongoing trends are:
Telemedicine solutions for healthcare enterprises
Cloud solutions for seamless database accessibility
Internet-of-things to facilitate functional assistance
Assimilation of AI and blockchain in healthcare
Association with health insurance firms
Data analytics and mobile payment configuration
Why Hire the Best Healthcare Mobile App Development Agency in India?
A healthcare mobile app development company in Delhi knows the best ways to craft user-friendly health portals. Here's why you should always collaborate with the right IT partner for your next big healthcare and medicine project:
1. Understanding the End-User
Well-known healthcare mobile app design agencies are familiar with the practicality of apps. This is why these companies commence most of their healthcare design projects in MVP mode. Moreover, these professionals know the simplest ways to reach the target audience. As per a survey, only 2% of the total healthcare apps available on the play store utilize the correct methods to target the users.
2. Systematic Development & Testing
A leading healthcare and medicine mobile app development company often start these projects with an MVP design. However, MVP in the healthcare domain stands for the most viable prototype in terms of functionality. In addition to functionality, these applications are easy to test. This way, major errors come at the forefront before reaching an actual user.
3. Privacy of Patients
Other than every pivotal arrangement, a healthcare mobile app development company also assures the security and privacy of patients. Not only is it an essential HIPAA compliance, but also the virtue of project completion IT companies follow. In addition to these details, these agencies also ensure to promote these applications.
Mistakes A Healthcare App Development Agency Always Avoids
Complicated navigation and mixed usability
Absence of feedback and review section (for patients and health professionals)
Lack of understanding of the healthcare industry
Failure to connect with the user through a comprehensive content
You can also read – Why Do You Need A Web Development Agency For PWA Development?
Final Thoughts – Healthcare and medicine mobile app design and development services are becoming the need of the hour these days. If you are in search of a reliable and well-established healthcare mobile app development company in Delhi, then Trank Technologies is the right place for you.