Mobile Commerce Development Services in India – An Overview of Mobile Dominance in eCommerce Industry
Internet pioneers believe that it's no longer the big beating the small, but the fast beating the slow. The digital era has brought a degree of fairness in the business sector by putting upfront those who offer faster and more convenient services. Your product can be slightly less effective or more pricey. But your customers would be happy to invest in your products as long as they are available quickly and hassle-free. It might seem like an exaggeration, it perfectly culminates a significant scope for m-commerce (mobile commerce) development services in India.
From ordering groceries to booking tickets and paying bills online, everything is now possible with your smartphone. The mobile commerce trend has been around in the digital sector for quite some now. Though, the term gained an understandable stature prominently after the global pandemic. The massive shutdown made it simpler for vendors and sellers to reach buyers online through a personalized mobile application. 
Amazon, Grofers, and Flipkart are some of the most eminent eCommerce apps in India that users operate on their mobiles. Even though these applications are available in the responsive web version, using them on a smartphone comes with a lot of conveniences. This briefly transformed system also brought an edge in the digital marketing sector with augmented utilization of mobile eCommerce services, especially in India.
What is Mobile Commerce or mCommerce?
Mobile commerce can be explained as eCommerce for mobile devices. Any eCommerce website can now run as a smartphone app to provide ease of accessibility for the customers. Mobile commerce is analogous to eCommerce, but the only difference is that it is hinged on mobile applications. Your android phones, iPhones, and tablets will replace the desktop, and you can use an eCommerce website development company as an application in your phone.
The best feature of mCommerce or mobile eCommerce is that you don't need to open your desktop or laptop to use an eCommerce portal. You have a personalized device in your hands and an application that will do it for you. With this scalability, you can go anywhere and stay anywhere without being worried about grocery shopping, bill payment, and other daily chores that require internet maneuvering and consume your time.
Futuristic Significance of Mobile Commerce Development Services in India
Mobile commerce development holds a promising future for different business sectors in India and other developing countries. From customers to businesses, it is the epitome of convenience for both ends. Smartphones, tablets, and other wireless devices are easy to carry, and that's the case with desktops. Even laptops tend to become a problem in certain locations with electricity issues.
Phones and laptops are used nationwide including the rural areas with minimal facilities. Besides, mobile app development and marketing don't consume as much time as eCommerce websites and their social media promotion do. Moreover, the major global economic setback and skyscraping customers' demands also played a vital role in the increasing popularity of mobile Commerce or mCommerce development services in India. Customers are inclined towards these eCommerce mobile apps because they get to spend wisely and cautiously while shopping.
Now we have established the definition of mobile app development and circumscribed the potential future of mCommerce development services in India. Let's head to other essential aspects of mobile commerce solutions, benefits, drawbacks, and updates on mobile eCommerce.
Mobile Commerce & Its Omnipresence
As discussed earlier, this is not the first time that mCommerce development services have been introduced in the digital domain for online trading. Mobile commerce solutions have been around us for like a decade now. Here are the different types of mobile commerce applications that you have been using all along:
Mobile Shopping – From the biggest shopping brands like Amazon & Flipkart to India's famous shopping portals like Meesho, every eCommerce platform runs on a mobile app. These are the mobile shopping applications that deliver the efficiency of an eCommerce store on your personalized devices.
Mobile Payment – Paytm, Google Pay, & other prominent online payment portals allow you to pay your bills, recharge your mobiles, and share money with your closed ones without any hindrance. These mobile payment applications fall under the category of mCommerce app development services.
Mobile Banking – Every single bank in India now lets users handle their banking through a customized mobile app. With the help of data sync and security setup, the technology has discarded any potential need to visit the bank.
Sectors that Avail mCommerce App Development Services in India for Streamlined User Experience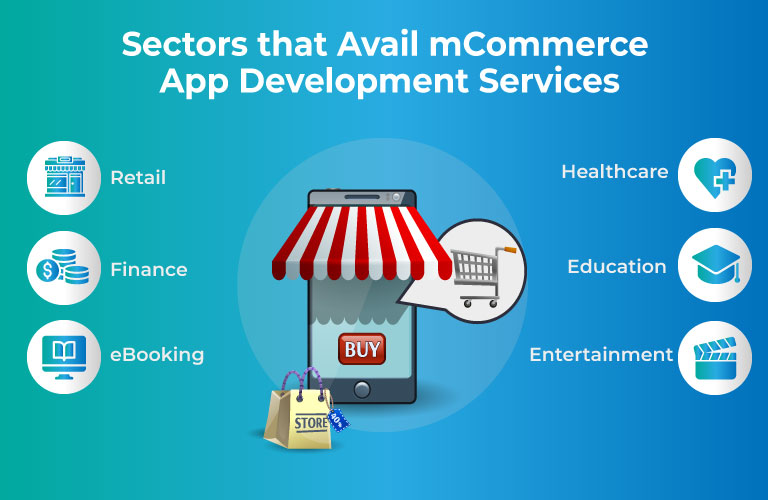 Are mobile commerce and mCommerce app development services the terms you have heard about for the first time? Well, then the following segment will amaze you! This section covers some mainstream sectors that avail mCommerce app development services to reach their customers in India and overseas.
Retail – Customers can now buy everything online from clothing, footwear, and accessories to groceries and other domestic supplies. Retail mobile apps come with tailor-made search filters and many other exciting functionalities that make online shopping fun for customers.
Finance (FinTech) – From Banking to bill payment, every financial task is fairly plausible online. Users can send money online without heading out to a bank. These mobile app users can receive the receipt of the transaction on their registered email IDs and mobile numbers.
eBooking – All you need is a simple app to book air/train tickets, hotels, and arrange an entire trip on your own. Everything made straightforward with mCommerce development solutions!
Healthcare – There are feasible mobile applications for you to consult certified health professionals, get medical supplies, and order prescribed medicines without stepping out of the house.
Education – Education has gradually morphed into eLearning after being known as distance learning for a prolonged span. What used to be an assignment alert on your mail is now push notification on your smartphones and tablets for your upcoming class schedule.
Entertainment – A few years back, the world moved on from YouTube. When entertainment mobile apps such as Netflix and Amazon Prime came into existence. The quintessential search for quality entertainment ended with more similar apps that viewers across the globe are using to stream their favorite shows and movies.
As we all know, everything that comes with so many applications has some pros and cons. In our sections of mCommerce development services in India, we will sneak a peek at the advantages and disadvantages of mobile commerce.
Mobile Commerce Advantages
Mobile commerce represents the most prolific module of marketing for your business. It dissipates the various complexity professionals confront in digital marketing. There's your business with quality products and services and an audience base on the other side of the phone app. Nothing in-between! This is why top mobile app development companies in India suggest their partners from different industries investing in tailored smartphone apps.
Top mobile app developers in India claim that backend maintenance is simpler in customized mobile applications as compared to eCommerce websites. In terms of promotion, an app is easier to market, but website marketing is relatively more time-consuming, given all the SEO and SMO tactics effectively reach the end-users.
You can update your target customers about the latest collection with the help of personalized applications. This is not an option even in responsive eCommerce websites. This is another prominent reason why mCommerce development services have secured a position in the latest digital marketing trends of 2021.
Now that backend maintenance and marketing efforts are in a mitigated state, businesses can focus on the quality of their product and work on their efficiency. On some levels, mobile commerce is transforming the retail exchange in India.
Mobile Commerce Disadvantages 
Mobile commerce development services aren't as successful in rural areas as they are in the major cities of India. The scarcity of internet connectivity and the unavailability of smartphones and tablets are some challenges for businesses. You may have to wait a little longer to get to the customers in rural India.
While mCommerce development services have proliferated a robust base in India, security is still a concern. Trade analysts state that most enterprises are not even ready to embrace mobile commerce. It is because of the potential fraud risks associated with mobile commerce.
Your customers who live somewhere with frequent internet connectivity issues in the area avoid using apps for online shopping. They simply log in to an eCommerce website to buy things online because websites and especially progressive web apps don't ask for a strong internet connection. Evidently, internet connectivity is one of the major hassles for mobile commerce solutions in India.
There's still a selective group of people among your target customers that defies modern changes. It's not like they hate technology or anything! Using a website on the web rather than installing an app and then using it is certainly more convenient for them.
Mobile Commerce Development Services in India – Latest Mobile Commerce Insights
From top app development companies to business analysts, everyone believes that mobile commerce is the future of trading. But this is not just a peripheral analysis. Surveys have proved that more than 50% of users in the United States use mobile apps to shop for supplies. This number enhanced to 79% in the past year during the global shutdown.
As per these insights of mobile commerce, trading professionals are presuming that 54% of eCommerce will turn into mobile commerce by the end of 2021. WIth technology amalgamation of AR and VR, mCommerce can be seen as the ultimate future of mobile business. Moreover, this is why mobile app development agencies have channelized their areas of expertise in this direction.
Final Thoughts
All in all, mCommerce development or mobile commerce integration is like a veneer of advancement for your online business. It might be a noteworthy investment at the beginning. But it will place your business amongst the most used applications in your customers' devices. You can evaluate the essence of mobile commerce by the benefits and setbacks mentioned in the post. It will help you to decide whether it is lucrative for your business or not. Trank Technologies can assist you with custom mobile eCommerce app development solutions. Our services comprise viable customer engagement and visible growth that can effectively sustain the reputation of your business amidst the arduous competition.