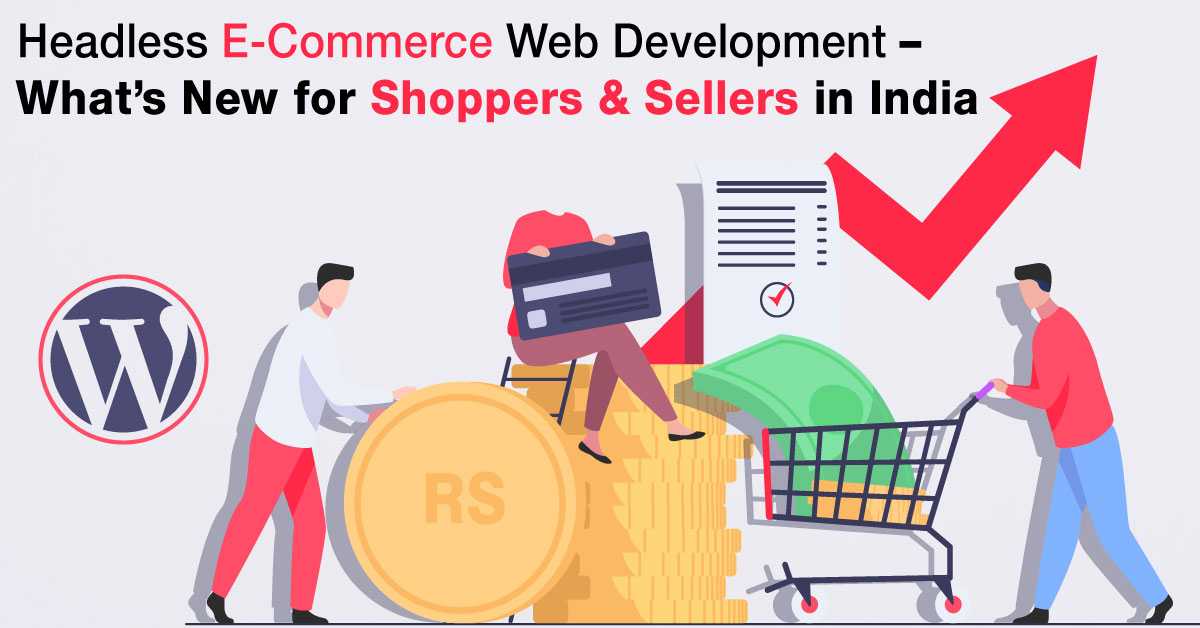 Headless eCommerce Web Development – What's New for Shoppers & Sellers in India
The world may have suffered from a drastic economic downfall in the past 2 years, but it hasn't affected the digital industry at all. Although, industry leaders and technology professionals have managed to utilize this setback as an advantage for the future-ready roadmap planning of the online business. People are trying to move along at the same pace and surviving in the digitally driven era with the help of the user-friendly transfer of services and communication systems. eCommerce advancements have made it easy for people to get essential supplies at home. Headless eCommerce is just another feather in this series of latest digital changes that will further transform the web development and online shopping domain in 2021. Let's see what changes headless eCommerce web development in India will bring for sellers, buyers, and service providers.
Before commencing the impact of headless eCommerce website development services on the market, let's understand its definition first.
What is Headless eCommerce Web Development?
Headless eCommerce is a web development methodology that allows web developers to use separate frameworks for the frontend and backend. This is a revolutionary step in the eCommerce sector as it bestows a great deal of creativity and options for online stores.
The core architecture of the headless eCommerce web development involves a layered separation between the frontend and backend of the website. It means that web developers in India and other countries can now use the opportunity to add quality content on the front side of the portal. Besides this, they can provide extreme eCommerce scalability in the backend part of the website. you can get creative with the design of your website and yet manage it just like any other eCommerce shopping portal.
PCI compliance, standard security, and fraud management are some of the best features of headless eCommerce web development. Hence, it is an optimal source of development for custom web portals and enterprise resource solution websites. This model is gaining huge popularity in the digital sector for its comprehensive advantages for users and professional web developers.
Brands can also benefit from Headless eCommerce web development services and offer better accessibility to their customers. When it comes to engaging the users on an online portal, simple navigation and an understandable layout are the foremost factors you can rely on. Now DTC (direct to customers) websites have a less expensive option to promote their products and services in the form of headless eCommerce.
Headless eCommerce Web Development – How is it Different from Traditional Method?
eCommerce strategies are hinged on the flexibility factor of a technical model, and headless eCommerce is all about it. No matter how distinctive your target audience is, headless eCommerce web development services will make it convenient for you to reach the right users efficiently.
Tradition eCommerce development services revolve around a single technical framework that somehow limits of scope of creativity. If you choose backend convenience, you will face a lack of options in the frontend part. Similarly, a feature-filled frontend design may not support an easy-going backend side. While the traditional models of eCommerce web development have managed to bring the market up to the present point, it reeks of limitations. Therefore, conventional web development for eCommerce portals may not be a viable choice for future-ready websites.
Headless eCommerce web development is achieved by decoupling the technical portal of the web development from the user interface. This has allowed businesses to be as creative and bold about their brands as they want. Their experiment with the customer interface won't affect the navigation and performance cycle of the website. Nonetheless, traditional eCommerce has its advantages.
You can also read – Shopify technology Updates 2021
Traditional eCommerce Practices Are Still Helpful. Here's Why!
The traditional eCommerce web development services consist of a monolithic model that most digital agencies still use. Some enterprises prefer sticking with the traditional model of eCommerce development because it offers a to-the-point approach. It is renowned for building highly complex technical layouts that require less innovation and more technological development.
The only setback of conventional eCommerce web development is that it involves high web development costs. The entire control remains in the hands of the technical team and it doesn't offer much for the creatives. A full-fledged technical portal with immense customization is a possibility with traditional eCommerce web development services.
Why are Brands Switching from Traditional eCommerce to Headless eCommerce?
Traditional eCommerce web development and headless eCommerce web development both have a certain significance. It is your call of the decision to choose between these two for upgrading your business according to the market norms.
Traditional eCommerce services work fine for regular shopping portals, but the headless model delivers better functionality and improved API experiences. The headless eCommerce web development model allows you to select different platforms and frameworks to build robust APIs and SaaS arrangements.
Whether you want to create your web portal on a customized CMS, React JS, or Angular JS, everything is possible in this model of web development services. Now brands have the option to utilize content marketing for their eCommerce business and experience the accessibility of agile eCommerce practices.
Headless eCommerce Web Development – Benefits of the Latest Model for Merchants in India
Apart from technological flexibilities, content-led marketing strategy is another reason why headless eCommerce web development services are taking a rise in India and other countries. It is a plus point for brands and merchants because now they can engage with their customers through informative communication. Developers can experience the ease of web development with multiple options for customization and feature configuration. Besides IT professionals, other team members can also view and manage the architecture of the website.
All in all, the headless eCommerce web development service model is beneficial for everyone in India, the US, UK, and other digitally active countries. Be it the customer or web developer, it is useful for all. It also includes the merchants who run the eCommerce establishment online. Here's how headless eCommerce web development services are beneficial for merchants:
1. Faster eCommerce Websites with Better Designs
Now that there is sufficient flexibility in the technology segment, brands can get creative with the user interface of their website. The decoupling of the frontend and backend offers the possibility for the separated development of the website. Web developers don't experience any confinement or lack of elements to create the most prolific online shopping portals for their loyal customers.
The frontend part of the eCommerce websites contains the theme and navigation that customers can see and operate. The headless mode eliminates the complexities and provides better layout designs that your customers can easily understand and use. This is the level of ease you deliver to your users without affecting the backend of your website. When the design is better and navigation is accessible, websites perform faster than ever that boosts customer engagement effectively.
2. Ease of Creation for Web Developers
Only professional web developers know what it takes to create a fully functioning eCommerce website for millions of users. Fortunately, headless eCommerce web development generates ease of website building for professional developers. Instead of working day and night in coding every single element of the website, they can separate the sections and work on them individually.
Headless eCommerce web development services come at the forefront as a unified solution itself. Web developers can use a variety of tools to build world-class websites and multi-owner control panels. It means that different people can manage the website. It also means that the administration doesn't bring any harsh pressure on one single person.
3. Go-to-Market Access for Mediocre Brands in Global Market
Developers and customers get to experience convenience through a headless eCommerce web development service model. But merchants have even better advantages in terms of sales and ROI. Whether you are trying to target the customers in different locations or planning on multiple channels, headless eCommerce offers a simple pathway for online business. With this model, you can set up your online business effortlessly and promote it across different platforms without much investment. This way, SEO for nationwide and worldwide audiences can get even simpler for the marketing team. In some ways, headless eCommerce web development services also bring a sense of harmony to the operational structure of your enterprise.
4. Lower Costs and Enhanced Conversion Rates
Headless eCommerce has become a prominent choice of the top web developers and web development companies in India. The main reasons constitute the reduced costs of customer acquisition and boosted conversion rates. The headless model reduces the cost with the help of a content-led strategy. Consider that your content is strong and your website is attractive. This way, your online business will evidently receive more organic traffic than ever. It means that you can cut your costs on paid advertising.
With decoupled web development structure and smart content strategy, online merchants can save a lot of money. On the other hand, the organic crowd on the website can take interest in your products and services. It can lead to better user engagement and improved conversion rates.
You can also read – Top 10 Web Development Frameworks In 2022
Headless eCommerce Web Development – How to Begin?
Headless eCommerce web development may be one of the latest techniques of website design and development services. It doesn't mean that it's hard to configure and manage. You just need a team of experienced UI/UX designers, front-end developers, backend developers, and content strategists. Trank Technologies is here to help you with custom eCommerce solutions. We are one of the top web design and development companies in India that provide all-inclusive services for businesses of all scales.
You can also read – Why Is PrestaShop Gaining The Attention Of Ecommerce Development Companies In India?