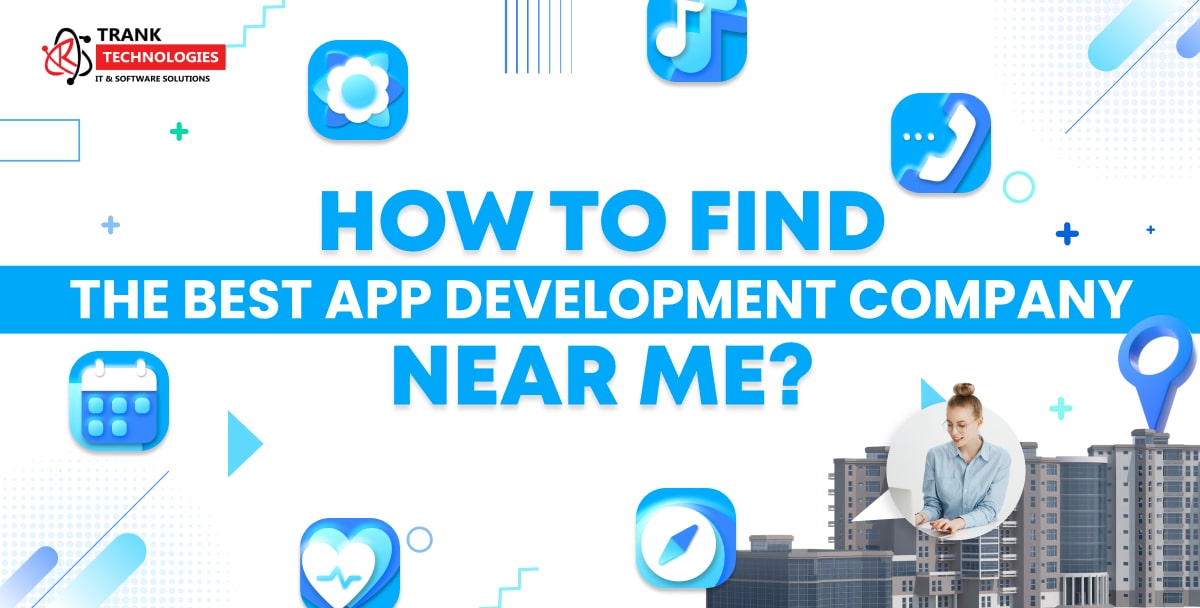 How To Find The Best App Development Company Near Me?
With every passing year, new app development companies are founded. The reason is simple, to make the world completely digital. Every business, whether it is narrow or vast, has a great ideology to grow its business. All they need is a mobile application to reach their targeted audience. 
The term "app development company near me" can help numerous businesses find the agency that helps them make their workflow smooth. In this blog post, we'll dive deep to provide you with a complete guide on the important points that you shouldn't underestimate while searching for an up-to-the-mark Android app development company in India.
Onshore vs Offshore vs Nearshore App Development Company Near Me 
When you decide to outsource app development professionals, your next step should be to locate a local app development company. You now have a few hiring options at your disposal. Let's explore each in more detail. 
What is an Onshore App Development Company? 
Onshore app development companies refer to the agencies that are located in your country. For instance, when you search mobile app development company near me, google will fetch all the app development companies in your city, state, and overall country. 
What is a Nearshore App Development Company?
Nearshore app development companies are agencies that outsource your app development project to a nearby foreign country with similar time zones. This entails collaborating with neighboring countries that are only a short distance away. 
What is an Offshore App Development Company? 
Offshore means when you outsource an app development company that is located in a foreign country.it is cost savings as it delivers significant cost savings compared to any other option. 
Top 5 Considerations Before Hiring An Android App Development Company Near Me
No matter what the business is all about. Every business can have an online identity through an all-inclusive app that helps users to buy the products they want directly from sellers from the comfort of their homes. 
Following are the top 5 considerations or advice that you must know before hiring an Android app development company in India.  
1 – The Majority Of The World Uses Android Mobile Phones 
The first and most important difference that stands out is all about the user interface. You must know that the majority of the world uses Android phones over iPhones. Android users are able to customize their home screen by identifying their widgets and apps in many ways. On the other hand, iPhone users are limited to a more simplistic layout that they can't modify. As Android phones immensely have more customization options than iPhones, this is one of the reasons why people opt for Android phones. 
You can also read – Is Content Created By AI Harmful To SEO?
2 – Evaluate The Cost Breakdown Of The App Development
When you find an agency by searching for an App Development company near me, make sure you have a pre-prepared list of queries to ask them. The first that comes here is checking their pricing structure. Discussing cost is the most important consideration when searching for the best Android app development company near me. Look for a company that offers sufficient cost for app development that fits your budget. 
3 – Ensure The Company Have Security And Confidential Policy
When you build a unique business idea, you always want to protect it from outrage or being stolen. That is why assessing Fair Information Practise Principles, abbreviated as FIPP, is essential while hiring developers. The FIPP exactly is the set of principles government agencies follow to asses how information systems, programs, and other activities can negatively impact people's privacy. 
4 – Ask if They Provide Post-Development Maintenance & Support
Mobile app development is not a one-time process. It requires constant care and upgrades to stay competitive according to the changing demands of the customers. Hence, app development support is never an option but an unavoidable necessity to be considered when searching app development company near me.
5 – Project's Deliverability & Timelines
In order to thrive in today's digital pace of the mobile app market, you should search Best app developers near me that give an assurity to stay committed to their words and performs within the given timelines. To gain the audience advantage, it's important for you to launch a solution with faster user acceptance. Thus, make sure you check all the records of delivering high-performing applications within the timeline.
Conclusion 
The increased usability of smartphones worldwide, the preferences for apps over browsers, and the impact of mobile applications on user engagements highlight the need to search for an App Development company near me. 
To ensure the success of your company app, ask app developers a few questions about their prior work, design process and strategy, project delivery timetable, and so on. There are plenty more questions to ask the app development company in India you employ, but those listed above are some of the most valuable. They promise to help you develop sturdy and successful mobile applications that meet the global audience's expectations. 
FAQs

Q 1 – What is the cost to develop an app in India?
Ans – To be honest, there is no fixed cost to develop an app, no matter what the business is all about. It completely depends on the level of specifications and features you want in it.
Q 2 – Which app development is best for business growth, Android or iOS or both?
Ans – From a revenue perspective, it's a fact that iOS applications make more money. Despite the fact that there is only a fewer number of iOS users and fewer app downloads, the App Store brings in much more revenue.
Q 3 – What's the future of app development?
Ans – Without a question, the future of app development is bright and full of potential. With the rapid advancement of AI (Artificial Intelligence) and ML (Machine Learning), developers have begun to create really remarkable and transformative apps that have the potential to significantly change the way we live and work. 
Q 4 – Is app development without coding possible?
Ans – Yes, creating a mobile app without code is effortless. If you have experience using several website builders like Wix, the app development process will be very similar. However, you might need to search app development company near me for all-inclusive advanced app development. 
Q 5 – How to find an app developer near my contact number?
Ans – First, type "app development company near me" in your browser. Now you can easily locate the best results. Open the websites of app development agencies and directly call on the number given on their homepage.  
Q 6 – App development or web development, which is better?
Ans – In order to reach a wider audience with more cost-effective solutions, web development may be your choice. Alternately, if you need a more personalized user experience and want to take platform-specific features, app development may be the better choice. 
Q 7 – Is choosing app development as a career worthy? 
Ans – Because of the high demand for app developers, app development has become a high-paying career option.
Q 8 – What are app development and maintenance costs in India?
Ans – There is no specific cost for app development and maintenance cost. Whether you search app development company near me or the best app development company in India, app maintenance cost is never predecided. Every agency decides app maintenance costs on an hourly, monthly, or yearly basis.