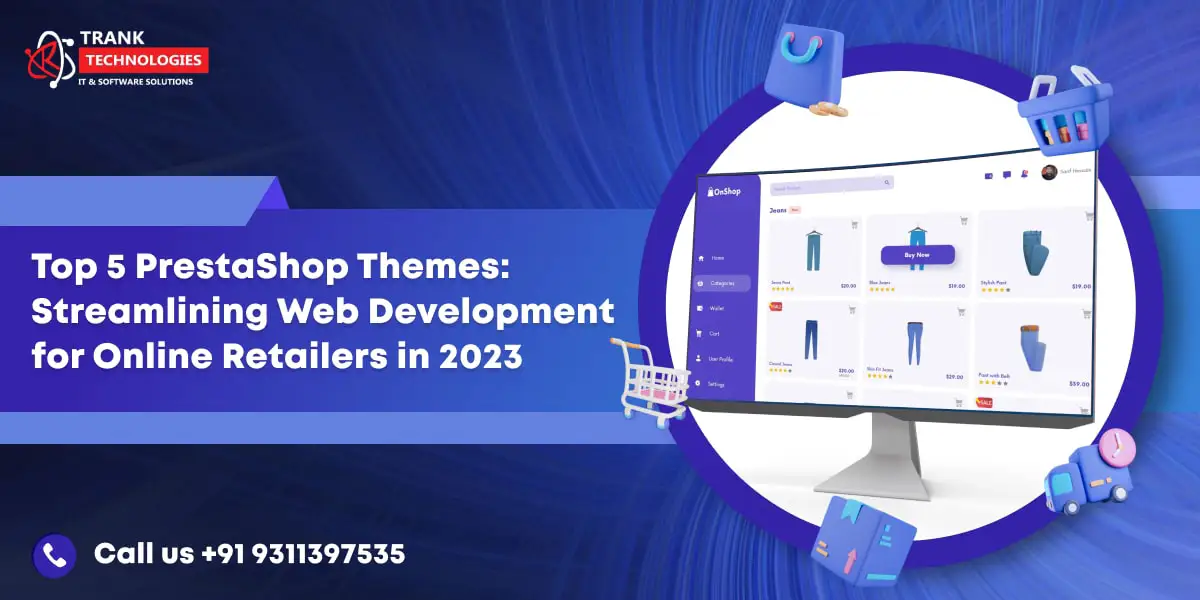 Top 5 PrestaShop Themes: Streamlining Web Development for Online Retailers in 2023
Gone were the days when people used to roam outside for shopping. Not only it is time-consuming but hazardous in the summer. However, the internet has been used much for shopping since the outbreak of coronavirus has transformed the landscape of the digital world.
With the growing popularity of online shopping platforms, retailers have begun investing in web development companies in Delhi to develop eCommerce stores and attract customers. Many local store owners have initiated shifting towards online platforms to sell their goods and services.
Physical store owners do not just want an online store but a significant destination that delivers the best user experience. In this blog, you will discover the top 5 PrestaShop themes that make the eCommerce website development process much more straightforward and effortless. Similarly, provides an unbeatable user experience to your end users.
What Is PrestaShop in eCommerce?
PrestaShop is an open-source platform for eCommerce. It allows the PrestaShop development company in India to create a high-quality online store. To flourish in this cutthroat digitalized era, physical store owners need a top PrestaShop Development Company in India that can help them build a user-friendly and responsive website. Developers customize this platform for individuals' business necessities that help them grow adequately.
Why Should You Hire a PrestaShop Development Company in India for an Attractive Online Store?
The most important thing to keep in mind when creating an eCommerce website is to choose a powerful theme that will enhance the shopping experience. Here, the need for the perfect eCommerce platform with an outstanding theme arises.
The importance of employing the best PrestaShop Development Company in India can be clearly understood with the customization level your online store requires.
Now let's take a closer look at PrestaShop. There are a number of customization tools available in PrestaShop, including tools for product organization, responsive features that make navigation of the e-store easier, and effective options for accepting payment.
Top 5 PrestaShop Themes for Effective eCommerce Website
The customization level is what sets PrestaShop apart from other platforms. Hundreds of beautiful themes are available that give PrestaShop developers numerous choices in order to make their website stand out from rivals.
Below, you can learn about the top 5 PrestaShop themes for your online store –
1 – Wheels & Tires
First, in the themes list, Wheels & Tires has been the best PrestaShop theme over the years. This theme perfectly lies with online stores associated with the industrial, architecture, interior, sports, and fashion industries. The theme provides high-end design techniques and all-inclusive in-depth documentation. As a result, this theme helps web development companies in Delhi (based on your preferred location) deliver a more interesting shopping experience to your buyers.
2 – Clothes
Another PrestaShop theme in the line is "Clothes." Using this theme, PrestaShop developers will be able to create websites for clothing vendors who wish to establish a presence within the fashionable clothing industry. With hierarchical menus, it has an easy-to-navigate layout that helps users to roam smoothly to your e-store. In addition to an advanced search bar, it also allows buyers to filter products according to brand, price, etc.
3 – Everprest
Everprest can be comprehended as the multipurpose PrestaShop theme. Undoubtedly, being multipurpose as an eCommerce vendor is a great thing these days. This theme offers plenty of options for every topic so you may get dozens of possible templates and choose accordingly. Every PrestaShop development company in India claims that Everprest is a prominent combination of stylish themes including productive and innovative features.
4 – Zro03 
With the highest editorial ratings points, Zro03 is one of the most popular PrestaShop themes and comes with extremely decent layout features. Probably, this theme is the best for developing an online supermarket store. By creating an online eCommerce platform using this theme, vendors can facilitate customers by experiencing a super rich and impressive product range.
5 – Alysum
Alysum is the premium PrestaShop theme. These eCommerce themes serve best for small and medium enterprises. With the highest customization capabilities, this theme allows vendors to choose from eight innovative and unique homepage layouts. Moreover, it allows PrestaShop developers to create smooth and beautiful visual effects with the help of the revolution slider that it contains.
You can also read – Why is PrestaShop Gaining the Attention of Ecommerce Development Companies in India?
Conclusion 
Bitter but true, it is very common for customers to leave a site due to its bad and complex layout design. Hence, as a potential vendor, it is important for you to create your PrestaShop online store. However, it is impossible without a professional PrestaShop development company in India.
With all the above-mentioned PrestaShop themes, vendors can easily have their customized online store that is not only easy to navigate but also attractive. To accomplish this, do keep in mind that in today's era, digital presence and first impressions are becoming more prominent than ever.
FAQs on PrestaShop Development Company in India
Q 1 – What is PrestaShop development?
Ans – PrestaShop is an open-source ecommerce platform that enables any PrestaShop development company in India to create individuals' ideal fully-customizable online store, facilitating them in establishing a brand and attracting prospective buyers.
Q 2 – What are the advantages of PrestaShop?
Ans – One of the main advantages of PrestaShop is that it does not involve higher investment. All you invest in developers at the best PrestaShop development company in India as this platform is free.  Moreover, it does not require advanced technical web programming skills.
Q 3 – How does a PrestaShop development company in India create a website with PrestaShop?
Ans – Steps to create an online store with PrestaShop including ordering a web host plan. Once done, installing PrestaShop will begin. After that, creating an online store will be the last process. However, the procedures need to be followed by one of the best PrestaShop web development companies in Delhi and across India.
Q 4 – Which is better PrestaShop or Shopify?
Ans – PrestaShop and Shopify are two of the market's leading eCommerce platforms. While Shopify is an all-in-one solution with a plethora of capabilities, PrestaShop allows users to customize their sites. Potential business owners may decide what suits their business well.
Q 5 – Do all web development companies in Delhi use PrestaShop to create an eCommerce web store? 
Ans – PrestaShop is one of many eCommerce platforms available for creating an online store. Web development companies in Delhi that develop online eCommerce platforms use PrestaShop as a supporting open-source platform and help entrepreneurs reach target audiences.