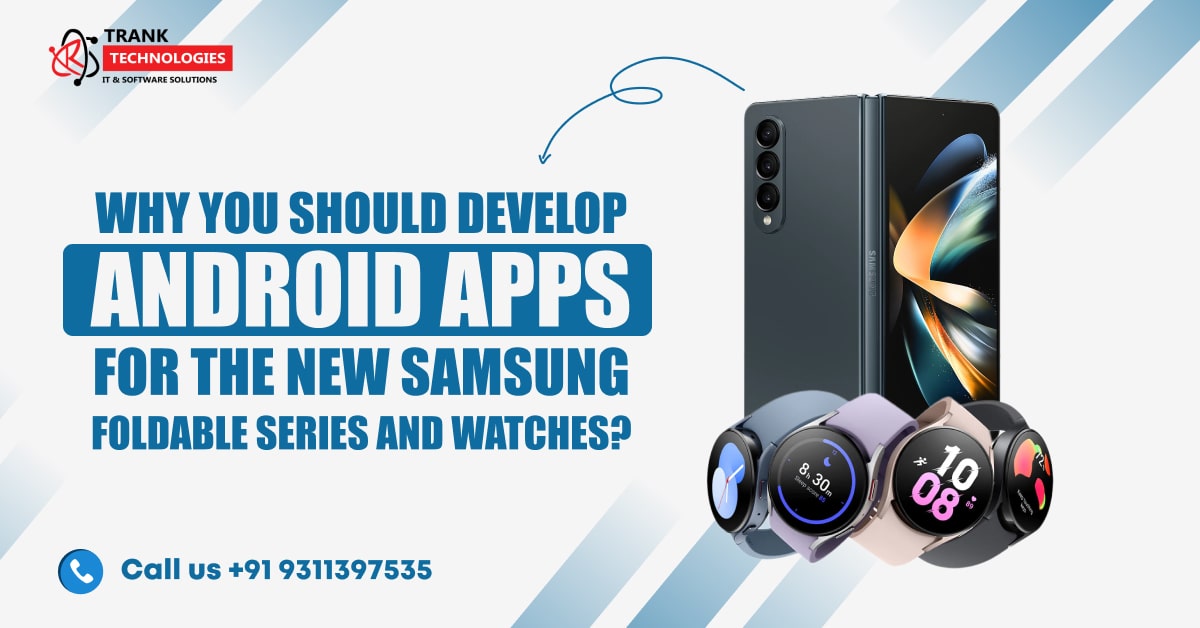 Why You Should Develop Android Apps For The New Samsung Foldable Series And Watches?
Buying a new phone can be compelling, but captaining an entirely different mobile ecosystem can be overwhelming. Reluctance to change and the assumption of losing all those apps, contacts, subscriptions, files, and photos usually don't entitle people to swap from one OS to another. Fortunately, that's not the case with Samsung. Despite how long a person has used iOS, switching to Samsung won't cause them to lose their important data and information.
If you are thinking about making an application for your business, hiring full-bodied professional developers with extensive experience is salient. The new generation embraces innovation and creativity. Make sure your Android app development company in India works with Samsung's latest device series, including foldable, tablets, and smartphones. It helps attract potential customers and expand the user experience. 
Samsung unveiled the four most adorable devices. These are Galaxy Z Flip5 and Z Fold5, Galaxy Tab S9 series, and Galaxy Watch6 series. In this blog post, we will speak of the most important tactics to ensure your app is ready for all of these brand-new Samsung devices while also preserving users' interest. 
1 – Your App Should Have A Great Foldable Experience 
The new launch of the new series of Samsung foldable Galaxy Z Flip 5 and Z Fold5 brings a new light to the entire Android ecosystem. So it is better to hire an Android app development company in India that provides a better user experience with a completely adaptive user interface. Your app behavior should always based on device configurations and available specifications and not on the device's physical type. 
When it comes to optimizing an app for a great foldable experience, you should make dynamic and runtime decisions based on whether a feature is available. Instead of assuming that feature on a certain device.
2 –  Optimize Your App For Multi-Device Use
In order to target your potential audience, you must prepare your app for multiple devices. The most significant part of your app that ensures its good reach among the masses is the user interface and the design. In addition, the most important part of your user experience is ensuring that your app looks great on large screens as well. When searching for an Android app development company, ensure the designers and developers have complete knowledge about the latest updates to large-screen guidelines. 
3 – Get Your App Ready For Wear OS 4
Apart from foldable devices, introducing the Galaxy Watch6 series comes with the most untried versions of Google's smartwatch platform, Wear OS 4. The platform update will also be available for other Samsung Galaxy watches, such as the Watch4 and Watch5. Wear OS 4 is based on Android 13. It is several versions more latest than the current Wear OS version. Therefore, the application you want to make will need to handle the system behavior changes that took consequence in Android 12 and Android 13.
You can Also Read: How To Find The Best App Development Company Near Me?
You should begin by testing your app and releasing a compatible update. There is no doubt that Wear OS 4 will be upgraded to devices. It is a common but important level of quality in order to ensure the user's experience with an application.  
4 – Test Your App on Foldable
Big unfolded displays and beautiful folded screens provide a state-of-the-art user experience on foldable devices which is currently very trendy. Currently, making your application fold-aware is essential to reaching a wide audience and gaining their interest. 
Foldable devices have unique features and specialties and require specialized testing. Only a professional Android app development company can help you develop an app that is compatible with small and large screen foldable. Also, with the devices folded and unfolded, in portrait and landscape orientations, book postures, etc.. 
Conclusion
Although foldable devices are gaining immense popularity nowadays in the Android marketplace which is unpreventable, things will evolve in the future. Thus, it is essential that you keep foldable devices in mind when searching for the best Android app development company in India. Make sure your app runs harmoniously on all foldable devices – it is the most influential Android mobile app development trend in 2023 and beyond. 
FAQs 
Q 1 – What is the Galaxy Store app on Android?
Ans – The Galaxy Store is different from the Play Store and offers a more portioned selection of apps personalized for Samsung Galaxy phones and tablets.
Q 2 – What is the difference between Galaxy Store and Play Store?
Ans – Google Play Store is a globally used app by every Android smartphone user. It contains thousands of apps that can be downloaded from all smartphones. On the other hand, the Galaxy store contains a few focussed apps only for Samsung Galaxy smartphones. 
Q 3 – How do I create an app for my Samsung?
Ans – You need professional assistance to concoct an app that is consistent with all the Samsung latest series. You all have to hire the top Android app development company near you. Tell them your business requirements, optimizations, and features that you want in your app. To discuss your project directly with experts and to know the estimated cost of developing an app – Contact US now. Consultation is free. 
Q 4 – Do you make Android app fold aware?
Ans – We are a renowned and experienced Android app development company, Regardless of whether you need an app for a foldable device or for a watch, we can optimize it.
Q 5 – What Should You Consider for Developing Foldable Apps?
Ans – Extensive market research, defining your target audience for your Android app development company, choosing the accurate platform, and determining the cost to develop an app for foldable devices are some of the most important considerations.