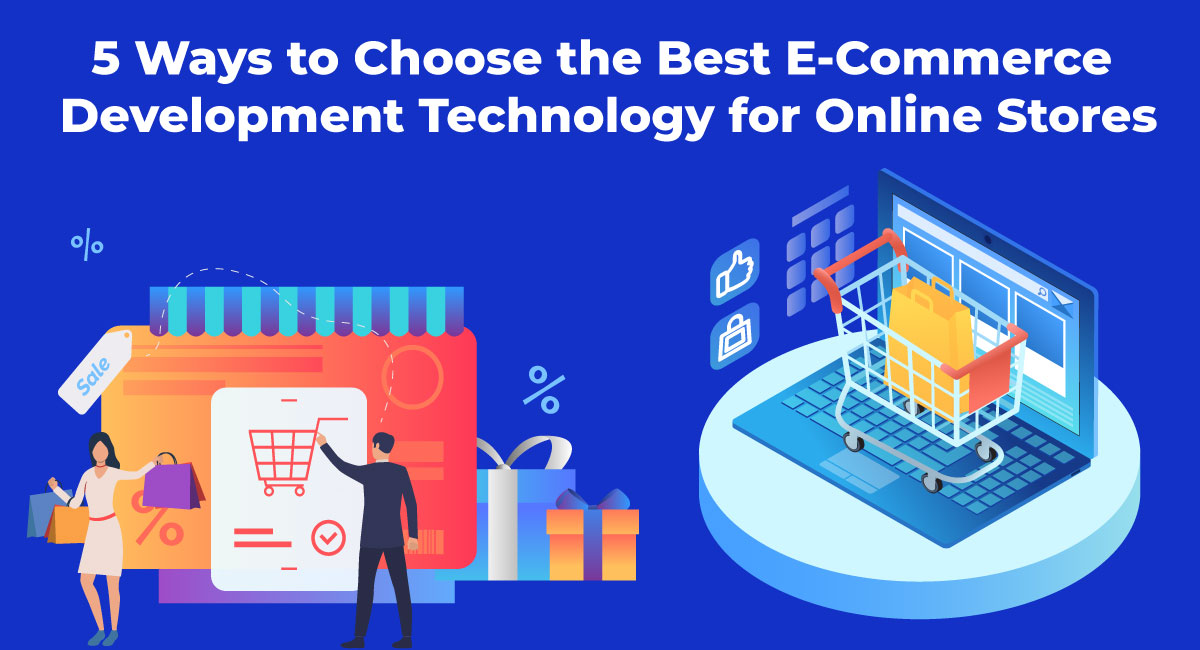 5 Ways to Choose the Best E-Commerce Development technology for Online Stores
An eCommerce website or an application looks so enticing and colorful at the forefront, but that entire arrangement withholds a very complex setup in the backend. Most people who love to shop online can hardly imagine the level of intricacies and constant assessment that an eCommerce platform requires to perform smoothly on the web. Fortunately, the best web and mobile app development companies in India manage to do the daunting task of picking an eCommerce technology with the help of a professional team.
E-Commerce backend development is indeed an obscure component of web and application development. But certain tools and frameworks make it way simpler and more convenient for online store developers. Architecture setup, SEO settings, payment method integration, user registration, shopping cart customization, advanced search, and other aspects of eCommerce design and development become a cakewalk for pros. Although, choosing the best eCommerce development technology platform is an entirely different kind of dilemma.
You can also read – Mobile Commerce Development Services In India – An Overview Of Mobile Dominance In ECommerce Industry
How to Choose the Best eCommerce Development Technology
There is a wide range of various backend development programming languages that store owners can consider for their new online storefront. But the selection can become simpler if you keep several prospects in mind while making a decision. The following section will help you choose the best eCommerce development technology for your upcoming eCommerce platform:
1. Make a list of things you want to see on your eCommerce website
This is the phase where you need to challenge your imagination and sort out the things. Because this part will represent the core of your shopping venture in the best possible ways. Make a list of specific options that you want to provide in your store for your new and existing buyers. It will also help you prepare a budget for your new eCommerce website and mobile app.
2. Develop an optimized timeline for project improvements
The digital marketplace these days thrives on a definitive timeline based on the demand of consumers. For ecommerce web development, timing is everything as it defines the growth of your platform in the upcoming days. Make sure that your online store is a sought-after venture that can survive the varying drifts of the digital world.
You can also read – Top 10 Mobile App Development Companies In India 2023
3. Give a shot to some of the most popular tech-stack
Now, you have an efficient ecommerce plan in your mind as per a distinct timeline. You can research some of the most popular technology platforms and technology stacks. Spend some time to understand what works best for the kind of online store you are willing to start. Even though you might find your first interaction with digital technology quite overwhelming, well-known technology choices will cut you some slack and make your decision rather easier.
4. Don't skip the scalability perspective while choosing a development framework
The wide-open availability of Laravel, Django, and many other highlighted ecommerce options can put your decision-making in trouble. To decide on the most efficient ecommerce design and development framework, you can delve into the perspective of scalability. A website in its initial phases needs to be prepared for provisional improvements. A website performing well on Google eventually receives more traffic. Scalable preparations make your website ready for heavy traffic on the website and sustain its performance record.
5. Search for a reliable ecommerce development company you might want to trust
Globally accredited ecommerce development platforms like Shopify and Magento have simplified the setup of online shopping stores. But most people get the wrong idea of web design and development with vividly distributed ads on social media. Therefore, you must not skip the idea of hiring a professional web and app developer to configure an error-proof website and application for your new business. 
You can also read – Headless ECommerce Web Development – What's New For Shoppers & Sellers In India
Topmost E-Commerce Backend Development Platforms to Consider
PHP
PHP is an open-source software programming language commonly used for backend web app solutions. This scripting language is one of the best technology picks for e-commerce development followed by these below-mentioned reasons:
Being an open-source framework, it doesn't cause any aberration in the development budget, and it is very popular as well.
The unbeatable compatibility of PHP programming language with MySQL, MongoDB, Oracle, PostgreSQL, and other types of databases.
The unified architecture of your latest e-commerce website can garner lots of benefits as it offers custom-built tools for diverse functionalities and scalable cloud computing design.
When associated with Laravel, CodeIgniter, Symphony, or other popular frameworks, PHP programming can boost the software development process and make your application far more efficient on the web.
C#
Despite being a general-purpose programming platform, C# is extensively used for developing different kinds of software including ecommerce development. It was originally created by Microsoft for .net development. Instead of spending your time hunting the top ecommerce development frameworks, you can use C# to craft effective and secure web and mobile apps.
The streamlined syntax of C# concords with various programming languages on the .net platform to minimize code errors and instigate numerous functions on the application. ASP.NET is another variant of development used specifically for app building. Microsoft, Dell, and Taco Bell are some common creations of the C# ASP.NET platform.
Python
If your project requirements are inclined towards an object-oriented programming language, then you can go with a well-interpreted Python development platform. This comprehensive platform comes with easy-to-learn syntax, code modularity, and code reusability. Let's see why Python is one of the most suitable programming frameworks for ecommerce apps:
Python is certainly the fastest web and app development programming language in the domain. When paired with Django, it offers a wide range of tools useful in the fast-paced development of ecommerce software.
The security scope of Python is effective for the prevention of SQL injections, XSS, CSRF, and other common forms of cyberattacks.
Python development is distinctively simple to conduct and fairly scalable which is the foremost requirement for ecommerce configuration. In fact, some of the topmost web and app developers in India have started their professional careers with discrete training in the Python programming language.
You can also read – Shopify Technology Updates 2021 – A Revolutionary Feature For Product Pages
Final Thoughts – Selecting the best technology for ecommerce web development isn't the hardest thing in the world, especially when you know what you expect from your online store. The aforementioned data of the most used programming language can certainly make it easier for you to keep your ecommerce options concise.
In case of any doubt about eCommerce web development and mobile commerce solutions, you can always connect with the technical team at Trank Technologies and get your answers from the experts.