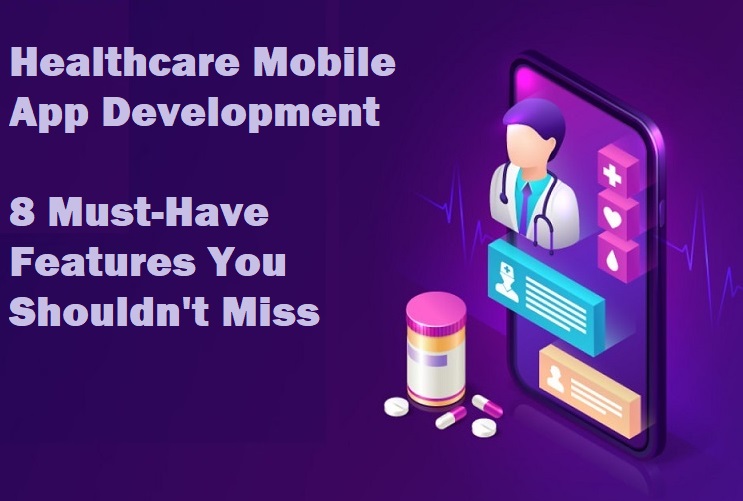 Healthcare Mobile App Development – 8 Must-Have Features You Shouldn't Miss
In the last five years, we have seen various business sectors take a drastic turn in terms of digital advancements. Interestingly, healthcare is also one of those territories. For any nation across the globe, it is an essential sector that needs to be on a scalable ground for optimal facilities. In this day and age of Androids and iOS, healthcare mobile app trends and features have made significant development in our everyday lives. The possibility of consulting a doctor instead of driving to the clinic and getting prescription medicines at the doorstep is a marvel of technology that millennials swear by.
Simply put, the healthcare industry is far more expendable and convenient than we could have ever imagined. From daily medicines and hospital supplies to doctor's appointments, almost every health-related service can be managed with on-demand delivery apps. Even the biggest pharmaceutical agencies around the world now rely on these digital platforms for ceaseless sales and secure transactions.
In this post, we will closely analyze the basic process of healthcare mobile app development and list out the main components and features of these apps that should not be avoided. 
You can also read – On-Demand Delivery App Development Cost – How Much Should You Invest?
Essential Features Not to be Skipped During Healthcare Mobile App Development
Prominent healthcare mobile applications use the integration of certain custom-built tools such as IoT, cloud technology, CRM, etc. to excel through the varying expectations of target users. Aside from all these technical configurations, a healthcare mobile app must also contain some pivotal features for patients and health professionals that can effectively protect and maintain the credible facet of the application. Let's look at the important features of healthcare smartphone applications:
1. Protected Registration & Login
Bringing patients and health professionals on board will require a simple authentication layout for quick registration and login processes. It's important to ensure that your users can easily register on the platform and connect with the right health professional in a hint of time. Signing up shouldn't take more than 3 minutes. It should follow a smooth navigation system that allows users to register instantly after submitting an email ID, contact information, and other required criteria. Also, the password retrieving must include the proper OTP format.
2. Single-Click Profile Changes
Top mobile app developers in India make profile changes in applications just as convenient as the registration and login processes. Mobile apps should allow users to submit various criteria of details as per their preferences. However, this should not be the onboarding layout for healthcare service providers and pharmaceutical firms. They need to provide complete information encompassing experience, specialty, healthcare facility address, contact details, and registered practitioner number and certification.
3. Smart Search Filters for Accurate Results
Healthcare mobile apps that provide on-demand solutions for users must acquire a smart search filter for to-the-point results. It will help patients find doctors as per their location, fee, and specialization. This way, the in-app communication between the healthcare professionals and users will become simpler. Also, the in-app communication system should be accessible enough to let users share every detail about their condition.
You can also read – 5 Ways To Choose The Best E-Commerce Development Technology For Online Stores
4. Choosing the Right Healthcare Professionals
The selection of certified healthcare providers with a brief history of the practice is an intricate part of healthcare mobile app development projects. Finding the right doctor through smart filters is one thing, but there are other important things beyond this shortlisting. Mobile app developers need to make sure that patients can assess complete information in doctors' profiles. These details include the clinic's location, visiting hours, specialty, and consultation fee. A feature for OPD booking along with the availability of prescribed medicines in the app would be perfection.
5. Custom Notification for Consultation Requests
While building customized healthcare apps, it's crucial to tailor navigation features for both user's ends. Your application must be just as helpful for doctors as it is for the patients. To assure that, you can add a custom notification feature in the application for consultation requests. Also, the doctors should have the authorization to accept or deny the request with a custom list of possible reasons. 
6. Medicine Reminder for Patients
There should be a tailored care plan for registered users where they can save their required healthcare services and prescriptions. A payment integration tool will simplify the transaction of the consultation fee. This kind of arrangement in the healthcare mobile application will alert people about their upcoming appointments and remind them of their medication.
7. Multilingual Setup for Wide Engagement
It is quite unfortunate that many brands still struggle to reach their audience as they lack a vernacular approach in their engagement strategy. Thousands of people out there don't use on-demand healthcare apps because they can't understand or operate these technologies. The absence of a comprehensive language passage remains to be a hassle for growing brands in India.
Healthcare is one of the most essential services around the world. Therefore, these platforms should be customized for a wide range of audiences. To make it a possibility, you can consider configuring a multilingual system in healthcare mobile app development. Making an app available in users' native languages is the only effective way to increase its use. Also, you can choose cloud technology to securely store invoices, heath reports, patient history, etc.
You can also read – Top 7 Mobile App Security Risks & Their Methodical Preventions
8. Medical Help for Remote Users
Sometimes, users from distant locations find it hard to reach the doctor's location for their appointment. In that case, your healthcare app must provide remote medical assistance for remote users. Complete access to a patient's medical history along with present symptoms can ease the check-up process for doctors. Other than this, there should be undisrupted connectivity with the nearby hospitals, so patients can get the needed help in case of an emergency.
Elements of Security Assurance in Healthcare Mobile App Development
Managing all basic functionalities of the application can be significantly overwhelming for app development professionals. It can leave an impact on the security and data management parts of the application. Let's take a quick look at some central security elements that you can't miss during healthcare mobile app development:
Collection of Patient's Data
Healthcare smartphone apps collect users' data that can be shared with doctors for proper online consultation. App owners or admins are required to collect and save the information associated with the product/service only. Also, there should be a secure system for storing the data that is easy to access and delete as per the requirements.
Data Permission
Always stick to a stern structure for authentication and authorization while working on mobile app data permission. Most users provide access to the information without focusing on the use of certain details on the application. However, it's the developer's responsibility to make sure that the data is secure. The protection passage in the healthcare app should not allow the service providers or pharma industries to pursue any unauthorized access to the users' data.
Well-Tested Compatibility
Any smartphone app which is used nationwide by a broad range of users is vulnerable to security risks. So, it must go through an extensive process of compatibility testing for optimal data protection. To accomplish this scale of application safety, developers must test various features of the healthcare app. All information that you collect from users must be put to efficient use during healthcare mobile app development.
App-Level Protection
Mobile app development companies in India and overseas pay full attention to the safety aspect of their projects. These firms ensure that there is no potential breach of information. This app-level data security requires experienced developers to count only on customizable coding practices. This is the security component that alleviates quality assurance of the application from initial development to final launch.
You can also read – Headless Shopify ECommerce Development – 10 Pros & Cons For Online Stores
Protection Improvements & Resolved Communication
Mobile app security is a meticulous part of healthcare application development. Therefore, experienced developers dwell on the idea of multi-channel protection structure for boosted app-level security. These protection parameters cover data encryption, post-launch testing, improved password strength, and reverse programming. Top healthcare mobile applications also equip a robust customer support system where users get the answers to their queries at the earliest.
Final Thoughts on Must-Have Features of Healthcare Mobile App Development
You will know that your healthcare mobile app development project is complete once you implement the aforementioned features in it. Some easy methods given in the security section will help you contemplate a protected user interface in your application. After all, a safe and sound accessibility landscape is what your target audience expects from you.