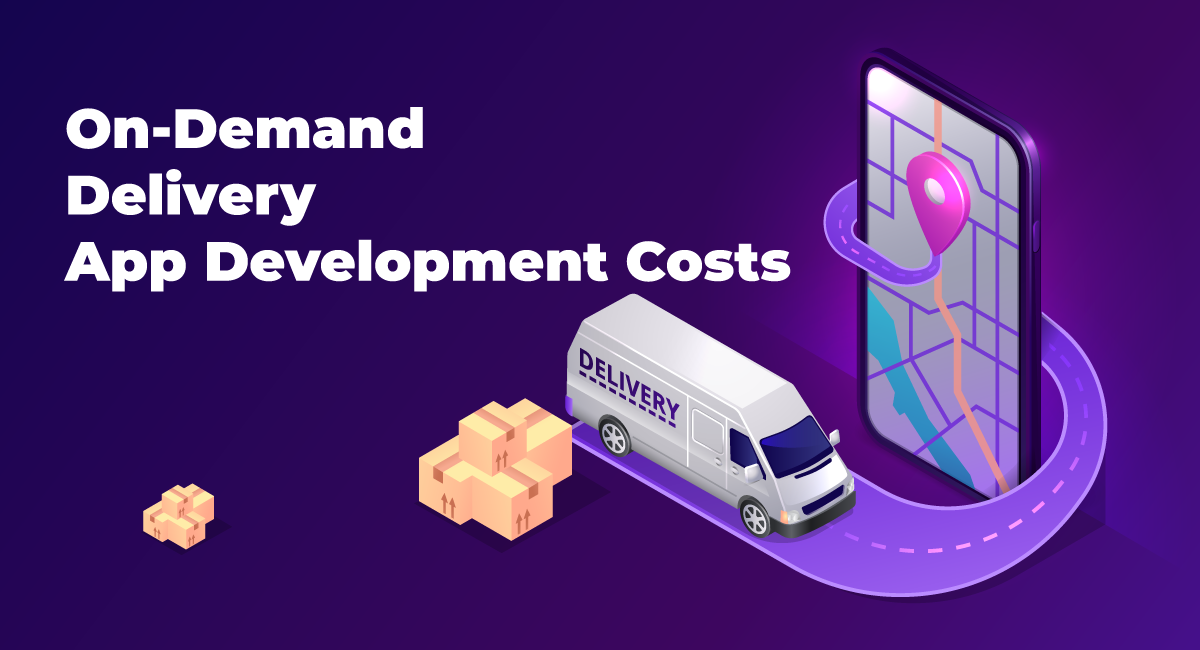 On-Demand Delivery App Development Cost – How Much Should You Invest?
From instant cab services to quick food delivery and at-home grooming services, our lives distinctively depend on on-demand delivery mobile apps right now. Not only this, now most people receive a consultation with their doctor through medical apps and order prescribed medicines using an on-demand pharmacy app. Summing up, the market of on-demand delivery mobile apps is on the loose. There is no better time to barge in and start your own similar on-demand service delivery app by calculating the estimated development cost.
Claiming the concept of these apps as 'entirely new' would be wrong as some of these popular apps have been on our phones for almost a decade. And yet these applications managed to sustain their significance in our lives by saving a lot of time and effort. Service providers and businesses get to save on transport and other things. Although, the worldwide shutdown of 2020 made these apps one of the necessary parts of our routines coerced by WFH culture, moving market trends, and whatnot.
Top mobile app development companies in India claim that the rising interest of users and enterprises in on-delivery apps has formed a billion-dollar economy in a relatively short span and the number will easily reach $300B globally in the next few years. Indeed, it is profitable to create and run an inventive app venture. But the total development costs of an on-demand delivery app can make you reconsider your investment.
You can also read – 5 Ways To Choose The Best E-Commerce Development Technology For Online Stores
In this post, we will break down the total costs of on-demand delivery app development and professional services. Before that, we will take a quick look at how these apps exactly work and what their main components are:
What is an on-demand delivery app? (& how it works?)
On-demand delivery apps are created to slacken the gap between sellers and buyers. This way, they can connect with each other on a digital platform and make a service transaction. Customers can simply open the mobile app, search for a suitable service provider, order the service, and pay for it online.
Businesses receive the order requests through notifications and send the delivery in time. Since these applications follow a mediation module, the estimation of the cost of an on-demand delivery app is drastically complicated. These apps generate revenue by charging a nominal fee from businesses.
Here's how an on-demand service delivery mobile app works:
Businesses create a vendor account for their company and list all their services and expertise on the mobile app.
Buyers register on the application as users and place a request for their order with a brief description. Some apps allow users to find the right service provider using advanced search and request the order directly to the vendor.
Once the business accepts the buyer's request, these apps let them communicate through a built-in message system in the application. Buyers can choose to pay through the app or direct cash on delivery. 
All these on-demand delivery apps also ask users to submit their reviews and feedback after the service transaction is complete.
Why on-demand delivery apps are so popular these days?
On-demand delivery applications are built on a contractor-oriented model which saves businesses from extravagant transportation costs. With these on-time delivery apps in the middle, they can simply focus on the elevated quality of products and consumer satisfaction.
Now customers don't need to run down the street to buy the daily supplies or food takeaways. A consumer-faced mobile app brings everything to their doorstep just with a single tap. Fast delivery and the availability of multiple options make the on-demand delivery economy a hit in the marketplace.
Aside from quick home delivery and reduced transportation costs, convenience is also important. It is a major reason why on-demand delivery is now a part of the billion-dollar market. Backed by smart search, real-time order tracking, and in-app payment, these mobile apps have redefined the meaning of effortlessness for consumers across the globe.
The on-demand app model can be applied to different industries and business types. You don't need to own an eCommerce or supply-related venture to enter this economy. It is apparent that at-home services like Urban Company and instant cab services such as Ola and Uber have been associated with their target audience through on-demand mobile apps.
You can also read – Mobile Commerce Development Services In India – An Overview Of Mobile Dominance In ECommerce Industry
Common types of on-demand delivery apps 
On-demand delivery app development costs can also be identified based on the type and category of application you want to build. In general, these apps can be divided into B2B, B2C, and C2C types. On the flip side, the common categories of on-demand service delivery apps include the following:
Transport Service
Uber was the first seed that spawned the idea of an on-demand service economy in the growing realm of the digital industry. It was a tremendous success from the very beginning which later introduced more on-demand transportation services like Ola Cab and Rapido Bike. These applications were started by young start-up owners who came on to become an inspiration for innovative change-makers in the real world. 
Food & Groceries 
The mobile app development market in India exhibits the influence and domination of top food delivery and grocery apps. The increasing popularity of on-demand food and supply delivery applications prompted major eCommerce brands like Flipkart to start their own grocery app. Other popular examples of on-demand food delivery apps are Zomato, Swiggy, and UberEats.
Logistics
This type of on-demand delivery apps falls under the category of B2B application. Enterprises that require transportation services on a frequent basis can rely on on-demand commercial transport and logistics service apps. These apps encompass the use of integrated GPS and other tools to keep the real-time record of their products.
Health & Medicines
Aside from everyday supply, food, and taxi services, the on-demand service concept also alleviate medical consultation and prescription order online. It is also termed Telemedicine or Doctor-on-Demand as it brings medical professionals and users together at the same platform. You can use these apps to connect with medical specialists. You can book an appointment online or discuss your concerns through a scheduled video call. Although, it's necessary for these apps to comply with GDPR and HIPAA guidance.
You can also read – Headless ECommerce Web Development – What's New For Shoppers & Sellers In India
On-demand delivery app development cost – A calculative breakdown
Before calculating the development costs of an on-demand delivery app, businesses should understand that these mobile applications serve as a marketplace. Even with the minimum investments, an integrated on-demand service mobile app must cover the following:
Consumer App – An extensive interface for buyers where they can create users' profiles, search for the required services, see and provide reviews, submit feedbacks, check to price, and track the orders.
Service Provider App – A vendor panel for service providers where they can provide a detailed description of their services, specialization, & listings, and get in touch with users after receiving the order requests.
Dashboard – A unified web dashboard or admin panel to categorize services, service providers, organize users & vendors, keep a track of payments, and authenticate app access.
1. Consumer App (On-demand delivery app development cost – $15,000 – $20,000)
This phase consists of the following features:
User profile setup
Marketplace development
Tracking map
Chat support
Cart & Order summary
2. Service Provider App (On-demand delivery app development cost – $10,000 – $12,000)
Service provider interface development covers:
Vendor profile
Job card & updates
Active orders
Chat support
3. Dashboard ((On-demand delivery app development costs – $8,000 – $10,000)
This is an integrated dashboard panel that contains all the info related to customers and service providers. This part is managed by the application owners.
You can also read – 6 Most Common Web App Security Issues & Their Prevention
Conclusion – After reviewing all the crucial aspects of on-demand service delivery, the development costs can reach up to $35,000 – $40,000. Although, the accurate estimation for the development charges can vary from business to business. It usually depends on the type of industry and project. Do you have a project like that in mind? If so, Trank Technologies can help you create impeccably designed mobile apps with custom mobile app development services.