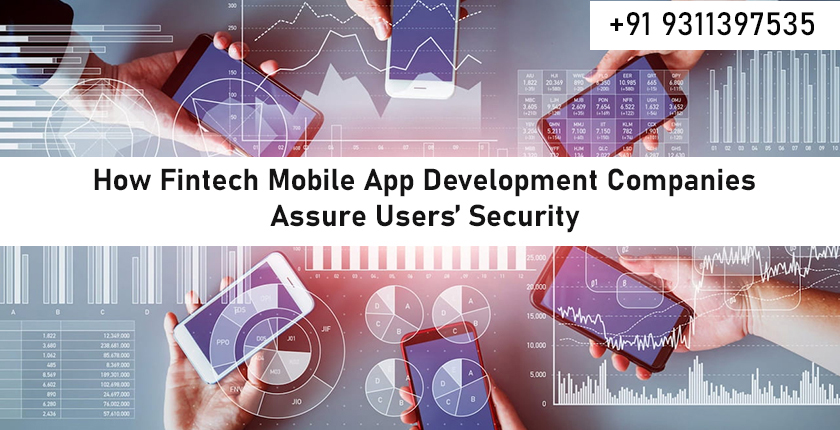 How Fintech Mobile App Development Companies Assure Users' Security
At present, technology is the robust hinge that holds financial services in a functional loop. Fintech has now become an integral part of our lives due to the rise of online shopping and remote education trends. In addition, cryptocurrency and online stock trading are also some vital causes behind the proliferation of the fintech industry around the world. However, it takes a well-sorted system of data security to maintain the unwavering layer of safety and protect users' data from cybercrime. In this post, we will explore different measures used by the top fintech mobile app development companies to assure consumers' security and retain users.
Before heading to the comprehensive list of fintech app security methods, let's understand the essence of data protection. A real-life case of data-stealing will help you comprehend the need for privacy assurance in a fintech application.
You can also read – Top 7 Mobile App Security Issues & Their Methodical Preventions
Fintech Mobile App Development – Undeniable Need for Data Security
In 2017, Equifax went through an episode that marked one of the biggest security breaches of the century. The American consumer credit reporting agency made it to the news when hackers stole the financial data of nearly 147.9 million users. Their vast database of consumers included 15.2 million British and 19,000 Canadian users. It was a major disaster for a global fintech company that led to a whopping loss of $4B. It happened despite a distinct security budget of $ 200 million, set by the company.
Fintech mobile app development companies in India and overseas these days prioritize the idea of user security over other features. It is evident that these organizations can bear the impact of the declining economy. But privacy infringement is the biggest setback for financial services. Presently, there are more than 35000 fintech startups across the world offering a plethora of services. India itself has more than 2000 startup companies that deal in internet-based financial solutions.
Our growing dependency on online services along with booming fintech organizations is the reason why fintech app design agencies are focused on offering data and privacy protection.
You can also read – 7 Essential Fintech Development Features That Make Your Mobile App User-Friendly
Data Security Measures Used by Top Fintech App Development Companies
1. Integration of Secure Authentication
A professional fintech mobile app development company will always start from scratch. Any new application or web portal that provides financial solutions or an online payment service goes through a circumspective development process. Top mobile app developers implement safety in every step of the application to assure privacy protection.
You must also evaluate the type of data you will not need. Therefore, these development agencies limit the criteria of information they receive from the end consumers. Here's how these professionals develop a secure fintech mobile app:
Storing relevant data as per the requirement is the key to secure app authentication. Cyber security experts recommend that fintech companies should avoid collecting the details they don't need. For example, some payment wallets don't require credit card details or debit card pins from users. App Developers customize authentication forms accordingly to limit the collection of user data.
Defining the role of a user to formulate a permission structure according to those roles is another efficient way. Not every feature of the fintech mobile app has to be accessible to all consumers. Fintech application development companies add several panels for admins and vendors.
These app design firms create applications that encourage consumers to set complex passwords. Passwords that contemplate a fine combination of special characters and capital letters can never be hacked by cybercriminals. Fintech businesses also ask their users to change and reset their passwords every few weeks.
You can also read – When To Hire A Real Estate Mobile App Development Company?
2. Two-Factor Verification
Two-factor identity verification or authentication is one of the safest ways to introduce your users to a full-stack fintech application. In general, authentication processes encompass just a username and a password. On the contrary, two-factor authentication 2FA covers the use of an OTP through email or registered number. Other app security practices are as follows:
Fintech mobile app development companies in India build discrete admin panels. This portal is helpful in logging every single activity of the user. Some other details added in the logs are user ID, type of action, geo-location, device info, etc.
Admin gets complete access to the application's backend database that they leverage to monitor users' activities. In case of an unusual transaction or incomplete identity verification, they immediately alert the registered consumer. Along with this, admins also block the ongoing user to make sure that data remains secure.
To assure data protection during key actions, mobile app developers induce a multi-step authentication or ID verification procedure. Crucial transactions that include large sums of money or policy renewal after a year are some critical uses of fintech apps. During these exchanges, data becomes vulnerable and therefore mobile apps ask their consumers to proceed with proper approvals.
You can also read – How To Build A Travel Mobile App? A Guide On Development Costs & Features
3. Secure Code Creation
Top fintech mobile app development agencies in India are equipped with technology buffs who create secure application codes. These expert developers generate algorithms so that the vital information reaches securely the server. They also have certain technologies and frameworks to figure out the loopholes in application code structures. Following are some more measures adopted by app design enterprises for protected app codes:
App developers frequently scan source codes to check potential errors and test them for vulnerabilities. In case there is a flaw or lack of agility, they instantly act upon it to prevent any possible data breach.
Best mobile app developers in India also use input validation techniques to assure the safety of fintech portals. This method blocks hackers from injecting malware into the code structure. This arrangement simply rejects unwanted inputs.
Data is sent to external networks only after assuring the extreme need for the step. Any sensitive info is removed from the database before sharing it with other sources. In addition to this, developers also monitor server systems for potential framework messages. 
4. Infrastructure Protection
Fintech app development companies in India and overseas prepare a perimeter of defense for their app infrastructure. This layer encompasses proxy servers and firewalls. Aside from this, developers also keep an eye on the application server to maintain infrastructure safety. Some other steps of infrastructural protection are as follows:
You can also read – Cryptocurrency Mobile App Development Costs – Here's What You Must Know
Numerous third-party components added to the mobile app require the attention and supervision of an expert. App design agencies keep a track of these elements on a regular basis. They also monitor third-party platforms for the latest updates.
Application designers curate infallible infrastructure and use AWS cloud to ensure faster recovery after a technical mishap. Other than this, they protect web servers by implementing a content security policy (CSP). This form of arrangement eliminates the possibility of data injection and cross-site scripting.
Google also suggests app developers to use an HTTPS SSL certificate and a VPN layer to limit the possibility of cyberattacks. SSL ensures a secure server connection whereas the VPN layer facilitates a secure network through public internet lines. Moreover, regular app updates and maintenance are some ways to formulate an error-proof fintech mobile application.
5. Extensive App Testing
All reliable mobile app design and development companies in India give optimal preference to the testing procedure. Since it is one of the integral facets of software and mobile app development solutions, these agencies curate a multi-level testing process. These processes are:
Network security is the foremost testing step during which developers check servers, DNS, and network devices. It is believed in the technology realm that critical areas of the portal are more vulnerable to breach than other parts of the mobile application. Therefore, server security is immensely crucial.
Client-Side testing is also called internal testing as it involves the evaluation of the app while it is already running in the browser. It is one of the most essential testing types because this step verifies the breach-proof state of a new fintech app. Top mobile app developers use HTML injection, CSS injection, JavaScript execution, and local storage checking for this testing.
Server security testing, API security integration, and token rotation are some of the most popular protection measures fintech app design agencies use. To assure all these testing procedures, developers bring all frameworks and tools in line. Apart from this, an external audit is also performed once every year.
You can also read – All You Need To Know About UI/UX Design Services For A Mobile App
Final Thoughts – Leading fintech mobile app development companies are familiar with all needed techniques to lock the data security of end-users. If you are planning on building an app with a robust fintech structure and need professional assistance, then you should call Trank Technologies now and get free consultation for your project.