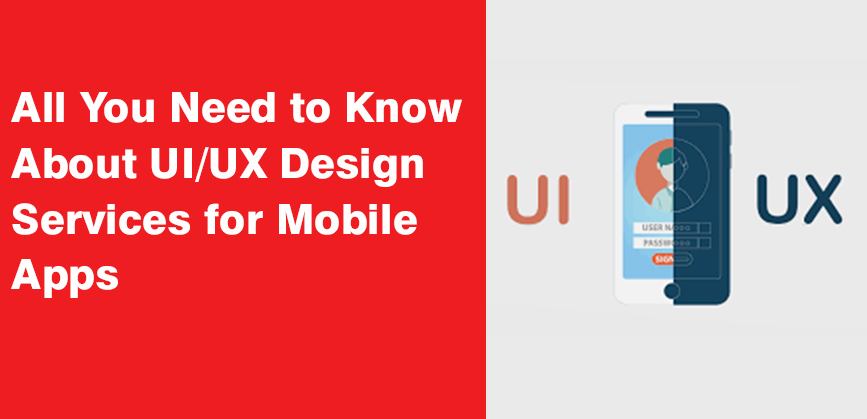 All You Need to Know About UI/UX Design Services for A Mobile App
The competition in the digital domain has been keeping the IT sector swamped lately. All those state-of-the-tech strategies derived from weeks of research stop showing effects in the absence of a proper user experience. When it comes to growing a business digitally, UI and UX play the most integral part in reaching out to the right customer. A well-planned UI has the power to build a remarkable impression and drive more sales efficiently. The UI/UX design part of mobile app development services carves the way to easy marketing and boosted growth.
The game is all about an impressive user experience that lasts in the minds of the audiences. Other than the profit and engagement part, it's the one thing that indirectly supports the image of a reliable brand. From smooth navigation to comprehensive CTA sections, every aspect of your business app hinges on the mercy of an effective UI/UX design. In this post, we will explore the pivotal role of UI/UX services in mobile app development and how it affects the game for market players.
You can also read – How Web Development Services Will Change According To 2022 Trends?
User Interface of Mobile Apps
As the term suggests, the user interface or UI contemplates the primary look of an application that covers before the app users. The UI of a mobile app must acquire a simple interaction to assure quick navigation. The user interface is all about how an app appears and what kind of graphics and images it contains. It has to be fascinating and yet understandable.
User Interface of Mobile Apps
UX or user experience is the second side of the coin in this context. It entails the choices of your end-users, their opinion about your services and your platform, and the experience they have had at your app. To improve any of these aspects, you must be cautious with the usability of apps, users' requirements, and fast authentication.
What Part Does UI/UX Play in the Growth of a Mobile App?
When it comes to boosting an online business, a simple UI/UX is all you have got to build an impeccable stratum of trust in your target audience. UI/UX design of mobile app design and development services is crucial for your brand. Case closed! Here's how you will need the help of an interactive UI/UX design on different stages of mobile application marketing:
You can also read – Why Hire ECommerce Website Development Services For Magento 2 Migration?
1. Optimal Customer satisfaction
Whether it's a website or an app, the whole essence of UI/UX design is satisfaction on the user's end. Every fundamental element of your app comes from the primitive demands of target customers. An efficient UI/UX design speaks to the users and lets them inside the app with extreme ease. Only a suitable UI/UX designer can assure compelling content and quick navigation on your mobile app. In addition to this, an easy-to-spot CTA button will do the trick quite diligently.
2. Robust Brand Reputation
There are more than six million applications available in Google Play Store & iOS App Store. And yet, people only go after the one with a strong and clear brand reputation in the digital domain. A sure-fire UI/UX design of the mobile app can help your business obtain that kind of image amongst users. Only with a prodigious wire-framing design can you receive recognition and existence in the competitive market.
You can also read – Real Estate Mobile App Cost – 12 Elements That Define The Development Budget
3. Reduced Costs & Improved Performance
In terms of app development costs, businesses get to save a significant amount of costs on mobile apps. It is evident that coherent design doesn't ask for recurring maintenance and the development process becomes faster. Only an enhanced user experience can save you money, time, and effort on app development. Besides, the increase in-app performance is another corollary of mobile app UI/UX design services. Intriguingly, all it takes is the right pick of interface design. User experience gets better with every fulfilling requirement covered by the app.
4. Feature Consistency & Organic Traffic
While some people may not agree with this completely, UI/UX design affects the traffic and crude customer base at some point. There is so much a vividly explained design can do to your business app. For starters, it provides optimal feature consistency to the mobile app. Furthermore, it lets your users understand the entire structure on their own. With that being said, boosted usability of your business app leads to organic traffic on your app. All in all, UI/UX design is probably the only key to amplified user activity on the app and promised customer loyalty.
You can also read – 7 Essential Fintech Development Features That Make Your Mobile App User-Friendly
Final Thoughts – An intriguing mobile app UI/UX design can curate the success of a business application. Even if we keep the visual appeal aside, simplicity and a straightforward approach will always keep bringing the audience towards the app. It may not be the direct way to promote an app, but it will certainly be the foreground for the gradual growth of the business. This is why Trank Technologies and its team of UI/UX designers make sure to assist you with the best mobile app design services and technology solutions.