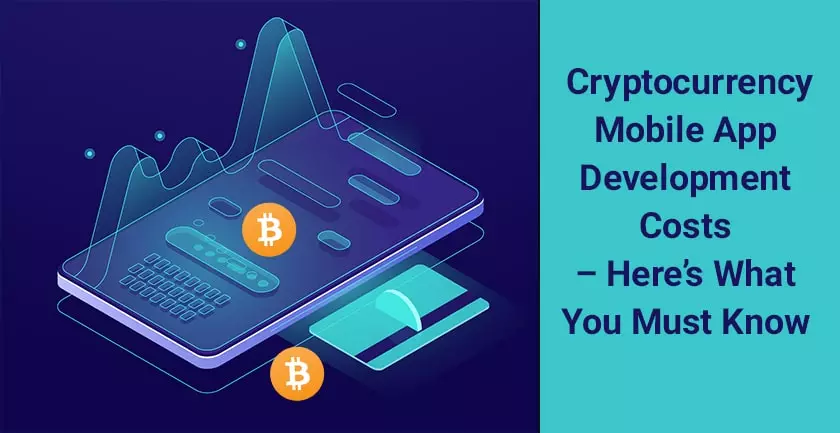 Cryptocurrency Mobile App Development Costs – Here's What You Must Know
Digital currency is the change that predicts the future of the global economy in the most secure way possible. Nearly 18000 businesses across the globe preferably accept a digital currency. Besides, there are more than 300 million cryptocurrency users in the world. It is clear that this transformative facet of the economy is here to stay. A wide range of crypto exchange and crypto wallet mobile applications have made transactions a smooth play for people showing interest in it. In this post, we'll discuss the development process of a cryptocurrency mobile app along with several factors that affect the costs of app design and market launch.
If we go down history lane, we will see that cryptocurrency made its way into the market after 2007. It's been like 15 years now and the cryptocurrency has become more powerful than ever. Coinbase, as the first most influential crypto exchange application, has garnered the attention of users along with its remarkable presence in the domain. It is not just an exchange platform anymore. Growing digital currency ventures consider Coinbase as the forerunner of this booming industry that can elevate the trend of Blockchain as well.
You can also read – How To Build A Travel Mobile App? A Guide On Development Costs & Features
Cryptocurrency App Development Costs – Understanding the Demand
It took Coinbase almost a decade to sustain its prowess in the global market, but it achieved beyond the goals it was aiming for. Even though, it was the first platform of its kind in some ways; immensely simplified UI and UX have also played their part in the success of this unicorn crypto mobile app. This very interface of the application spurred a wave of interest even in newcomers with little to no knowledge of digital currency and trading.
The popularity of Coinbase and other prominent cryptocurrency platforms has also impelled individual users and businesses to invest in this innovation. This rising inspiration for the digital economy is now leaning towards cryptocurrency mobile app development services in India and other nations. More and more organizations are willing to trade in different forms of digital currency leading to a whopping growth in the number of cryptocurrency exchange apps and crypto wallet mobile applications.
Among other types of apps, crypto trading platforms are prominent. Numerous trading apps these days provide the option of crypto trading for investors. Users don't need to splurge on brokerage services to access market data anymore. A mobile app is all it takes to browse crucial information related to the domain. Due to an alleviated user experience, people are inclined towards the idea of an all-inclusive crypto app that lets them trade, exchange, and store digital currency hassle-free.
Ceaseless use of mobile devices is also a major reason for the evolution of cryptocurrency mobile app development companies in India. As per the numbers available on Statista, there are billions of smartphone users around the world. Whether they have to buy groceries online or purchase stocks, these people find their mobile devices far more convenient than desktops and laptops.
Cryptocurrency Mobile App Development – Advantageous Side of the Domain
The realm of digital currency is going through a ceaseless booming phase. However, the investment required for building a crypto app might surprise people willing to start their own trading venture. To justify the costs of cryptocurrency mobile app development, we have listed some benefits of these platforms:
Accessibility is the foremost reason that led to the smooth passage of crypto trading and exchange mobile apps. All you need is an active internet connection and a smart device that supports various features of the application. People can download these apps at their convenience and use them whenever they want.
Entrepreneurs are ready to bear the costs of cryptocurrency mobile app design and development because it keeps their users informed of the latest economy updates and trading trends. Users are hooked to these platforms to learn about the trading sector and make money with substantial investments.
A mobile app lets you manage multiple things at your fingertips. Several app features like push notifications and domain news help your users pick the right stocks or new digital currencies at the earliest. In short, customization options of these apps make your users more efficient and informed investors.
There is a learning curve in trading that needs a precise practice structure to become familiar with the risk-free investment. Now that your users have hands-on expertise in navigating their trading route, they can explore more investment opportunities and obtain experience to share with other newcomers hassle-free.
You can also read – Real Estate Mobile App Cost – 12 Elements That Define The Development Budget
Cryptocurrency App Design & Development – Don't Miss these Security Features
When it comes to operating a crypto mobile app, security is the first thing your target users seek. Even though there are plenty of application features to add to a crypto trading, wallet, or exchange app but security needs to be at the forefront. Here are a few security aspects that will define the authenticity of your crypto application:
1. Domain Security
As a fast-growing digital-currency platform, you will need to think a few steps ahead of the web lurkers. To protect your crypto platform from hackers, you should consider the help of a registry lock. Various registry locks prohibit unethical resources from modifying or deleting the data from cryptocurrency mobile applications. Implementing a registry lock on your app means assigning three-level security on the platform. This way, any request to proceed with changes on the platform will reach the registrar and registrant through a notification.
2. Web Protocol Protection
Hackers have thousands of ways to attack your platform and steal the information of your users to their benefit. To assure the protection of your cryptocurrency mobile app, you can also pay attention to security headers such as HSTS, X-Frame, etc. during the development phase. With HSTS, all browsing sessions follow HTTPS protocols whereas X-XXX security will save your app from scripting attacks. Content Security Policy (CSP) is another way to protect your platform from cyber-attacks.
You can also read – Top 7 Mobile App Security Issues & Their Methodical Preventions
3. DNSSEC Extension for Security
DNSSCE stands for Domain Name System Security Extensions. It constitutes an extensive set of protocols used for DNS queries. It utilizes digital signatures and keys to authenticate the information. The best aspect of this protection methodology is that it straight away rejects unidentified DNS entries. However, crypto mobile applications can't rely on this platform to assure data confidentiality.
4. Anti-DDoS Tools
An anti-DDoS module can prevent distributed denial of service invasion that usually disrupts the traffic of the application. Hackers try to flood mobile apps with internet traffic to affect the performance and authenticity of the platform. Security measures like these are required to assure your investors of their protected status. Besides, a lack of security can also result in the ban of your application.
Conclusion – Exact Costs of Cryptocurrency Mobile App Design and Development
You can also read – 5 Things Only A Healthcare Mobile App Development Company Can Tell You
Cryptocurrency mobile app development costs along with the inclusion of essential app features and exceptional security features will reach approximately $50,000 to $95,000. However, if you hire a trustworthy cryptocurrency mobile app development company in India like Trank Technologies, you can expect cost optimization for your mobile application project. As a client, you must know that the development procedures and costs differ for a website and an app. You can also sign up for our app marketing services to promote your crypto mobile app in the market.