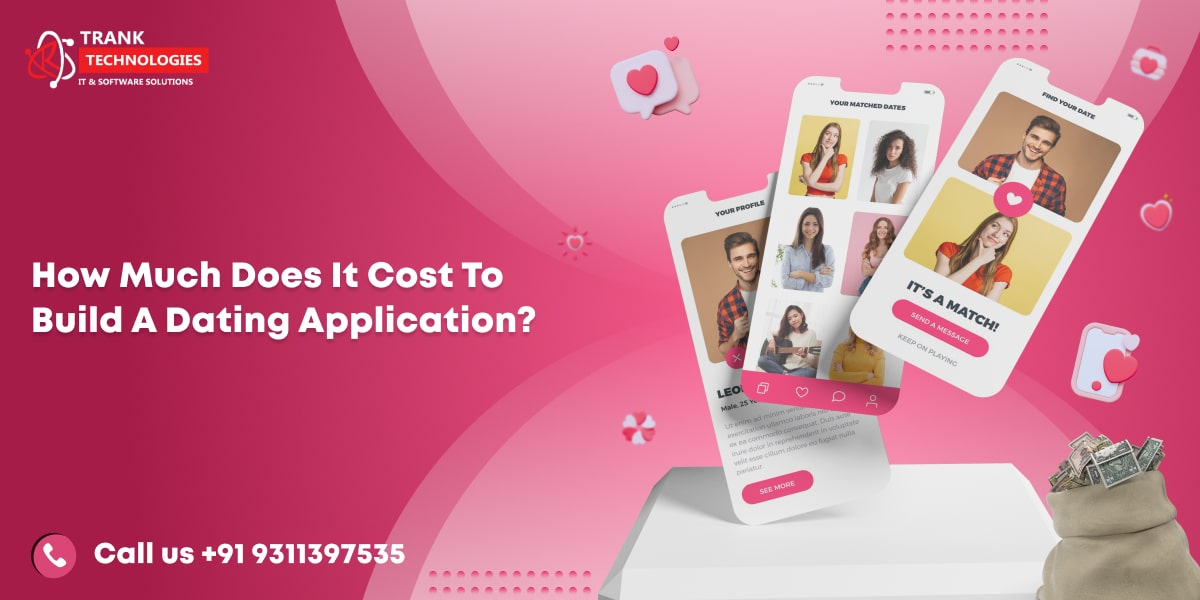 How Much Does It Cost To Build A Dating Application?
The market for dating apps is expanding quickly. Research indicates that the industry will generate $8 billion in sales in 2023. It is predicted to rise by more than $12 billion by 2030. The business potential is enormous given that 300 million people use dating apps worldwide now, and new users sign up every day. Investors are therefore interested in and attracted to the online dating market.
If you're considering developing a dating app, you may wonder about the app development in New York and the best dating app builder. Let's examine what goes into the price of developing a dating app similar to Tinder and what features you must consider.
2 Factors Influencing Dating App Development Cost
Dating applications are frequently utilized by numerous individuals worldwide as smartphone usage rises quickly. Statistics unambiguously demonstrate that 19% of internet users utilize at least one dating app. Still open for capture is a sizable market. Nevertheless, starting a new firm requires a large investment. The elements that affect the price of developing the dating app and best dating app builder are listed below.
Size And Type Of The App
The purpose of developing an application in this cutthroat industry is to get user traction and generate income. As a result, it is crucial to make sure the program is special and concentrates on a certain user base. The ideal pairing is the first priority when discussing dating apps specifically. Four categories or kinds can be used to categorize the matching options:
Geolocation-based Matching App:- The geolocation information of the users is used to match them. The proximity-based matching results of this type of software only display the top matches from the closest regions.
Algorithm-based Matching:- The proposed match is determined through surveys and algorithms built using the user's preferences, selections, etc.
Traditional Matching:- The smartphone application incorporates a simple dating algorithm.
Niche-dating App:- It only concentrates on particular groups, as the name would imply. The user may join a group of people with similar profiles. It is also feasible to design the application with privileges tailored to different genders. This assists in preventing harassment.
Online dating has an unrivaled advantage over conventional methods in that you may locate a spouse based on the precise criteria you specify—appearance, education, habits, etc. As a result, we think that the future of mobile app development will be dominated by specialized applications or apps that use surveys.
You can also read – Dating App Development – Estimated Cost To Build A Platform Like Tinder
Key Feature Of Dating App
You need to be familiar with a set of fundamental features that consumers have come to expect from the most well-liked dating apps to create a dating app. Let's examine a dating app like Tinder from the inside out.
Registration:- You should provide users the option of signing up directly through the app, as well as logging in using their social network and email accounts.
Profile Creation:- It should be possible to sync your profile details and photo uploads using both the app and your social media login and for this reason, your app requires to be developed from best dating app builder.
Security:- Users are most concerned about coming across and matching with false accounts. The technology must be equipped with the tools and methods necessary to confirm and authenticate the users' identities. The program fails completely if this capability isn't implemented. As a result, it forms an important and fundamental foundation of the criteria for creating dating applications.
Audio and Video Chatting:- Right now, open communication is fashionable. Users are moving away from the conventional practice of basic messaging seen in traditional dating applications in favor of exchanging audio or video messages. Because there is no other way to present the individual in the proper light. For this reason, it's crucial to offer a variety of chat options. The exchange of audio and video messages will be beneficial, but the greatest option will be calling features, including video chats and this can surely make a hike in your dating app development cost.
Partner Search Algorithm:- The hardest and most responsible step in developing a dating app is this one. Your defining characteristic may be a remarkable algorithm. What if you proposed that people find partners through singing songs? This could at least wow your audience!
In-App Purchase:- According to statistics, customers are prepared to pay for high-quality service and added features. A typical user subscribes to apps for around $243 per year. Users may select from a variety of packages that offer sophisticated features, such as a super like on Tinder or virtual presents.
Your idea, target market, and use case scenarios will determine the ultimate set of features for a dating app. You may check out Trank Technologies for more assistance if you're still unclear about the idea for your future dating app.
Let's Summarize
What in today's quick-paced society could be more relevant than developing a dating app? To summarize, developing a dating app requires considering factors like app size, type, and essential features. The dating app development cost depends on your unique idea, target market, and use case scenarios. With regard to the best dating app builder, we are prepared to assist you and advise you on the process and associated costs. Contact us or complete the form below, and we'll give you a call as soon as possible.
FAQs
Q 1- Can AI become the best dating app builder?
Ans- No, AI can build an app for you but probably it is not the best dating app builder, because when it comes to customization a human can understand your thoughts much better than any AI app builder.
Q 2- What will dating app development cost in the USA?
Ans- A basic app will cost upto* $5000, depending on your demand and customization this dating app development cost can go higher.