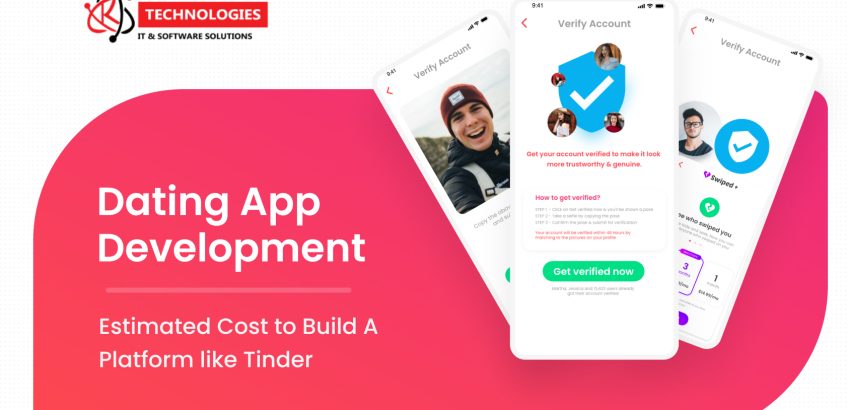 Dating App Development – Estimated Cost to Build A Platform like Tinder
The last decade has witnessed a rapid rise in matchmaking portals, including matrimonial applications and simple dating platforms. Despite the popularity of Jeevansathi.com & other similar platforms, apps like Tinder and OkCupid are thriving in the digital realm. Users now prefer these dating phone applications over marriage-related apps because they get to know a person better. There is more to dating mobile apps than user-friendliness that meets the basic expectations of the target audience. We will discuss those elements of a dating app and their impact on the development cost.
As mentioned on Statista, the mobile dating app industry is valued at $3.6 billion in 2022. Nevertheless, it is predicted to reach $501.7 billion by 2026. It is evident that dating mobile app platforms have great business potential in terms of profitability. In the following sections of this post, we will be highlighting some essential features of a dating mobile app and their collective impact on the budget of design and development. This overview will also help you make a decision on hiring a reliable dating app development company in India. 
What is A Dating App & How is It Different from Regular Matchmaking Platforms?
A mobile dating app is an online service provided on smartphones through which users can connect with people they like and start a conversation. The application connects users with other people according to their GPS location, interests, and several common factors.
You can also read – How Much Does It Cost To Develop A Mobile App In India?
Cyberdating apps received massive popularity after the launch of Tinder in 2012 which is the most acknowledged dating platform at present. After the substantial success of Tinder, many customized dating applications paved their way into the world of mobile app development.
The standard matchmaking process on every online dating site includes a personality test. During this test, the application asks for users' likes & dislikes, opinions, interests, and other numerous things that reflect on their personality.
Dating App Development Cost – Key Features that Make the Difference
Building a dating mobile application may be a good start, but it is not enough. To flourish in a market full of competitive alternatives, your app should be equipped with user-centric features that establish the usability scale of your brand. Here is a quick rundown of common and vital features that will drive organic engagement with your dating application:
1. User Profile
The user profile is one of the main features that enable the person to share his interests and overall personality. The profile must have meaningful information which describes his character and help another person to know him better. If the user profile is not pertinent, they are less likely to use your app.
2. Social Sign-In
An app with multiple sign-in options probably attracts more users than an app with restricted log-in. Adding more sign-in options like Google, Facebook, Twitter, etc., gives users a more convenient experience while using your app.
3. Compatibility Percentage
When it comes to dating online, people want to be 100% sure before taking a step forward. It can be assured when a dating app development company adds a questionnaire in the application consisting of various questions to understand the person's likes and dislikes. Similarly, the other person will have to answer the related questions, and based on that the app will share a match-making percentage.
4. In-App Chatting
After knowing the compatibility, the user will like to move forward and understand the person even better, and it is only viable when two people talk or chat. So, providing a mode of communication to your user is another significant feature of your mobile application. The chatting element will authorize users to know each other better and share conversations more profoundly.
You can also read – Cryptocurrency Mobile App Development Costs – Here's What You Must Know
5. Video Calling
Adding a feature like in-app video calling eliminates the space between two people and lets them have a more personal interaction. Not every person you meet online lives nearby. Some may be living in a different city or even a foreign country. So, using a feature like this helps them stay closer. The option of video calling is another factor that can influence the cost of dating app development in India.
6. Geolocation
To narrow down users' search results, it is vital to include a feature that lets them set a place or locality of their choice. They can still search for people from other countries or cities, it gives them control over their chase.
7. Secure Verification Process
Online dating apps tend to attract bad people or undesirable individuals. Therefore, to protect users from unnecessary fraud, it is crucial to add a security verification process to your internet dating platform. Ask the dating app development professionals to implement the best verification system.
8. User Control
Giving users freedom to control their profiles is recommended. Whether it is regarding profile visibility or controlling settings as to who can view their posts or contents, the more control they have, the more they will love your app.
You can also read – How To Build A Travel Mobile App? A Guide On Development Costs & Features
Different Types of Online Dating Platforms
If you are planning to build your own custom dating app, then you have the following options to start with:
1. Marital status-based dating apps
Marital status plays a key role when you are searching for a partner. While some apps are dedicatedly built for everyone, some are designed according to one's marital status. These specific online platforms tend to have a better user base because it consists of more private features.
2. Location-based dating apps
While people always say that distance is nothing when love is real, still the majority of youngsters do not want a long-distance relationship. They want to date someone who lives within a city. Here comes the role of Geolocation-based apps that deliver the flexibility to pick a distance for their potential matches. If you want to build a geographical location-based platform, then hire the best dating app development company.
3. Algorithm-based dating apps
Many online dating sites are based on various algorithms to find the perfect match. These apps match a user's profile with other people based on similarities. The matching algorithm of an application is based on attractiveness and the number of likes on a user's profile. Therefore, a profile with maximum likes will be on top.
How much does it cost to build a dating app?
At this point, you may be interested in knowing the cost of developing a cyber dating app. Well, the final price of the application depends on several factors.
The varying factors are advanced features, app platform, design, size, integration, and location of your hired developers. The minimum development cost will fall between $40,000-50,000. This cost may further differ depending on the advanced functionality of the app and may go up to $1,00,000 and more.
If you want to know an accurate estimation of the cost, then you should consult a dating app development company.
You can also read – When To Hire A Real Estate Mobile App Development Company?
Final thoughts on the Dating App Development Cost in India
As long as people look for their perfect ones, dating apps will continue to serve them and hold a significant portion of the application development market. Online dating may not be an old concept, but it is much more prevalent and advancing.
If you want to grow your business by fulfilling users' needs, then make a plan to develop a dating platform. Thus, you can launch an app like Tinder and introduce a new way of falling in love into the minds of young people.
Going further with your idea of an online dating platform, you will need to contact a dating app development company. If you seeking assistance from one such company with expertise in dating platforms, then look no further than Trank Technologies. With a team of expert developers, Trank can make your online dating platform stand out by using the advanced technology stack and implementing the modern elements of connectivity.