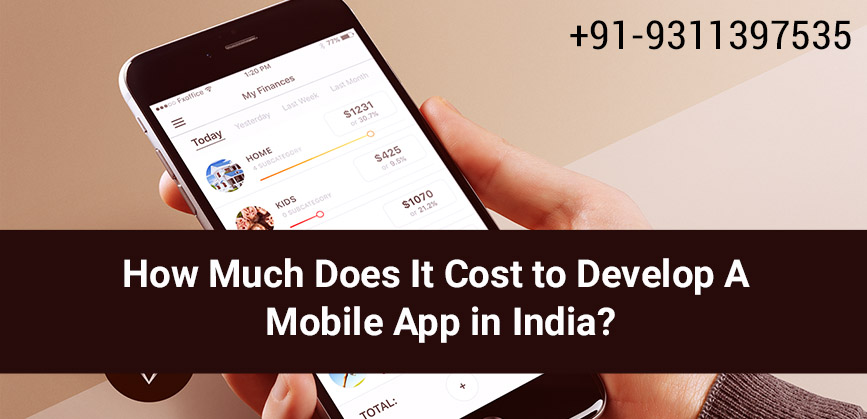 How Much Does It Cost to Develop A Mobile App in India?
India is one of those countries where the IT sector has made a striking surge in the past few years. Among other major services, mobile app development is a thriving area where Indian professionals have garnered quite a reputation. Businesses from around the world hire top app development companies and individual developers from India. Because of reduced costs and on-time delivery, they prefer Indian developers for their business apps. In the following guide, we have elaborated on the cost to develop a mobile app in India along with some factors that affect the overall app design budget.
Despite significant budget reduction and less time consumption, brands don't spot any errors in coding structure and development methodologies. This is the influence of dedicated and high-end application development solutions offered by India's top mobile app development agencies. Some of the most skilled app developers in the USA, UK, Germany and other nations charge a minimum of $50/hour or more. On the contrary, app-building pricing is relatively lower in India including the delivery time.
You can also read – How Much Does It Cost To Build An Ecommerce Website In India?
Before assessing the actual cost of mobile app development in India, let's understand what fundamental parameters affect the budget of a business app.
Cost of Mobile App Development in India – What Affects the Budget?
The cost of mobile app development is a variable that constantly flickers between numbers. It is nearly impossible to say how much you should spend on building a business application with a functional layout. Even a raw estimation of the app development budget requires the following details from the brand's end:
Type of Mobile App 
Different types of applications require a distinct development budget. To figure out the type of app you need, you should know where your users are. It is essential to understand the usability pattern of your users because it vividly impacts the cost of the business application. If you need a digital platform that can be accessed easily on all devices, you should invest in cross-platform app development. Native app development is a favourable option for brands that target mobile users.
You can also read – Cryptocurrency Mobile App Development Costs – Here's What You Must Know
Development Platform 
Once you know the type of app that suffices the basic structure of user engagement, selecting a development platform will be the next step. Ionic & Flutter are some common frameworks for Android apps whereas Swift and Xamarin are suitable for iOS applications. These options will be right for your project if you need a native mobile app. On the flip side, agencies use React Native for hybrid mobile app development. All these different application frameworks come with a discrete budget form.
Mobile Application Features
Features of a business app consume maximum time, effort, and investment. Besides app type, your target industry also plays an important part in the cost to develop a mobile app in India. At Trank Technologies, we create all kinds of applications for our clients from various sectors including real estate, construction, fintech, retail, and e-learning. All these platforms have distinguished requirements in terms of features. Some of these features even lead to paid tool selection which subsequently elevates the costs.
Offline App Access
Better service can beat the competition, no matter how crowded the market is. This notion sets its essence on mobile app development services in India. If you wish to make your app better than your competitors, you will need to improve the user experience. To do so, you can provide offline access to some of your app's features. It will be a great advantage for those with weak internet connections. Though, offline app access can lead to cost augmentation.
You can also read – How To Build A Travel Mobile App? A Guide On Development Costs & Features
Number of App Screens
The cost of a marketplace application will always be higher than a simple B2C application. It is because of the number of screens involved in the interface of the platform. These mobile app screens cover the home page, sign-up and login pages, payment checkout, product range, & product description page. App developers in India make sure to include every crucial screen in your business app to make it as convenient as possible.
Backend Architecture
The backend architecture of your brand's application is also an aspect that draws an impact on the cost of mobile app development in India. Aside from user interface design and app screens, the backend is also an imperative facet of the application. The functional architecture sets the tone for the rudimentary usability structure of your business platform. App developers in India build a custom backend for optimal personalization which also increases the cost.
Third-Party APIs
Most of the applications require a third-party set up to deliver a seamless experience on the app. Some of these APIs are configured in the application to simplify the payment and other vital features. Some of these APIs are also associated with regulatory compliance in various countries. Integration of these APIs adds up to the overall cost of mobile apps in India. Apart from this, dynamic interface and webpage animation costs can also be added to this list.
You can also read – 9 Things You Must Know About IOS Application Development Company In India
What Should You Expect from A Mobile App Development Company?
Trank Technologies is a highly renowned app development company in India. As the fastest-growing agency in Delhi, we acquire the best talents in the industry. We started off as a web and app development firm almost a decade ago. Our primary suite of services commenced with application development. In the preceding years, we went on to explore our expertise in mobile app building and its different verticals. As of now, we have worked with major clients from numerous industries including e-learning, real estate, and trading.
Here's what you can expect after partnering with our app development team for your next big app project:
Extensive knowledge of frameworks – It doesn't matter how specific your services are, the team of developers at Trank Technologies is familiar with all popular frameworks.
Brand-oriented development planning – Our comprehensive experience with various clients allows us to know your business better and plan our services accordingly.
Highly experienced UI/UX designers – Our designers are familiar with all vital elements that make an app page information-worthy.
You can also read – 5 Things Only A Healthcare Mobile App Development Company Can Tell You
Understanding of platform compliance – Our development team always integrates relevant elements that establish the accountability of your brand through industry compliance.
Project managers with research acumen – Our project heads have been overviewing mobile app projects for over a decade and they are well-acquainted with essential norms of market research.
Transparent and convenient billing – We make sure that our suite of services can fulfill the primitive requirements of your business app. Every cost is specified in the documentation at the time of signing the contract.
Final Though on Cost of Mobile App Development in India
At Trank Technologies, it is our foremost priority to introduce our potential clients to a well-defined pricing structure of our mobile app development services. The pricing of native app development is often higher than hybrid and cross-platform app development. Android app development costs start from 1.5 lakhs. On the other hand, iOS application development solutions can reach up to 2 lakhs or higher depending on the type of framework you would prefer for your business.
You can also read – 7 React Native Benefits That Resonate With Mobile App Development
If you have a definitive budget for mobile app development, then our team can help you build a react native application within a budget of 1.2 lakhs to 1.5 lakhs. This is the average cost of mobile app development in India that you should expect from a leading app design and development agency.