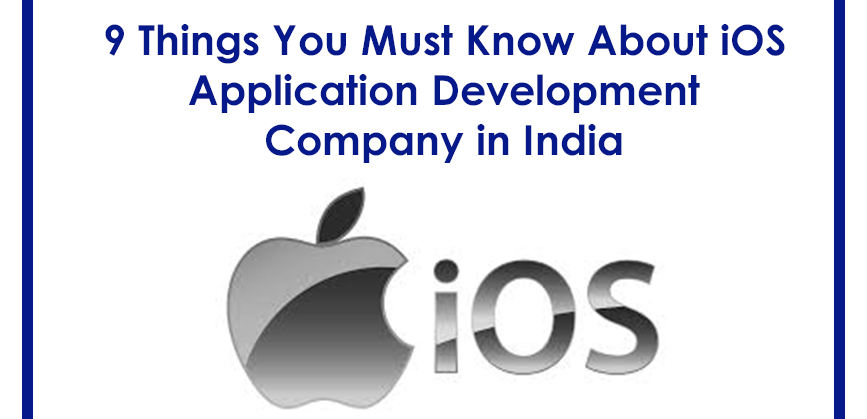 9 Things You Must Know About iOS Application Development Company in India
Have you been looking for a trustworthy and well-experienced IT company for iOS mobile app development solutions in India? If so, your decision of hiring the best app developers in India is definitely the next big step for your venture. Statista and many other survey portals have proved that India has seen a proliferation of talent and growth in the past few years. Leading organizations around the world recall an iOS application development company in India for promising business solutions and app development is one of those solutions.
We all know that the market for mobile app development is huge in India. Despite the rising trend of hybrid and cross-platform applications, native apps haven't lost their prominence in the tech world. Since India is a leading provider of outsourcing services, growing businesses vividly search for the best iOS application development company in India for their projects.
Indeed, hiring an iOS developer is a lucrative idea, but you should be aware of certain things before finalizing your IT partner. In this post, we have accumulated a list of crucial things you must always assess before choosing an iOS app development agency in India:
You can also read – How Does Mobile App Development Become Easier With Kotlin?
1. Acumen in App Development
Experience and acquaintance with all the crucial app design technologies should be your priority while looking for an iOS app developer. Aside from iOS design expertise, your future IT partner must also be familiar with the industry you deal in.
Development methodologies and frameworks can be learned within a timeframe. But a sharp understanding of a particular domain is something that only a few companies obtain. Therefore, you should always assess iOS application development companies on the basis of their happy clients.
2. Certifications, Badges, and Testimonials
A leading native app design and native development company will always represent their achievements before their clients. These highlights can be in the form of certifications and reviews. You can read through these testimonials and expertise cautiously to be familiar with the work of these professionals. Clutch and GoodFirms are such platforms where you can find ratings and other details about well-known agencies.
3. Understanding of Business Facets
Even though you can end up hiring a freelance developer, that sort of partnership will lack a business perspective. On the contrary, an iOS application development company in India will always provide helpful insights about the business. These fast-growing companies team up with the best talents to manifest great ideas.
You can also read – 3 Best Ways To Create Flawless B2B ECommerce Mobile Apps
Apart from software deployment, these IT professionals can tackle the business challenges your venture might confront along the way. All in all, project managers in these companies utilize their business knowledge throughout the project.
4. Domain Compliance
Different types of mobile applications have discrete requirements regarding the final app deployment. For example; a healthcare application should follow HIPAA guidelines whereas educational apps should be SCORM compliant. IOS app development services in India are indeed cost-efficient. But these solutions have certain criteria to fulfill before reaching the end-users. To follow all these rules, it is vital for application design agencies to acquire such experience in numerous domains.
5. Communication Methodologies
You need to be aware of the interaction practices of an iOS application development company in India you are hiring. The company you are going to work with should have a very clear yet comprehensive report strategy. These agencies offer weekly and monthly reports of the ongoing project to inform you about the progress. Other than design and development, some of these leading application development firms also suggest efficient models for your business. Their team keeps you posted on the best possible ways to boost engagement on your app.
6. Digital Marketing Approach
The company's familiarity with technologies and frameworks is undoubtedly the most crucial part of the service. Moreover, these agencies also need to be aware of digital marketing techniques for growing native applications. In fact, some iOS app design and development companies hire in-house content marketing and digital marketing experts to guide through the development and deployment projects. They prepare your iOS application for app store optimization.
You can also read – All You Need To Know About UI/UX Design Services For A Mobile App
7. NDA Policy
Since there are millions of applications out there competing against each other, NDA plays a pivotal part. It is the foremost thing you can expect from an iOS application development company in India. Whether you are hiring iOS developers in Delhi or somewhere else, these agencies will always be ready to sign a non-disclosure agreement. Not only do these firms take care of your target users, but they also protect your information for optimal security. 
8. Client Retention
Client retention in the present times entails the company's prowess to withhold their clientele with quality services. You can read through the case studies of their previous iOS app design projects. You can also read reviews on popular rating and review websites to judge the credibility of your IT partner. The client retention rate of an application development agency is bigger than any required certification. This rate helps you figure out whether you have made the right choice or not.
9. Guaranteed Services
You hire iOS app development companies in India for a certain project that ends at some point. However, that brief collaboration between you two can flourish into a long-lasting partnership. It is a possibility if the company has an impressive client retention history. These agencies deliver guarantees and quality through timely completion. Moreover, post-project assistance is also a major part of their iOS design solutions.
You can also read – On-Demand Delivery App Development Cost – How Much Should You Invest?
Final Thought – Choosing the best iOS application development company in India isn't that big of a challenge. Knowing that agency and its development strategies is a bigger chore for sure. If you are on the look for an agency with all the above qualities, then you can get in touch with Trank Technologies for more discussion on iOS app development solutions.