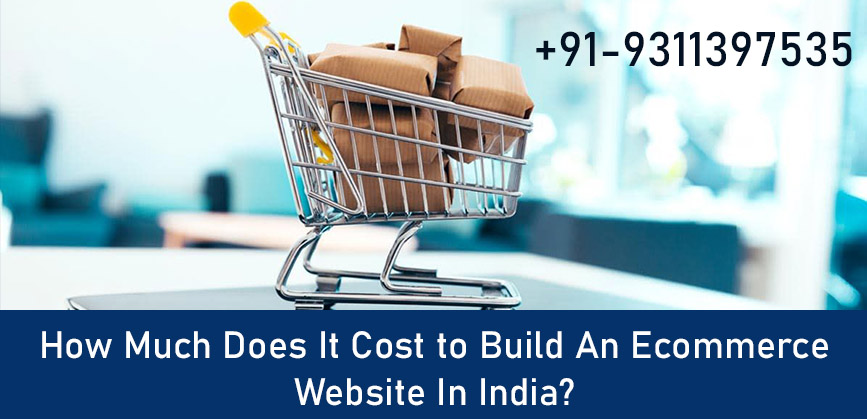 How Much Does It Cost to Build An Ecommerce Website In India?
Market buffs claim that one-fourth of the total population in the world was actively buying things online. But this rate quickly aggravated after COVID 19 which left a remarkable impact on our shopping practices. Analysts noted that more than 48% of internet users were involved in online shopping in 2021. It is a clear indication for retail store owners to come online and become more scalable to boost their sales effectively. Indeed, digitalization has its merits. But the real question is, 'how much does it cost to build an eCommerce website in India?'
If you own a shopping store and want to go online, then this question must be bugging you. Hiring an eCommerce web design and development agency is indeed a suitable option, but budget is the one thing that remains to be an enigma. However, figuring out the cost of an eCommerce website or a mobile commerce application is not that complicated. As long as you select the right development framework, you will not need to splurge your money on unrelated services.
You can also read – Top 10 E-Commerce Web Development Companies In Delhi
So, how will you know about the popular technologies professionals consider while building online shopping stores. There is no way someone would want to learn every website design detail to start a digital shopping portal. Though, a little know-how of the industry can go a long way. At Trank Technologies, we make sure that our clients understand the significance of numerous platforms for their new websites.
In this post, we will elaborate on the different factors that influence the cost of an eCommerce website in India. Along the way, we will also take a look at some popular CMS platforms that you can consider for budget-friendly eCommerce solutions.
8 Must-have Features that Prominently Affect eCommerce Website Cost in India
Simple navigation so buyers can easily browse products. This is the USP of an online shopping website or mobile application. The best part is that implementing simple navigation in the menu is also a budget-friendly arrangement.
Responsive design that simplifies shopping through mobiles and tablets. There is no point in investing time and effort in easy navigation if a digital shopping site lacks basic responsiveness. Remember that most of your users shop online through their phones and tablets.
A brief product description with high-quality images is the key to educating your buyers about your top product range. Potential buyers will quickly move to another site if they don't find enough information about their preferred product on your website.
Product reviews and the latest offers have a collective impact on your target users. These two elements bring new customers your way & retain your existing customers. Simply put, product reviews build credibility whereas different offers induce the buyer to opt for a deal.
Related items or the 'You might also like' section is not a mere suggestion for your site's visitors. It serves as an open window for your vast array of similar products. Many people go through this section and add a few things to their wishlist.
Social media integration is an integral aspect of user engagement. It is an alternative passage for your target audience to spot you online and explore your store.
Refund & return policy sections allow you to educate about various policies related to refunds and return they might want to consider in the future.
SSL, PCI compliance, and 2-factor authentication are some common techniques to protect the data and privacy of your consumers.
You can also read – Why Hire ECommerce Website Development Services For Magento 2 Migration?
How do eCommerce Web Design Companies Choose Development Platforms?
Leading eCommerce website development companies and independent developers look for the following amenities. These features also help them decide on the accurate website design cost of eCommerce portals in India.
The most prominent thing these agencies seek is a single-loop structure. It is helpful in managing order placements, inventory, consumer support, merchandising, etc.
Availability of search, shopping options, payment checkout, reviews, and customers' feedback in a single view is essential. The way you cater to your online shoppers has a deep influence on the success rate of your retail venture.
Customized order management focuses on convenient purchases, returns, & refunds. This part stays in the admin's territory who is usually the store owner. 
E-commerce requires a responsive internal structure along with bottomless expansion for B2B and B2C commerce. That's what web and app designers keep at the center of development.
Integration of multiple languages, currencies, & locations is a remarkable transition to large-scale eCommerce. Retail brands can leverage this aspect to proliferate their sales in different regions of the world.
SSL certificate and PCI (payment card industry data standard) compliance are some essential facets of digital protection. It is a gesture from the brand's end to secure the data of their buyers.
Streamlined content management will allow the admin to add & edit categories and sub-categories hassle-free.
Integration of customer support via chat, direct phone calls, or ticket support.
You can also read – Top 8 Shopify Plus Features For Fast-Growing ECommerce Brands
Benefits of MEAN (MongoDB, Express JS, Angular, Node JS) Stack
Used for multi-faceted technology projects like social media & enterprise business apps!
Open-source stack with a range of free add-ons.
Hassle-free app development.
Application testing in the prototype phase.
Cost-efficient integration choices.
Managing user-generated data (feedback, reviews, queries, & comments) is simple.
Cloud-friendly (easy to build native-looking web apps).
Supports real-time updates on the application. (Ex – LinkedIn)
Benefits of MERN (MongoDB, Express JS, React JS, Node JS) Stack
Popular brands like Instagram and UberEats use MERN for the following advantages:
Highly accessible UIs with optimal performance.
Reasonable development costs.
Custom-built testing tools for error-proof app functionality.
Scalability and seamless application performance.
Easy integration of unique features.
Resourceful JavaScript community.
You can also read – The All-Inclusive ECommerce SEO Guide For New Online Stores
E-Commerce Platform Comparison (Shopify v/s Magento v/s WooCommerce)
Shopify
Pros
Free from technical complexities
A vast collection of retail-friendly themes
7000+ Shopify plugins and in-built options
Abandoned cart saving functionality
Option of drop-shipping
Support of external payment gateways
Compliance with all PCI guidelines
Cons
Minimum scope of customization
Shopify Plus plan is essential for certain features.
Transaction fee 0.5-2%
Some themes and plugins are paid.
You can also read – 5 Ways To Choose The Best E-Commerce Development Technology For Online Stores
Popular websites built on Shopify
colourpop.com
jeffreestarcosmetics.com
fashionnova.com
reddressboutique.com
gymshark.com
cupshe.com
omaze.com
kith.com
fangamer.com
allbirds.com
_____________________________
Magento
Pros
Storefront customization as per the country/region
Flexible integration of multiple languages and currencies
Built-in tools for catalog management
Streamlined checkout, payment, and shipping
Content staging and customer segmentation
B2B integration to manage company accounts
Automated Google redirects and image optimization
Omni-channel support for big-scale platforms
Option of B2B and B2C hybrid commerce
Cons
Time consumption due to technical setup
Hosting and maintenance costs
Themes are not portable.
You can also read – Headless ECommerce Web Development – What's New For Shoppers & Sellers In India
Popular websites built on Magento
hellyhansen.com/
sigmabeauty.com/
accessories.ford.com/
store.liverpoolfc.com/
shop.landrover.com/
nespresso.com/us/en/
ipace.jaguar.dk/
getolympus.com/
christianlouboutin.com/ot_en/
vizio.com/en/home
________________________
WooCommerce
Pros
Free to download and integrate
Cost-saving on multiple hosting accounts
Fully featured with no transaction fees
Seamless content customization with WordPress
Unlimited support from Automattic (Author of WordPress)
Compatibility with B2B and B2C structures
Convenient third-party integration
Optimal control and web customization
Cons
Requires technical maintenance
Security and performance may not be top-notch
Lack of scalability
Popular websites built on WooCommerce
porterandyork.com/
barefootbuttons.com/
underwearexpert.com/
thegoodbatch.com/
theuntoldwish.com/
shoprootscience.com/
bluestarcoffeeroasters.com/
henryjsocks.co.uk/
You can also read – On-Demand Delivery App Development Cost – How Much Should You Invest?
Final Thoughts on eCommerce Website Development Cost in India
The cost of creating an eCommerce website in India depends on the type of development you prefer. If you select a CMS platform such as Shopify, Magento, PrestaShop, or OpenCart, your budget will remain somewhere between Rs.75,000 to Rs.1,50,000. This is a starting price range based on your selection of generic templates and simple plugins. However, the cost elevates with an increased need for scalability leading to a required budget of 3-4 lacs and more using common CMS platforms such as WordPress.
On the other hand, the development cost of custom eCommerce websites and applications using MERN or MEAN stack can reach Rs.5,00,000 to Rs.10,00,000 and more, depending on the type of features you want to add. This form of development encompasses some of the most efficient frameworks such as Laravel and CodeIgniter. If you need more insights on the pricing, you can contact Trank Technologies and get a free quote now!