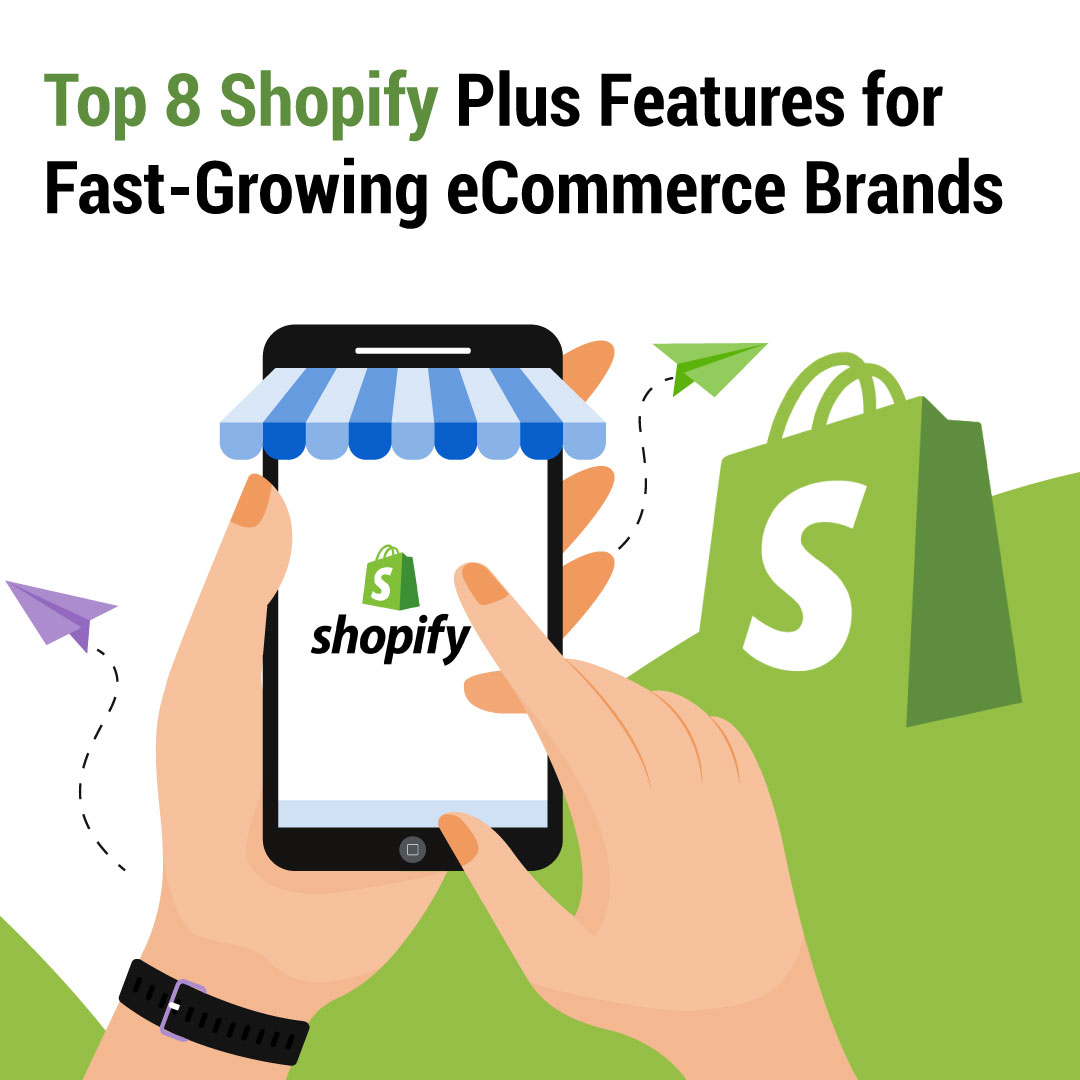 Top 8 Shopify Plus Features for Fast-Growing eCommerce Brands
Shopify has become distinctively synonymous with eCommerce websites and apps, given the availability of free built-in tools, and customizing options. But the latest Shopify Plus version contemplates the story of online stores in an entirely upgraded way. The primary variant of Shopify had certain restrictions that have been reformed in the latest Shopify Plus version. It also includes a few features that you can use for benignant website development.
Some online stores built priorly on Shopify believe that their website or app doesn't require the Shopify Plus upgrade. In their opinion, it already runs on the web just fine. What these businesses don't realize is that this platform update is beneficial for both website management and customer engagement. There is a wide selection of new and improved options. These options can revamp any online store within a significantly short span.
In this post, we will bring into light a few features of Shopify Plus that totally justify its use over other alternatives. Before that, let's understand why your Shopify eCommerce website should undergo the improvement process.
Shopify to Shopify Plus eCommerce Upgrade – Why Is It Important?
A website gains the credibility of its users when all segments of the application function properly, and the site runs smoothly after a comprehensive system update.
Shopify lets developers decide the scalability of customization which in technical terms is described as exclusive or planned customization.
The scalability feature is the essence of Shopify Plus as it systematically streamlines high traffic optimization on the website and maintains the growth of your online store as per the average traffic load on your platform.
The app integration module in Shopify Plus sets the new meaning for convenience and effortlessness. In fact, the Shopify Pay Integration system in this version is the biggest reason why leading online stores agreed to switch to the latest platform version.
This was a brief overview of the reasons you must consider while planning an all-inclusive system upgrade. Let's begin the assessment of the latest Shopify Plus features to conclude the ascendancy of Shopify in eCommerce development:
You can also read – Real Estate Mobile App Cost – 12 Elements That Define The Development Budget
Top Shopify Plus Features for eCommerce Websites & Applications
1. Store Replication
Replicating a store on Shopify Plus is no less than a child's play, especially when you have a modified script prepared on your side. The merchant success manager can help you create the exact replica of a live store and then customize product details along with other changes. Some tools to replicate the store are free on Shopify Plus which is a definitive plus side of the eCommerce platform.
2. Seamless Script Changes
Developers don't have to plan website changes at the mercy of the development platform anymore. Shopify Plus upgrade allows web professionals to edit scripts as per the modifying needs of the business website. These script editing areas also include website checkout, product selection, cart settings, shipping system, payment methods, and much more.
3. Backend Automation
Immensely simplified backend process automation feature is another prominent reason why you should consider Shopify Plus upgrade. This amazing option gives you access to plenty of automation tools that you can utilize to manage product categories, order placements, inventory, and other associated matters without diving deep into coding. Aside from this feature, Shopify Plus is a robust ground for effectively compatible app integration.
4 Certified Security
Your eCommerce website or mobile app can never be too safe to be attacked by hackers. Interestingly, Shopify Plus offers PCI DSS compliance which is a site-wide SSL certificate. This level 1 security arrangement redirects the web traffic from HTTP to HTTPS and enables data protection and risk analysis on every order made on the platform. Evidently, sites with an SSL certification are considered far more reliable, and that's where Shopify Plus has won the race.
5. Launchpad for Sales Monitoring
With Shopify Plus technical upgrade, you get a launchpad in the disguise of its many features. It can help you assess the sales, product releases, and other related commerce processes on your application. This Shopify Plus feature also lets you introduce minor changes in the theme and content of the website automatically. Imagine having a dedicated dashboard just to inform you about the gradual changes taking place on your website along with a brief audit of onsite customer engagement.
6. Convenience of Integration 
Shopify Plus has become a popular eCommerce choice in a very short time because it is fairly convenient for users. It lets you scale the compatibility of your platform by adding multiple apps and addons at the same time. It also supports 3rd party integrations such as ERP, 3PL, WMS, and more. Aside from security and payment, there are many other uses of third-party integration that can change the look and feel of your seemingly obsolete eCommerce website.
7. Technical Prowess
Creators built Shopify Plus with an extensive bandwidth that supports scalable SaaS hosting for a fully customizable website layout. The backend of the framework is robust enough to accept 4 million hits per second. This unique feature comes in handy during the festive season when your website receives the maximum amount of web traffic and order placements. The 200TB storage capability lets your customers place 8000 orders every minute.
8. Discount Implementation
Since Shopify Plus lets you edit the scripts and customize the features of your online store yourself, you can make the required changes to set up discount offers of different types. Now, you can easily place festival-based or multiple-purchase offers to reward your users and encourage them to come back for more shopping. In addition to this, you can also secure the payment methods on your website to stir the user-friendliness element of your online store.
Final Thoughts – Shopify Plus is loaded with great features that don't exhibit any possible traces of downsides for eCommerce. Although, an overall upgrade can be slightly out of your expertise. So, you can make sure that you consult a Shopify expert or a web development company to help you with the upgrade.