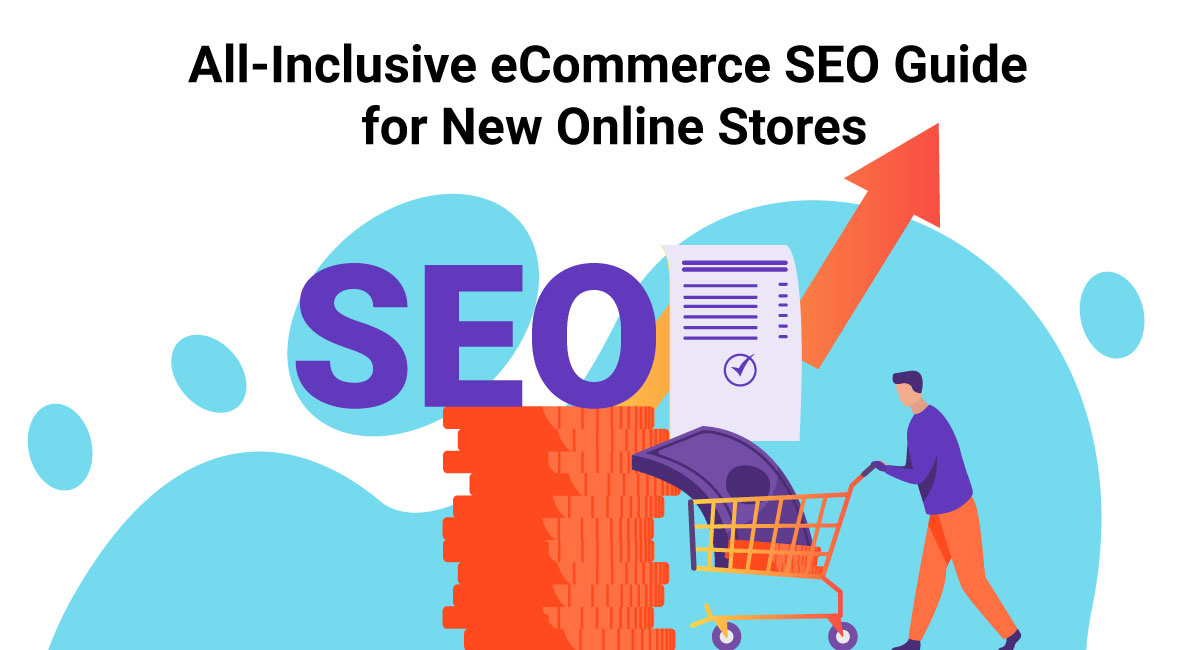 All-Inclusive eCommerce SEO Guide for New Online Stores
eCommerce websites that offer a variety of products from various categories must acquire a coherent strategy to reach their customers. Generally, websites use offsite promotions, press releases, and guest posting to spread the word about a new online shopping portal. But that doesn't do much for a multi-channel eCommerce platform. On the flip side, on-page SEO for eCommerce is more of a methodical approach to guide expedient growth. It is helpful in making a shopping store visible on Google search engines.
Although, the real picture of eCommerce SEO is distinctively different from what we have seen and tried so far. A pragmatic plan that can elaboratively perpetuate the growth of a rising retail business must be precisely discrete. It should be free from obsolete and ineffective search engine marketing practices. In this post, we are going to break down the complete process of eCommerce SEO in terms of a comprehensive guide. Read on to know what's missing from your promotional online store checklist:
Why does eCommerce SEO require more attention and discretion to flourish efficiently?
An ordinary website that only provides specific services doesn't have to go through a series of on-page optimization formalities. The rule of internet marketing is simple – More keywords mean more optimization and extended targeting! Companies that sell certain services or products can choose 8-10 relevant keywords and focus on their implementation on web pages.
You can also read – 5 Ways To Choose The Best E-Commerce Development Technology For Online Stores
Online shopping stores do confront a few challenges despite acquiring the finest collection of products from top-notch brands. They have a broad range of categories and pages to choose keywords for. Even an online apparel store for women uses approximately 20-40 keywords to build up a resilient existence on the internet. That's how famous shopping stores appear on top Google results after every potential search.
Besides, there are thousands of alternatives on the web just as exclusive and determined as your business is. This enormous competition scale puts new eCommerce retail brands in a tough position making it a lost call in SERPs. The key to effective SEO is hidden in searchable products. You will keep receiving hits from internet users as long as your products appear on Google with optimized metadata and adjusted images. The gamble is remarkably complicated in eCommerce SEO, but this guide will help you find your way through the ruthless market competition.
How to develop an outcome-driven eCommerce SEO strategy for an online store?
This section of the eCommerce SEO guide will explain the core strategies you must keep in mind while promoting an extensive array of products on an online portal. Here's what part needs your special attention for optimal marketing:
Page priority – Focus on the pages that can easily bring web traffic to your website and make your users stay. Prioritize those pages and add keyword-rich content on those pages along with meta title and description. Always keep the best product category of your website on top preference.
Operational layout – The SEO process of an eCommerce website will consume a lot of your time and effort. Therefore, you should follow a defined workflow to accomplish every essential aspect of search engine optimization. It should include keyword selection, metadata, web content optimization, and image alternative attributes.
Competition assessment – eCommerce marketing is more like the game of twister where you need to keep your hands on all crucial points of the ground. While managing the optimization cycle on your website, you must also audit the competition on other similar online stores and address the needed strategy for improvements.
Conversion rate optimization – A keen attention to the conversion rate optimization part of your website will help you restrain your optimization efforts and analyze the mistakes affecting the sales of your online store.
You can also read – Mobile Commerce Development Services In India – An Overview Of Mobile Dominance In ECommerce Industry
Comprehensive eCommerce SEO Guide for New Online Stores
Unfailing Keyword Implementation
The most important keyword of your eCommerce website should be in the product headline, basic description, meta title & description, and image alt text. The rest of the LSI keywords can be added in sub-headings and the rest of the page content.
Make your selection of the most suitable keywords according to the search volume, CPC, present competition, and paid performance impact. Search volume will let you know the worth of a keyword amongst your target customers. Whereas the CPC will help you make a marketing budget for that category.
Competition Analysis for eCommerce SEO
Most eCommerce businesses find it hard to commence onsite optimization for proper SEO employment on the website. In this scenario, they can assess the competitors' websites and especially the ones appearing on the top results of Google. Consider some of the most famous players in the same category to begin your research. Then, move along with some new websites doing quite well in SERPs.
When it comes to starting research for an all-inclusive eCommerce SEO plan, make sure you don't eliminate any vital element that can flourish your online store and bring the web traffic in huge amounts. It's just a game of watching and learning that you should ace to increase sales online.
Unwavering Focus on Homepage SEO
Indeed, the category emphasis is pivotal in eCommerce SEO. But the guide also requires you to be more inclined towards homepage SEO. Search engine optimization is a sneaky process. It will find a way to distract your potential buyers if you don't distribute your focus on all major segments of the website. Here's how you can optimize the homepage of your website that doesn't fall prey to relentless search engine updates:
Homepage meta title – You get a limit of 70 characters to express your entire eCommerce business and the best product selection you offer at your platform. In fact, the first 40 letters of this title tag will decide your SERP rank in Google search results.
Homepage meta description – Now that's the segment where you can open up a little about your eCommerce brand. You can use the meta descriptions to elaborate on your product array in 160 characters. Try to keep it short, simple, and understandable. That's how your buyers can get a collective idea about your online store before even visiting the website.
You can also read – Headless Shopify ECommerce Development – 10 Pros & Cons For Online Stores
Homepage web content – Homepage is more like a catalog of your store that provides an overall description and unique viewpoints of your business on a single webpage. The homepage is the judgment-prone area of your portal. So make sure that you stay true to your visitors and concisely represent the information.
Streamlined Website Structure
An eCommerce website contains a plethora of numerous product and category pages. This arrangement often generates a maze of website links making it difficult for users to navigate the website. That's not the kind of user experience you would want to deliver on your website, hence the simple and well-defined website architecture.
Can your users easily operate your website and reach their desired product within a maximum of three clicks? Well, it means that the website structure is workable. On the contrary, you must take another look at the sitemap and link pattern of the shopping website. Links that connect to a refined page layout can help your buyers make an informed decision on their purchases and increase your SEO ranking hassle-free.
Product page optimization
This is the most interesting part of the eCommerce SEO guide as you will get to understand the internal technically of internet marketing from buyers' point of view. The best part is that you don't have to apply any rule or technique to get through with this aspect of search engine optimization.
Keep it easy & real and try to offer as many authentic details about the products as possible. Specify the product name along with the type of material and optimize the image using alt text and attributes for improved search engine appearance.
Customer reviews & FAQs
Buyers' reviews, suggestions, and frequently asked questions are often ignored by newly built websites, and this is why online stores struggle to grow online in the initial phase. Welcome your customers' opinions and sort them on the website in a way that influential reviews appear at the top. You can also utilize bad reviews by posting comments that express your disappointment and responsibility for the unpleasant experience.
You should also add some FAQs at the end of web pages to provide the crucial details about your delivery services. Remember that most users don't wish to spend hours on your website just to find the refund policy or return process of your eCommerce platform. You can put an end to unanswered inquiries with these FAQs.
You can also read – How Did Shopify Become The Most Popular ECommerce Choice For Web Development Companies In India?
Conclusion – This elaborative guide on eCommerce marketing will lead you to an efficient passage of SEO where you will be able to generate enough leads in a substantial span and kickstart a gradual growth of your aspirational shopping brand.