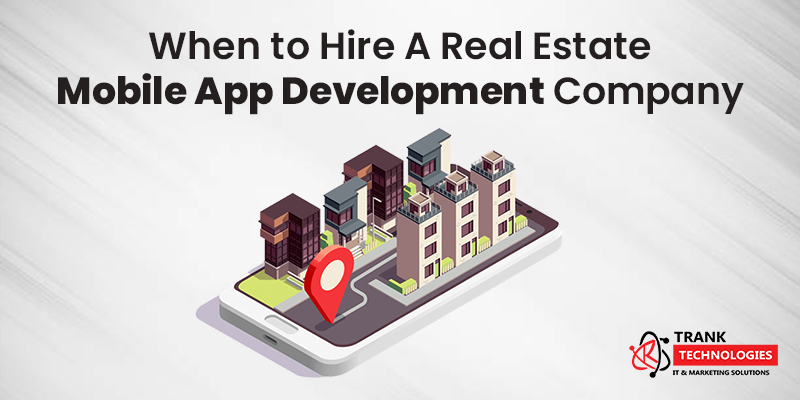 When to Hire A Real Estate Mobile App Development Company?
Whether you run a local real estate business or operate a nationwide realty enterprise, you need to be a little more accessible to your target audiences. The collective digitalization of this highly growing industry has already seen prevailing advantages in the past decade. In general, a realty business begins its online journey with a simple website and then moves to app development services eventually. This has also given a fair share of functional space to every booming real estate mobile app development company in India and other nations.
Despite the unfortunate evasion of COVID in 2020, the real estate realm has been surmounting with a significant growth rate. Several months, in the beginning, were the hardest, given the economic impact of a global shutdown. However, certain business domains such as FMCG, technology, and real estate continued to flourish even in the tough times. This discrete form of resilience showcases the capacity of the real estate sector as one of the most profitable industries in the world.
You can also read – Searching For The Best Web Development Company? Here's How To Do It!
Why Does Your Real Estate Business Depend on Mobile App Development?
From groceries and gadgets to health insurance, today's consumers want everything at the touch of a phone screen. Real estate services are not any different. Well-renowned apps such as Magic Bricks and 99 Acres have raised the bar of demand fulfillment for real estate service providers. Whether you distinctively serve your clients in specific localities or deal in properties nationwide; your online presence matters more than anything else.
In addition, real estate mobile app development brings realty firms and actual consumers on the same platform. It eliminates the need for a third party or a broker that often delays the process of buying or renting a place. In many ways, real estate mobile app development solutions come out to be a revolution for the housing industry. It is also a prominent cause for realty ventures to register themselves on listing portals.
Experts believe that these listing platforms offer significant exposure in the housing domain. But still, it doesn't emphasize the branding value of your real estate ventures. Despite all those advertisements and paid listings, you can't be as visible on a search engine as you can get through a personalized website and an application.
Real Estate Mobile App Development Company– What to Expect from Your App?
One way or another, you will end up planning your real estate mobile application to grow your brand on a bigger scale. When you look for a reliable real estate mobile app development company, you should consult everything during initial meetings.
You can also read – Real Estate Mobile App Cost – 12 Elements That Define The Development Budget
You can also ask them to provide a wire-framing prototype for service assurance. On that basis, you can also suggest the changes you would want to see in your business app. Here's what should be included in your real estate mobile app:
1. Preference to mobile users
Your target audience might differ according to numerous cities and towns. But this will not change the fact that most of the online services are hired via mobile devices. As per a real estate survey, more than 50% of millennials found their home on their smartphone while 46% of Gen X buyers have made real estate web searches on their phones. Whether it's a website or an app, its navigation needs to be highly responsive.
2. Database management for realtors
An experienced real estate mobile app development company in India ensures to make the app as convenient as possible. In addition to other crucial features, they try to customize the app as a mediating service for realtors and buyers. For realtors, you must provide essential options such as sale proposals, database browsing, coordination with local brokers, etc. It should also be useful for homeowners who want to rent their property.
3. One-App-for-All Structure
As a real estate business, you might have your preferences. However, you have to make sure that you customize your business website or application as per all those preferences. For example; if you only offer rental services, then your app should not contain the listing of houses available for sale. This structure should be the same for an app or a website where people find homes to buy. Moreover, your app interface must be equally convenient for all users including realtors, users, and property owners.
You can also read – 7 Essential Fintech Development Features That Make Your Mobile App User-Friendly
4. Selection of App technologies
Not every realty service provider can be familiar with popular web and app technologies. It is an opportunity for you to hire the best agency for real estate application design. This way, you will get to learn about the frameworks and technologies that work best for a real estate business. You should also assess the availability of crucial real estate application tools such as CRM, MLS, etc. A suitable technology stack can sustain the reliability of your real estate mobile application and your services.
5. Availability of Vital features
How do you decide whether your website or application is ready to serve the end-user? It is when you implement all crucial features of a realty service in your platform. Investment in real estate mobile app development services will be beneficial only if your portal is helpful to your target users. Features like property list management, Google Maps API, MLS data management, and social media SDK can effectively boost your app's performance.
Final Thoughts – When to hire a real estate mobile app development company in India?
There's no right time to pick a reliable IT company for real estate mobile app development services in India. Whether you have a well-established real estate venture or a fast-growing realty idea, you can get in touch with an experienced company to overcome the competition and mark your existence in the housing sector.
You can also read – How Web Development Services Will Change According To 2022 Trends?
Trank Technologies is one such app design and development company that can help you with real estate and construction website and app design solutions. For further information on real estate solutions, get in touch today!