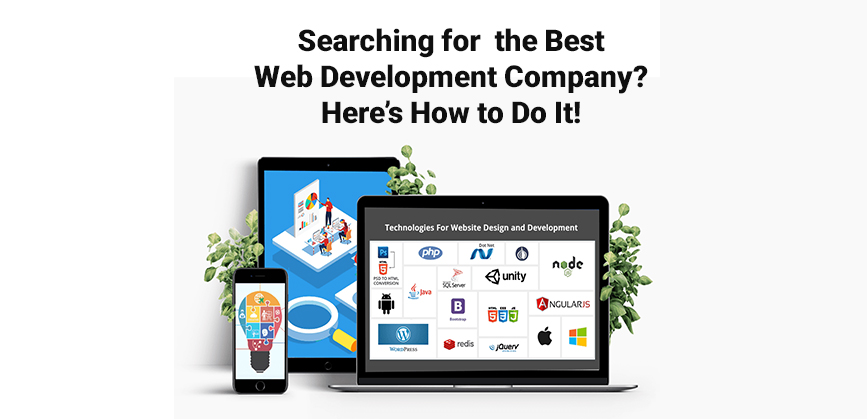 Searching for the Best Web Development Company? Here's How to Do It!
Selection becomes nearly impossible when you have too many options to choose from. And, the internet is the best example to support this notion. From online shopping to hiring a service, everything is available on the web. But so many choices make us want to skip the search for a while and take a break. Undeniably, the internet is clutter in itself. Despite its prowess as the most efficient tool for mankind, it has its setbacks. These downsides come forward quite vividly when you look for the best web development company online.
If you have ever made a search on Google for hiring the right web developers or a reliable website design agency in India, you may have come across a plethora of confusing results. When a single keyword search on the web hits you with millions of results, a conundrum is in order. In this post, we are going to help you find the best web development agency in India. This way, you will be able to kickstart your 2022 projects without much delay.
You can also read – How Does Mobile App Development Become Easier With Kotlin?
Throughout this comprehensive guide on hiring the best web development service provider, you will be able to differentiate between freelancer developers and a well-known website development agency. At the end of this explanatory guide, you will figure out the simplest ways to hire a website development firm after reckoning the pros & cons of their services.
Web Development Company or Freelancer – What's Right for Your Project
While working on an upcoming project, you might want to hire a freelancer for building your website. It happens when people don't calculate the need for a post-development solution. Besides this, hiring freelancers seem more cost-effective than a website design agency.
A freelancer works independently without any substantial support from other professionals. A website development company on the contrary deals with clients as a full-fledged team. In the following section, we will compare these two options by contemplating their pros and cons extensively.
Pros of Hiring a Freelancer for Web Development Services
Web developers who work as a freelancer usually charge per hour for their services. It means that hiring web developers in India can be a budget-friendly choice for small businesses.
Most of these freelance web developers are skilled in a particular area of web design and development which can come up as a plus side of their services.
Some experienced freelancers handle one project at a time to deliver quality. Such experienced professionals can assure the timely completion of your website. With platforms like Upwork and Freelancer, hiring these professionals is very easy.
Working with these web development professionals is effectively flexible as they are available at convenient hours. You don't need to wait for weeks to wait for their reverts.
You can also read – 3 Best Ways To Create Flawless B2B ECommerce Mobile Apps
Cons of Hiring a Freelancer for Web Development Services
Believe it or not! It is impossible for a freelancer web developer to match the quality of the best web development company in India. Other than that, freelancers try to complete the UI/UX design and content of the website all by themselves. Lack of training and experience in these areas declines the bar of quality.
When it comes to trustworthiness, freelancers don't often rely on the same passage as a website development agency in India. In some cases, they either provide timely completion or quality. Obtaining both these elements at the same time is hardly a possibility with these web developers.
Post-development assistance is another reason why you must hire a well-known web development enterprise. Freelance developers often leave the project after finishing the launching process. In that case, you may have to hire a new web developer for fixing minor bugs on your website.
Advantages of Hiring a Professional Web Development Company
A well-renowned web development company like Trank Technologies can help you with all sorts of projects lining up on your table. Such companies offer a broad package of website development services for small-scale and medium-scale businesses. These agencies acquire a diverse team of IT professionals including frontend developers, backend developers, UI/UX designers, content creators, and project managers.
A team leader assigns these people with designated tasks for hassle-free project completion and quality assurance. Leading businesses hire these agencies due to the following reasons:
All skilled people work in a resonated work environment. They all get to share their ideas and discuss the growth of a project.
The quality of work in these companies is beyond comparison. They have a system of finishing each project before the decided deadline.
Transparent and flexible project management is another major reason why website development companies are growing across India and overseas.
Long-term association and post-development support count as the biggest benefits of hiring the best web development agency in India.
Now that you know the significance of a genuine website development company for your business, the next big thing is to find the right one.
Here's how you can compare amongst the top IT companies and choose the best one for your forthcoming website projects.
You can also read – 5 Ways E-Commerce Industry Will Change In 2022
5 Ways to Hire the Best Web Development Company
1. Evaluate their Technical Skills
You don't need to be an avid technology enthusiast to judge the services of your website development partner. You can Google the most popular technologies and web development trends of the year. Then you can compare those components with the expertise of the firm you are planning to hire. PHP, React, Angular, Vue.js, and Node.js are some of the common technologies that leading website development companies use these days.
2. Go Through their Portfolios
Leading web development agencies provide the history of their completed projects on their website's 'portfolio' section. While listing out the top website development firms, you can consider looking at their portfolios. It will give you an approximate idea of what your own website will look like.
3. Read Client Testimonials
Don't make any rash decisions while hiring the best website development company in India and overseas. Besides, you should also read their clients' testimonials and watch review videos to understand their scalability of services. You can also go through Clutch and other portals where businesses post authentic reviews of their technology partners.
4. Pay a visit to the Team
If nothing else seems to be working for curbing the confusion, then you can schedule a meeting with the web development team. Top web development agencies in India offer free demos and consultations. Trank Technologies is also one of these companies.
You can also read – 7 React Native Benefits That Resonate With Mobile App Development
5. Discuss Pricing for Your Niche
Hiring a web development company is the most integral part of your business. Therefore, you will need to be very straightforward with your preferences and requirements. Apart from this, you must also discuss the pricing and timeline for the niche your website belongs to. Some of these firms can ask for hefty pricing, but their experience and project history will help you make a well-informed decision.
Final Thoughts – Performing fine research of the best web development agency in India is a streamlined process. This meticulous process of finding a reliable technology partner gets simpler when you have your requirements properly lined up. However, you just need to follow the above-mentioned guide to differentiate between the right IT partners. You can also get in touch with our supportive IT team for further insights on website development services.