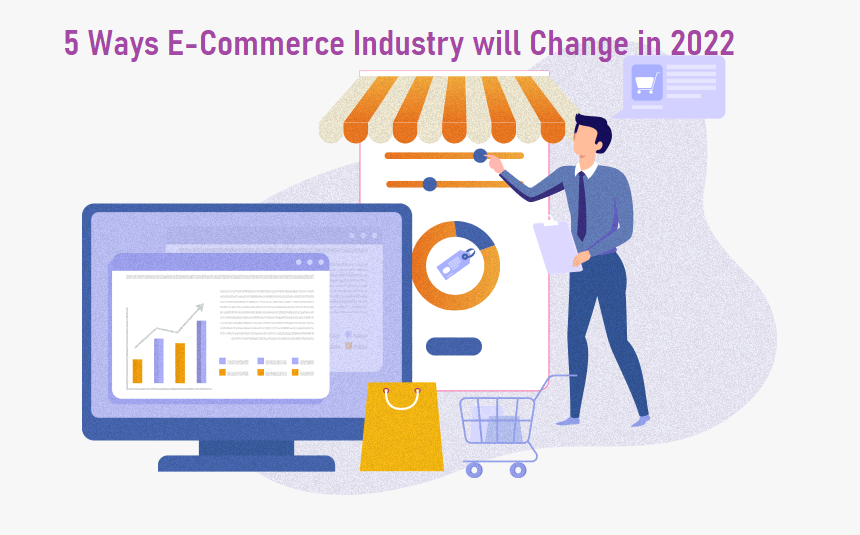 5 Ways E-Commerce Industry will Change in 2022
The concept of online shopping came along almost fifteen years ago. But ecommerce went into its utmost form after 2020 when a global pandemic made people rely on the resource of online services. The pervasive shutdown situation caused the physical channels of service to disappear. And that's how the ecommerce sector noted a growth of the decade merely in the last two years. However, it's not the endgame. The ecommerce industry is going to flourish profusely in 2022. Retail ventures that understand the nerve of their consumers will be able to survive the drastic changes in the market.
Even if we keep aside the B2C ecommerce sector, B2B customers widely count on digital channels for enterprise purchases. Every year, the e-commerce domain goes through a series of changes. So, how is 2022 going to be for the ecommerce industry? How will it affect the user and retail? In this post, we will go through the prudent scenarios of the ecommerce industry in 2022.
You can also read – 3 Best Ways To Create Flawless B2B ECommerce Mobile Apps
Shopping on Voice Command
From search and shopping to paid ads, maximum practices in the ecommerce industry are going to be voice-based in 2022. The idea of voice assistance is nothing new. We have all been using it all along via Amazon's Alexa, Google Assistant, and Apple's Siri. Now, this feature will impact the shopping realm and bring it to a higher level. It is more of an opportunity for booming retail brands to carve a new stream of customer engagement.
It's a chance for shopping websites to get more leads through voice searches on the web. By the end of this year, the smart speaker economy will grow up to the mark of 28 billion. In addition to this, the voice-based shopping feature will certainly reach the value of 40 billion dollars. More than 15% of overall ecommerce revenue will come from voice-based ads. This is why voice command will dominate the upcoming trends of online shopping.
Product Information Management & Personalization
Customer retention is all about personalization. Businesses that rely on retail and sales must keep up with these growing demands of the buyer and culminate their service structure into a far more customized form. Whether it's a B2B agency or a B2C store, personalization is the only key to sustaining your value in the competitive market.
You can also read – Why Is Hybrid App Development The Best Recourse For Mobile Commerce?
Crafting a shopping experience around personalization will be the highlight of the ecommerce industry in 2022. Direct selling may not be as meticulous in terms of communication. But a hint of smart campaigning can change the game for small-scale retail stores. Hence, online stores will need to build social media and ad campaigns channeling the core needs of their buyers. In that transforming scenario, retail ventures will not be able to survive potential risks associated with economic changes.
To subdue these proliferating challenges, businesses will need to combine ecommerce with Product Information Management. PIM is an effective technique to lure the target buyer with just the right amount of information. This way, you will have a productive means of selling your product using data that improve customer experiences and converts leads quickly.
The omnipresence of Brands for Effective Selling
We live in a world where you have to subjugate the competition with an extensive presence. It is an efficient way to remind your customers of your powerful existence and wide array of products/services. As per shopping surveys, almost 80% of buyers don't buy a product without having seen the brand on multiple channels. Aside from checking the shopping website or app, most buyers go through social media channels to analyze the popularity of a brand.
The ecommerce industry will note remarkable growth in the year 2022. Building a presence on different channels is an efficient way to leverage the attention of target buyers and grow annual sales. Shopping brands can formulate a sales matrix and pick the platforms of social media to tailor their omnipresence. Although you will need to be very cautious with this strategy as it is going to work only if you have a proper roadmap for analytics.
You can also read – Top 10 Mobile App Development Companies In India 2023
Availability of Multiple Payment Methods
There are a thousand ways to impress your target audience. Fascinatingly, multiple payment options are one of those methods. It is a big deal that a user chose to buy the product from your portal, though it was available on other websites. Now you must retain this trust and hook your buyer with an easy payment mode. Make sure you have all well-known payment APIs available on your shopping platform. This is one calculative way to keep your buyers on your side.
Mobile commerce is growing stronger each day, and this will continue to happen this year as well. With more than 50% of purchases already going on through mobiles, retail owners will have to implement easy transaction methods on their platform. GooglePay, PhonePe, and ApplePay will lead the ecommerce industry in 2022 with great prominence. On the flip side, payments through credit cards, debit cards, and PayPal will cover the purchases that require installments.
Artificial Intelligence & AR
Technology has made us believe in things that didn't even seem plausible a few years ago. The same impact will overcast the retail domain. It is no surprise that customers have been shown vivid interest in the latest technologies lately. With these major changes, AI and AR will be able to generate a space in the shopping realm with ease. Many big-scale enterprises around the world have already adopted the concept of artificial intelligence and augmented reality in operational practices.
You can also read – 6 Uses Of Magento 2 Elasticsearch In ECommerce Website Development Services
Final Thoughts – All these changes in the ecommerce industry in the year of 2022 point to the vitality of enhanced customer experience. If you wish to revolutionize your ecommerce design and marketing strategy, you can partner with Trank Technologies for 360-degree solutions.