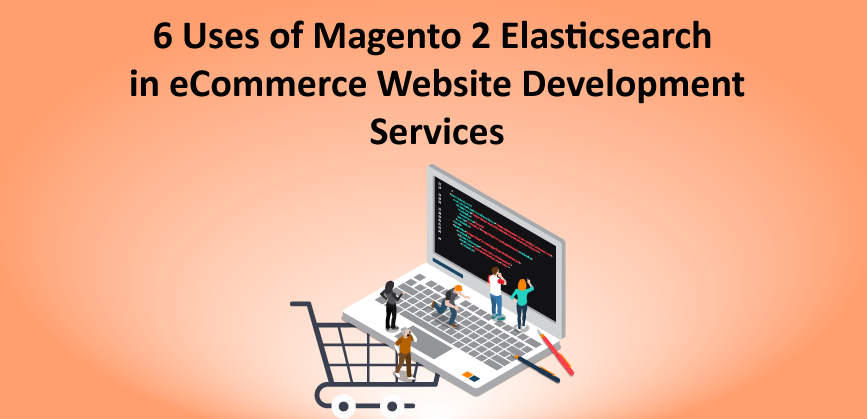 6 Uses of Magento 2 Elasticsearch in eCommerce Website Development Services
How complex and time-consuming can it be to manage product search and user response time on an eCommerce website? That's the experience that many online stores have been through at least once during the initial span of store setup. Online store development covers a lot of things in the configuration process such as search library and product indexing. These elements settle the accessibility layout of an online shopping portal. However, product search adjustments in eCommerce Website Development Services can effectively be deduced to minimal efforts with Magento 2 Elasticsearch.
Magento eCommerce development is an efficient option for retail businesses growing into multi-vendor marketplaces. With Elasticsearch, these eCommerce portals can do a lot more in terms of store customization and user-friendly navigation. In this post, we will catch the glimpse of core Magento Elasticsearch amenities that can benefit your eCommerce website. Let's begin with an elaborated definition of the tool:
You can also read – Why Do You Need A Web Development Agency For PWA Development?
What is Magento 2 Elasticsearch?
The Elasticsearch tool from Magento 2 is a free full-text search solution that recommends keywords related to the search query and advance search customization. It is a server-based tool that enables full-text search in an online shopping store at an efficient speed.
Apache Lucene powers Magento Elasticsearch which itself is an open-source search library. A quick and easy web content search capability is one of the many benefits that it adds up to new Magento eCommerce websites. The concept behind this fast and improved search arrangement contemplates a contextual search system. This way, the indexing service doesn't take time in database scanning and showcases the matching results based on the specific terms instead.
The search structure in this context can be better described as a book index. You don't need to search inside the pages. You can simply look at the index and refine your search query accordingly. When a user begins to put a search term in the bar, Elasticsearch will generate result matches in a far simpler layout. Those search results encompass related products, images, price, ratings, relevant product suggestions, etc.
You can also read – 7 Essential Fintech Development Features That Make Your Mobile App User-Friendly
How does an eCommerce Website Leverage Magento 2 Elasticsearch Features?
Clearly, thousands of online stores on the web are competing against the lowering attention span of their target buyers. People don't want to spend more than 8-10 seconds on a store that doesn't provide the results they are looking for. That's the prominent cause why online retailers must embrace effectively convenient search windows on their websites and apps.
Besides this, online users begin to lose interest in an eCommerce portal where they need to spend a lot of time finding one specific kind of product, they are willing to buy. It's fair and straight! Online shopping is practically similar to real-life store shopping where buyers come out of the store after not seeing the collection of their choice.
Elasticsearch tool from Magento 2 eCommerce can provide the resilience your online store needs to survive the market competition and win over a loyal customer base on the web.
Let's move on to the next section and explore the benefits of Magento 2 Elasticsearch for eCommerce website development services:
You can also read – On-Demand Delivery App Development Cost – How Much Should You Invest?
Magento 2 Elasticsearch Benefits for eCommerce Businesses
You can display an enormous selection of products on your eCommerce website without being worried about the search query attributes. This feature saves your users' time on the portal and stabilizes the server load.
When the product array is enormous and data volume is significantly large, it can make the search process relatively slower on your website. Using Magento Elasticsearch, you can reduce the response time on the portal so it can load the search results faster.
Now that your eCommerce website has a much more evolved search system along with an accessible navigation design, it will attract more and more buyers to your platform. As a result, the conversion rate on your store will improve elevating the sales record and profit for you.
Features like search optimization, search autocomplete, and thesaurus management will deliver a revolutionized search experience that will engage the buyers on your website. Your buyers will get to shop for the things they have heard of from other people.
Magento 2 Elasticsearch also has an advanced price slider and multi-select options. These components let your customers go through different product samples at the same time without leaving the same category page.
When there are limited search results, your buyers will be redirected to the product page straightaway. This will allow your users to make the purchase decision instantly. Apart from this, auto spell check, customizable filters, multiple language support, and real-time analysis are some other features that can streamline the shopping experience on your eCommerce website.
You can also read – Mobile Commerce Development Services In India – An Overview Of Mobile Dominance In ECommerce Industry
Conclusion 
Magento 2 Elasticsearch is indeed a great idea for your online store. But make sure that you configure this feature on your eCommerce website with the help of a technology partner. Only a professional can handle the minor website performance setbacks caused by the changes right after their detection. At Trank Technologies, we have an entire team of best-in-industry talents for eCommerce Website Development Services. To get started, you can call us at +91‑9311397535, 011‑46047508 or drop a mail at [email protected].