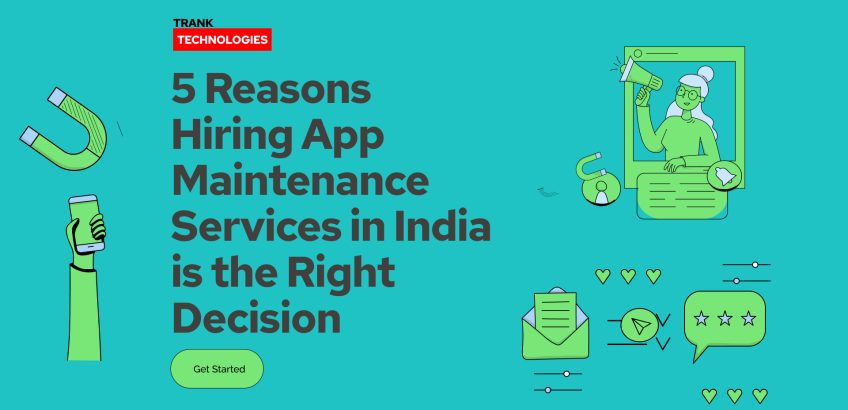 5 Reasons Hiring App Maintenance Services in India is the Right Decision
An interactive mobile app is the outcome of weeks and even months professionals spend on idea conceptualization, application UI/UX, API integration, testing, market, etc. The complete process of mobile app design constitutes an extensive series of responsibilities allotted to different team members. Then comes the thought of app maintenance & support services which is not always considered by growing businesses in India. Web & app maintenance comes into the picture after the platform has made its way among consumers.
In general, businesses tend to bid goodbye to app development companies once the project is up and running on the Play Store. This disintegration often leads to critical technical errors that require major changes in the application. Most of these changes and bug fixing can't be taken care of by the admin.
A thriving company that deals in web and application design services will offer maintenance solutions for its clients. However, not all business sign up for these services and then face issues while upgrading the app versions or introducing significant changes. It is imperative to monitor the regular performance of the app and ensure users are getting the latest updates seamlessly. In this post, we will discuss the common issues and advantages related to app maintenance & support services.
You can also read – Kotlin App Development Services – An All-Inclusive Solution For Cross-Platform Apps
Common Issues with Mobile App Maintenance Services
Users tend to neglect application platforms that consist of bugs or other imperfections. If an app starts to show some issues, it is better to provide early resolutions so that you don't lose your customers. Once a user leaves negative feedback about your app, it will impact your prospective customers.
Following are the challenges associated with mobile app maintenance:
1. Inevitable Mobile Bugs & Crashes
There is rarely any software that doesn't consist of bugs or never crashes. Technology comes with certain drawbacks. Therefore, there are people to resolve technical issues because it is not yet fully competent to solve every problem. Hence, a user can experience bugs that even a pre-testing might miss.
When your app extends across multiple platforms, there may be certain things that your developer has never predicted or written a code for. Yet, it doesn't create any problem for your business as long as it is being examined early. You should contact your app developer and ask him to revisit their work to fix the bug. This is how app maintenance & support services after the development of the application plays an integral role.
A developer will time and again need to inspect, investigate, and make changes to fix the errors.
2. New Versions & App Upgrades
Every app releases new versions and upgrades at times. So, planning ahead about all those versions and upgrades is imperative. For example, if you plan to launch a new version of the app during mid-year, then testing a month before the release will facilitate a seamless launch. This way, your users will not spot any errors or code breaks when upgrading to the new version.
We are sure you cannot afford to hire someone immediately for unplanned app maintenance. So, taking the assistance of your existing app developer for regular app maintenance & support services is a cost-saving option.
You can also read – How Much Does It Cost To Develop A Mobile App In India?
Advantages of App Maintenance Services in India
No matter how good your application, it may fail post-launch despite having a user-friendly interface, innovative features, and influential marketing campaigns. The prime reason for failure may be a lack of timely maintenance, absence of updates, deferred solutions for issues, etc. So, it is imperative to leverage app maintenance services for your business.
Here are the benefits you can expect from app maintenance & support services:
1. Prompt Resolution to New Issues
You need to look at the comments left by your users to get an insight into what interests them and what features they would like to see. It addresses the problems faced by your customers with a prompt resolution. The support team resolves the issue faster and fixes bugs effectively.
2. Top-notch Security
When the developer regularly monitors the app maintenance, it helps them to elevate critical security and prevent data theft. It seals all the flaws in the source code that might pervade by a hacker otherwise. Cybersecurity is a crucial concern of an application interface because it deals with sensitive information.
3. No More Downtimes
App downtime can cause your business to lose revenue and customers in just a matter of time. No user intends to use an application that repeatedly has downtimes. It is important to fix it right away. Otherwise, a company would face a hard time running a business. To avoid such a fateful scenario, you should leverage app maintenance & support services.
4. Competitive Advantage in the Market
When your application works seamlessly without any bugs, it attains a competitive advantage in the market over others. As you know, the mobile app development industry is highly competitive, where the updates need to be carefully monitored along with the regular performance of the app.
These days, companies are closely investing in resources that take care of maintenance and the latest updates or versions. It ensures a flawless user experience so that your customers keep on coming.
You can also read – Searching For The Best Web Development Company? Here's How To Do It!
5. Circumvent Unnecessary Boycott
The app store changes rules and guidelines from time to time that ought to be checked periodically. If you are not cautious of all those modifications, your app might get banished from the store. You may have to keep a close eye on all those policy changes to circumvent such an unnecessary boycott of your revenue-generating platform.
You can avoid this by asking your mobile developer to provide app maintenance & support services post the development of your application.
App Maintenance Services for Unstoppable Business
App maintenance is an irresistible part of an application's long life. It can either be planned efficiently or encountered abnormally. Well, it's better to preserve your app with timely maintenance & support to avoid negative reviews from users. It will ensure the stability of your app and keep it bug and crashes-free.
To get help with app maintenance, you can opt for professional assistance from a team of experienced developers. And for that, you don't have to go too far. Trank Technologies is here to assist you with its multifold mobile app design and development solutions. We build efficient android and iOS mobile apps and offer post-development app maintenance & support services to various businesses in India and overseas. Our team of tech-savvy developers left no bug unfixed.
You can also read – 5 Things Only A Healthcare Mobile App Development Company Can Tell You
If you don't want to hassle at the last minute for app resolutions, then contact Trank Technologies today!