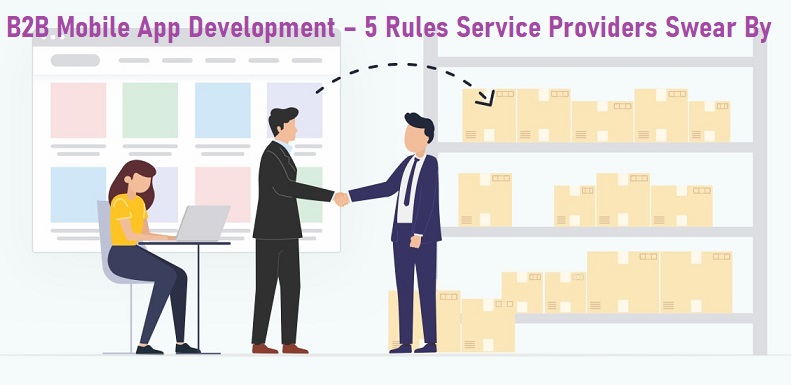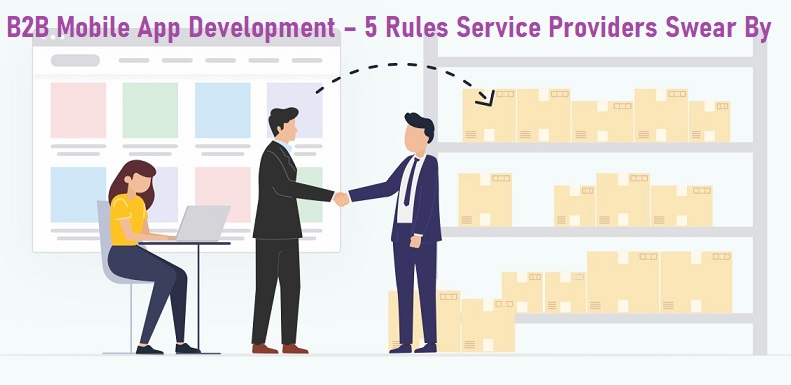 B2B Mobile App Development – 5 Rules Service Providers Swear By
Mobile app development services and trends have dominated the business world faster than expected. Digital technology isn't just about serving the consumers anymore. Online B2B applications and software have tremendously elevated the trading practices amongst various business sectors. Every person out there is an app user who now only relies on a customized phone app to seek the best services for their growing ventures. Simply put, B2B mobile app development now asserts prominence in the global marketplace.
B2B smartphone applications set the pace for enterprises that commonly rely on third-party services or supplies for properly operating a functional transaction. Let's understand the use of these business-to-business applications through an actual example. An employee roster app is an example of a B2B software as it allows companies to track the presence and performance of their staff. WordPress also falls under this category as it lets companies create amazing websites to run a business online.
All in all, business-to-business phone applications simplify a lot of things for growing brands. However, setting up a B2B mobile app with mere development isn't as straightforward as you might think. Scalable app features, design and layout, app content, and responsiveness are some components of mobile app development that need significant attention during the planning phase. In this post, we will explore the development structure of B2B mobile apps through the best practices. This article also contains a quick brief on the significance of B2B applications:
You can also read – Healthcare Mobile App Development – 8 Must-Have Features You Shouldn't Miss
Why do businesses require B2B mobile apps?
the modern consumer demands transparency and frictionless exchange amidst the labyrinth of available options. They seek highly customized mobile apps with intuitive features catering to the basic requirements of their booming ventures. In addition to scalability, time-saving amenity is another thing that millennials thrive on. People these days are surrounded by errands and everyday responsibilities aside from work that sustains the need for a tailor-made B2B platform.
Other than this, not everyone wishes to spend their time on the internet browsing through feeds and stuff. People associated with a growing business, or a functional enterprise always look for options that can automate a company's daily activities. Besides, websites don't make up for the benefits that a B2B mobile app can provide for its users. They can't keep their desktop systems on all the time, but they can always access a custom application on their smartphone or tablet. Business-to-business mobile app development has the prowess to control a large part of the commerce sector in India and overseas.
Elements that make B2B mobile app development services worth a try
B2B mobile app development is an integral aspect of digital business solutions. This is why top mobile app development companies take care of every essential part of the application.
In the following segment of the article, we are going to learn about the major elements that developers in India never miss while crafting an infallible B2B platform:
1. Optimization for Frequent Purchases
While developing a SaaS platform that mainly contains custom-built tools for businesses, it is crucial to optimize the navigation for repeated purchases. To simplify this arrangement, leading mobile app development companies in India optimize the purchase record of their users using the subscription model.
You can also read – All-Inclusive ECommerce SEO Guide For New Online Stores
Above other benefits, it lets businesses develop a robust relationship with their consumers. At the end of the day, what users appreciate the most is the scope of convenience and values bestowed by the service provider. Here's how the purchase optimization process of a B2B mobile app development takes place:
A one-step reordering feature can help your customers order a service subscription using their order history through a minimal click setup.
The save-to-cart option allows B2B mobile app users to save the products or services they are interested in. This way, they can open the portal and directly make the purchase instead of browsing the list all over again.
Personalized push notifications assist businesses in maintaining an active bond with the user through a strong string of communication.
2. Streamlined Payment & Checkout Options
When it comes to adjusting to the B2B structure, an application must be just as accessible as a B2C ecommerce mobile app. While most customers often forget about the products added to the cart, abandoned orders can lead to unclear sales data. B2B mobile app development came into existence to break the friction between consumers and providers through an extensively unified app system with simple payment and checkout features. Here's what it includes:
The Single-click checkout feature can come into action when your app backend saves the order history and purchase info of each user. This one-click checkout method can also provide significant support to the entire buying process on the app platform.
Multiple payment gateways subjugate the density of competition apps confront these days. Moreover, the option of online payment has moved beyond ecommerce. Almost every online platform now vividly uses UPIs and other means of transaction to offer the ease of online subscription and shopping for its target audience.
While personalizing the payment option on your application portal, keep in mind the comfort of your users. Your platform might be specifically for enterprises and big-scale organizations, but these firms expect to be treated as an actual customers. With a streamlined checkout and payment amenity, you can offer an exactly similar experience for your users.
3. Scalable & Improvised User Experience
Even though we have discussed the payment part in the above section, we'll discuss certain aspects of user experience here. Aside from easy checkout and multiple payment methods, you can enhance user experience through the following techniques:
The application should load fast opening up to user-friendly navigation. All crucial CTA buttons should be on the home page. Your target customers must find it easy to browse for their preferred products with optimal ease.
B2B mobile app development becomes a ceaseless project with the use of native and progressive web applications. In addition to impressive configurations, these portals also deliver impeccable customer experience.
The content of the application should sync with the customer's requirements. From logo to every image and video, every part of the content must provide significance to your B2B mobile application.
You can also read – On-Demand Delivery App Development Cost – How Much Should You Invest?
4. Personalization of Push Notifications
App optimization gets surreal when developers customize push notifications for application users. Mobile users prefer push messages over-scheduled emails leading to a great force towards boosted user engagement. Here's how to promote customer retention through B2B mobile app customization:
Introduce the message with a bold and appealing heading that notifies your customers about the inside of the message. An emoji or a symbolic sign by the heading can even accentuate the essence of B2B mobile app development services.
Choose the right schedule for each push notification you customize for your existing users. Assess their preferences to get insights on the right timing and content for the decided push message.
Be careful with the words you select to persuade your audience for taking an action on your app. Spend some time researching users' behavior before making your notification layout.
5. Overall B2B Mobile App Optimization
Once your B2B mobile app development project is complete with all essential services, you will eventually want to optimize your application for play stores. Professional app developers always optimize the app before finally launching it on the platform. However, it's important to follow some optimization tips such as:
Connect with your present users to receive authentic feedback on your application. Try to collect real-time data that you can later utilize to boost the performance.
Content optimization is hands down the most significant element of B2B mobile app development. Always ensure that every single detail on your mobile app is given in a clear and understandable language.
Never ignore the information you receive from application analytics. This is the only source of data that can help you enhance the quality and experience of your B2B app.
You can also read – 5 Ways To Choose The Best E-Commerce Development Technology For Online Stores
Final Thoughts
B2B mobile app development is leading the way for innovative start-ups and growing ventures in India. Every millennial on the web now preferably uses mobile and tablets. Therefore, it is the primal phase for digital platforms to flourish in every possible way. If you have a B2B app idea brewing up for your new venture, you can get in touch with the tech-savvy team at Trank Technologies for custom mobile app development services today.