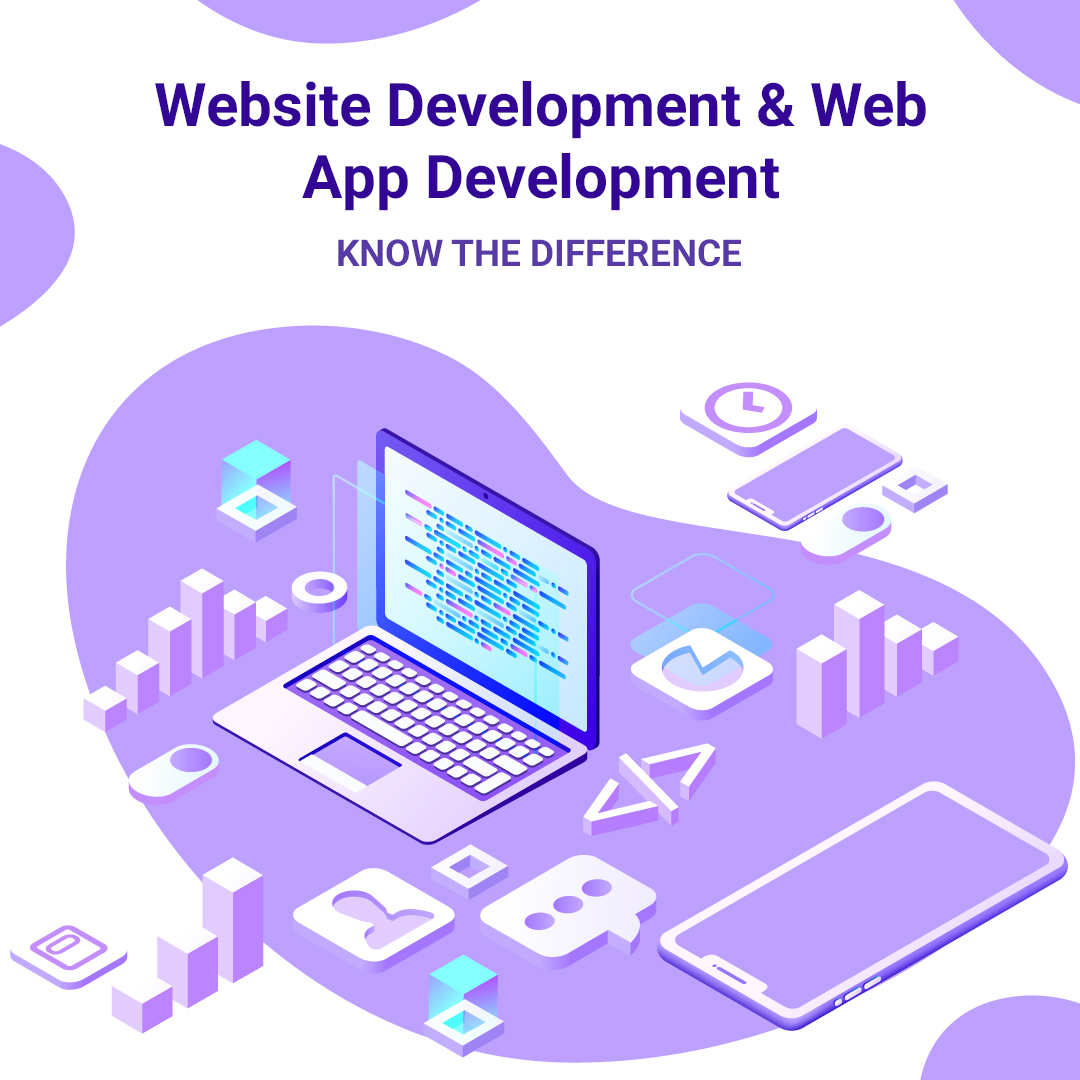 Website Development v/s Web App Development – Know the Difference
In a spree of digital evolution and relentless technology development, all companies are competing against each other with the finest-quality websites and mobile applications. To provide a mix of experiences for users, some enterprises are also heading towards the option of web applications. Web apps are extensively different than websites & smartphone applications. Although, their uses and significance in comparison with regular sites exhibit a bit of a dilemma for digital development. Website Development v/s Web App Development is a matter of discussion for growing businesses.
Indeed, both websites and progressive web applications have their impact on the users, but they don't share any similarity on the experience radar. This is the prominent reason why many companies find it hard to decide whether their business needs a website or a PWA. To begin with, there are a few businesses out there with little to no presence on the web yet.
Everyone knows what a website is and how it works for users and businesses. A progressive web app development agency is just an improvised version of a simple website that lets you access an online store with a mobile-like experience. There are a lot more things about websites and web applications that can help you differentiate between these two. An optimal comparison of website development v/s web app development will help you understand better:
You can also read – Why Do You Need A Web Development Agency For PWA Development?
Website Development v/s Web App Development – Defining the Differentiation
Web App – Most users consider web applications as the smarter version of a website. The layout of a web app allows users to get the required details through numerous sources. An archetype web app development company usually promotes coming-of-age technology in terms of high-end software and online tools.
Even though it is operated on the web, users get to personalize their activity on the digital platform just like they prefer on their devices. It is a major reason why web applications are taking over the online realm so quickly these days. The advantages of a web app lead us to the example of Google Docs. You can use it on any device and operating system you prefer and share the data with other users effortlessly.
Website – A website can be defined as the systematic set of web links formulated in a single URL deployed on a single server space. These websites contain regular information about businesses and their products in ways that users can find comprehensible. A typical website provides end-to-end details in a content-based form to guide the website visitors with basic navigation.
Web Development vs Web App Development – What Services Does Your Business Need?
Most companies experience a hard time deciding on the type of web development service for upgrading their online business. Getting blindsided with the type of web development company will be like throwing caution to the wind. It's because quality development services require substantial investment. Hence choosing a progressive option between these two is significantly crucial.
You can also read – Top 8 Shopify Plus Features For Fast-Growing ECommerce Brands
Progressive web app development (PWA) or website design & development both have their specification that meets distinct types of businesses. Let's understand an effective method to identify an auspicious choice for your business.
Your business needs web application development services if: 
Your company leads a dynamic administration process! A regular business based on simple products and services can survive with the help of an ordinarily created website. But an enterprise with discreet administration operations and continual client interactions will always need something more than that!
A digitally procured application system with smart data maintenance and the productive cycle of communication is exactly what will suffice for your gradually booming venture. And only a PWA platform can provide that scale of productivity and improvements.
Progressive web app development consists of ERP frameworks, CRM programming, cloud-based BPM applications, etc. These technical components can help you tackle everyday business challenges with ease. No matter how streamlined your company structure is, meticulous administration and interaction tasks will always hail the application of web app frameworks.
All you need is a credible web app development company in India with extensive acumen in software building. The rest of the issues are handled by the research-oriented and highly experienced developers and technology experts' team!
Your business needs web development services if:
Your enterprise acquires a distinctive communication system to interact with clientele and team members! Collaboration with a web development company is in order if you have a stagnant venture, a new idea-turned-into-business, or a website with obsolete design and structure. There are plenty of reasons to hire web development services to boost your business in India. Finding the right service provider is the real gist!
You can also read – ECommerce Marketing On Social Media – These 7 Techniques Can Never Go In Vain
Website design and development services aren't any less important than progressive web application development. A bespoke website platform is exactly what your target audience has been waiting for all along. Only a professional web developer or a well-known web development company can help you with that level of customization.
Applying SEO Goals in the Development of Websites & Web Applications! Is It Worth?
SEO is the only plausible ladder in the internet paradigm that your business can count on. It helps in connecting with the destined audience. If you wish to take your web apps and websites to the target viewers, search engine marketing tactics will help.
While several SEO techniques take place after the development, some SEO rules can be followed right from scratch during conceptualization and core development. There is no obscure rocket science behind the SEO implementation! A simple introduction of brand image norms, keyword-defined customer approach, and conversion planning is sufficient to bring your business into the category of top growing brands in India. 
Conclusion – In the past few years, top web development companies in India have grown an interest in web design frameworks, tools, and techniques that alleviate the experience of online users. Online enterprise platforms these days serve as the digital analog of actual organizations. These web-based establishments manage customer base, clientele, product selection, service criteria, and other essential operations online with the help of a tailor-made portal. That's how crucial & power-packed website development services are. With Trank Technologies, your call of the decision to reliable technology solutions and auspicious digital approach is just one call away.
You can also read – 5 Ways To Choose The Best E-Commerce Development Technology For Online Stores