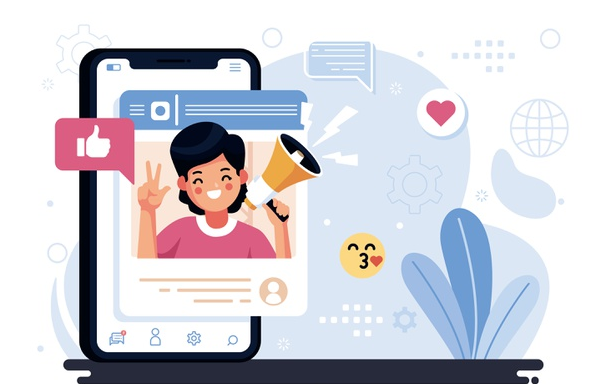 Why Social Media Marketing is Important for Your Business?
In today's digital world, social media is becoming an important factor in internet marketing. It has become the finest and easiest medium to reach billions of customers across the globe. Social media handles have developed into an entire marketing space. It is vast yet effective. Whether there is a campaign or you are selling a product, social media has made marketing a piece of cake. So, in present times, it has become an unwritten rule to must build a social media presence. Not only have it but also boost and boom it further. All in all, social media is important for your business and hence you need an error-proof plan for it.
After all, who wants to miss a staggering publicity opportunity? Your size and scale don't matter; social media must be an essential consideration when it comes to the marketing strategies of your company. There are millions of people on various social media handles, interacting with them can connect you to every part of the world and can help you reach multi-background people worldwide. It provides you with a large channel to endorse your brand, product or awareness about anything consequently increasing your sales or brand value.
According to the Digital 2020 Global Overview Report, "More than 4.5 billion people now use the internet, while social media users have passed the 3.8 billion mark. Nearly 60 percent of the world's population is already online, and the latest trends suggest that more than half of the world's total population will use social media by the middle of this year." This large empire is not fading any sooner. For some of you, it would be a little confusing to immediately start with various social media.
You can also read – Why Is PrestaShop Gaining The Attention Of Ecommerce Development Companies In India?
Here is why social media is important for your business –
Increases Awareness:
As social media is mainly a social networking platform, people invest their time on a daily basis on these sites. How will you reach potential customers without interacting with them? What can be a better option to know about target audiences, their likes, and dislikes? Based on these metrics, social media offers a large plate of the audience that too well-segregated. The best part is the free page creation. Create a profile for free on any social media platform of your choice and play the dice of social marketing while you stake nothing but earning a lot. It will connect you with new potential customers and vice-versa. While dealing with social media, be careful as people are very specific about their choices and dealings.
Convey Trust and Authority:
Information about everything in this world is accessible in the world of internet.  It has become customary to perform research on the internet before buying or selling anything or making any dealing in the real world. Social media is an added cherry to the cake. It gives you information plus the feedback hence is more reliable.
Forget the days when customers used to get fooled in lack of knowledge regarding any service or product. They have more power in their fingertips now. They have plenty of option to choose from various businesses. Now, it is your turn to decide how you look when you face a rendezvous with your customers. It depends on your efforts to represent yourself as an empty drum or a rich heritage in front of the customers. Create a robust and fulfilling profile and keep in touch with regular updates. Regular interaction keeps your brand buzzing in the mind of the potential customers and build trust for the name.
Build some authenticity amongst your target group:
No one in this world is ever interested in those lifeless, serious, rough or corporate types of posts especially whilst using their social media accounts. Everyone wants to feel delighted or shed off their tiredness of the day when they log into their social media handles. Always promote your brand with a positive and shining bright spirit in order to get noticed. Social media marketing is different from your typical traditional office presentation, so be casual and if possible a little funny or friendly. Create a brand image where people feel convenient and friendly while approaching you rather than ignoring you due to the heaviness it puts on one's mind. Present your brand with the right tone and right content, be true to your customers, and be reliable.
You can also read – Magento E-Commerce Development – Why Companies Prefer It For Creating Shopping Sites?
Encourage Engagement:
Every individual has his/her own set of likes and dislikes and we all freely share it on social media without any tyranny. Various social media websites compete amongst them and release a new feature at regular intervals. Some of them have the options to create polls and others also have question-answer sessions to get a better insight into the preferences of audiences. So, take advantage of this and interact with your potential customer and the present customer as well. Find out where you need to improve and what your USP is. Every interaction makes your brand stronger and brings your customer closer to become more loyal. This will help you improve vastly and get a stronger hold of your customers.
Always be available for assistance:
Social media can be called a bridge between users and companies. Be responsive to any problem or query your customers face. Be responsible for providing proper support whenever needed by the client. After one negative experience, 51 percent of customers will never do business with that company again (Newvoicemedia.com). Always pay attention to the comments, feedback, concerns or complaints mentioned by the customer. Respond to them in a polite manner and help them by resolving the concern. Be open to every kind of feedback.
Be Affordable:
Marketing has matured into a full-fledged industry of its own kind and working style.  There is a cut-throat competition in this industry and affording social media marketing can burn a hole into your pocket. It is not easy for every business to afford these methods. There are certain organizations like Trank Technologies that provide you world-class service while being economic. Social media marketing is not similar to other types of serious marketing; it is light, fun-loving and stress-free. Don't waste your money on useless sales advertisements rather find an innovative idea to fulfill the goal and capture the targeted audience.
You can also read – Best UI & UX Practices For Raising The Performance Of A Learning Management System
These reasons clearly explain why social media is important for your business and why you must hire a trustworthy social media marketing company for boosting your business in India. If you have already started imagining your search engine ranking and social media presence soaring up, then contact Trank Technologies for transforming this imagination into reality.