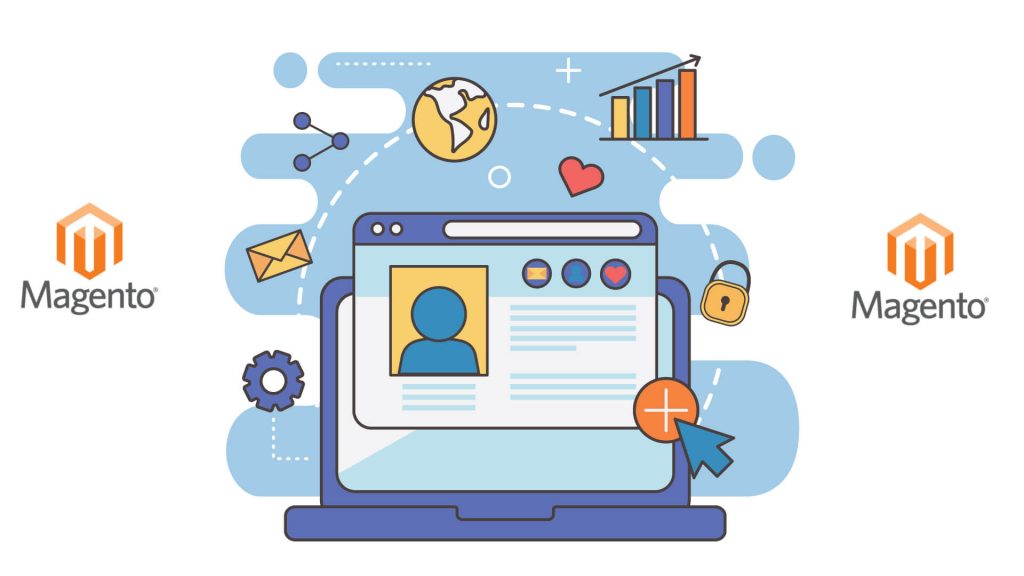 Magento eCommerce Development – Why Companies Prefer it for Creating Shopping Sites?
You see something on the internet, immediately decide to buy it and everything else becomes the story of a few clicks. On the other side of the road, the selling entity can conveniently receive the notification and send your order to your doorstep even if it is a thousand miles away. This enormous hypothetical aperture between a buyer and seller can be minimized in a matter of a few minutes with the help of Magento. This widely popular content management system that drives the mechanism of accessible and user-friendly online stores has been a prominent choice for website creation for over a decade. Let's dive into the many benefits of Magento ecommerce development with this post.
Magento eCommerce Development – An Overview of the Magnificent Platform
Commenced as one of the Adobe ventures in 2008, Magento is an open-source platform that enables users to construct a top-notch eCommerce interface with easy PHP coding. Given the multitude of numerous PHP frameworks such as Symfony and Laminas, this open software provides an extensive scope of creativity and customization to merchandise from different sectors.
There are thousands of B2B and B2C businesses out there who rely on Magento to build globally operated online portals. Whether it's a small-scale start-up firm, a medium-scale company, or a fortune 500 organization; industry experts from different domains insist on choosing it as a primary source of web development.
When you are looking to develop a dynamic paradigm for your customers where they can shop for various goods and services online, Magento is the foremost recommendation you receive from web development experts. So, what is it that makes Magento so popular among business owners and development professionals? Why is it still the first choice even after the invasion of so many different and glorified platforms? The answers to all these questions lie within the reasons stated below:
A great Deal of Flexibility
Developing a full-fledged online store is nothing less than building an entire shopping mall for your potential consumers. You must maintain the flexibility scale of a regular retail store along with providing a convenient shopping experience to your customers. The highly customizable CMS interface of Magento helps you include various shopping features and payment modes in your eCommerce website hassle-free.
Magento is the first choice of every PHP developer working hard to develop a highly flexible online shopping store for its customers across different countries. Apart from all essential features, Magento also boosts the conversion probability which is the prominent purpose of an eCommerce platform. A flexible online portal will generate more visitors leading to a higher conversion rate and ROI making your business stand apart amidst the cut-throat market competition.
Adaptability & Accessibility
The sky is the limit of improvement when you pick Magento for creating a fully optimized online portal for both B2B and B2C businesses. There is a huge list of various eCommerce platforms that claim to offer the most convenient web development panel for website admins, and Wix, Woo-commerce, Shopify, and Weebly are some of them. But adaptability and accessibility to numerous unique features are the selective qualities that make Magento a predecessor and a leader of all these CMS software platforms. Even if you wish to introduce a new change to your eCommerce website, the adaptable interface allows you to obtain those changes by making several navigation modifications in the admin panel.
Other than this, you don't need to acquire the coding expertise of a decade to master the accessibility of this tremendous open-source software platform. Once the website is created with the help of a professional, you can manage the complete admin panel all by yourself even if you are accessing different variants of the same eCommerce portal. Moreover, even when the platform goes through specific changes, it allows you to update the same on your portal with the help of simple settings.
Astounding Agreement with Search Engines
Other than building a perfectly customizable eCommerce website, enhancing its visibility is also a crucial aspect of running a successful online business. Even after 12 years of its beginning and the establishment of many other alternatives, Magento has effectively managed to attain the trust of its users through its SEO-friendly interface. While different CMS platforms promise to provide easy setup, Magento is broadly known for the robust MVC architecture that triggers visibility in search engines. 
Multi-lingual Interface 
We live in a nation of diversity with 21 different languages and thousands of dialects in numerous regions of the country. Besides this, we can't ignore hundreds of different global languages spoken by millions of customers especially when a business is willing to expand on larger scales. Indeed, Magento is the most lucrative CMS option for an eCommerce setup that endeavors to spread its roots in various parts of the world. Not only does it provide a multi-linguistic module for an online portal, but it also offers distinct backend elements to make the entire functionality rather simpler for the user.
Global Acclaim of Services
Magento integration is known for its highly customized backend panels and user interface and this is the reason why people from different continents prefer to use Magento rather than any other exalted CMS platform. In the US, there are more than 60 thousand different businesses that rely on Magento for running a seamless business. On the contrary, various European countries including France, Germany, Spain, & Italy also note a significant number of Magento users.
Magento 2 ecommerce development is the latest advancement of its earlier variant which has been gaining a lot of attention lately. It consists of all the renewed features encompassing boosted productivity, enterprise-scale performance, smooth architecture, and much more.