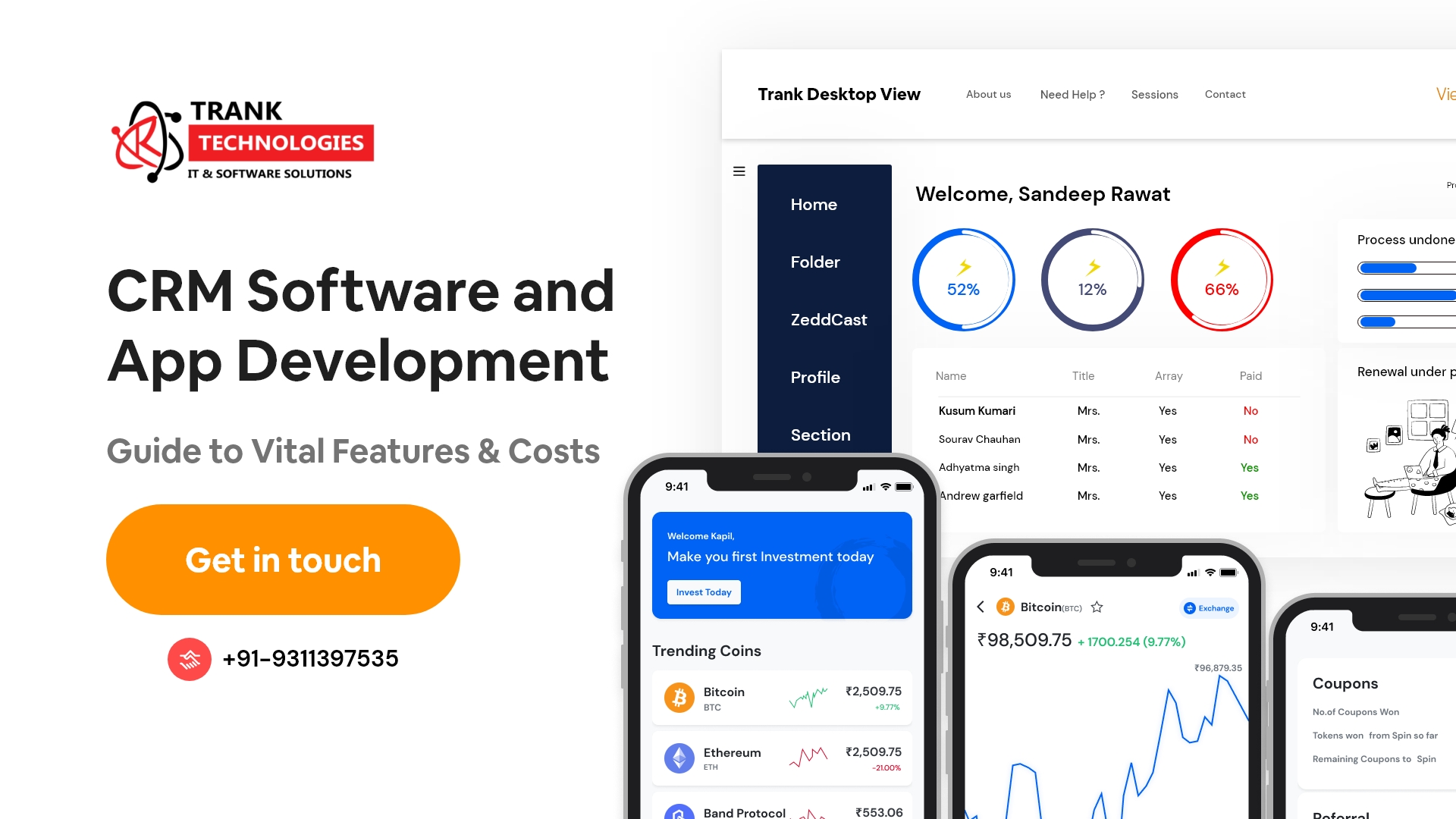 CRM Software & App Development – Guide to Vital Features & Costs
Customer is a valuable asset of every business. No matter which industry you hail from, they remain a vital part of it. The success of an organization depends on the relationships it cultivates with its clientele. However, facilitating a relationship with each customer is a difficult task. Here comes the role of CRM that helps a business to keep track of its patrons. Maintaining a record of customers' transactions, preferences, and concerns will profit both organization and the customer. Hence, with the help of a CRM Software development company and its cost-efficient services, you can expect linear growth.
One thing that may concern you while implementing CRM solutions is the development cost. In this guide, we have discussed types and benefits along with the development cost of bespoke CRM software. Let's read through the post to understand the CRM platform better. 
You can also read – IOS Mobile App Development – A Beginner's Guide To Features & Cost
Overview of Customer Relationship Management (CRM)
CRM is software that assists businesses in nurturing relationships with their customers and clients. It consolidates all the communications (via calls, emails, messages, & forms), documents, tasks, purchases, and quotes associated with its prospects and clients. The introduction of CRM has replaced the traditional methods like databases and spreadsheets for keeping records. It results in organizational efficiency, client satisfaction, and better time management. 
A CRM updates every activity of your lead or customer. For example, it traces complex and dynamic data like what pages they have visited or the date of their last purchase. It automatically revises the data every time your prospect and client take action. A good CRM platform helps you connect with your leads, monitor, analyze, and improve the results. 
This may have convinced you to use CRM to earn the trust of your existing and potential customers. So, get in touch with a CRM platform developer and apprehend the important facets like the CRM software development cost. 
Types of CRM software
Since many companies are wrestling to win customers, CRM has become the biggest weapon in the market globally. So, it is crucial to choose a suitable CRM platform that fits your business. Here is the list of different types of CRM software:
1. Operational CRM– Operational CRM streamlines the communication between various departments such as marketing, sales, and customer service. These departments work together on nurturing and closing the deal for the company. When all the units contribute, it improves operational efficiency. 
2. Collaborative CRM– Collaborative CRM systems allow different teams to cooperate by synchronizing chats, emails, and contact numbers in one place. The data collection will help departments to integrate customized communication tools and tracking systems. With collaborative CRM, more emphasis will be on customer service. 
You can also read – Dating App Development – Estimated Cost To Build A Platform Like Tinder
3. Analytical CRM– Analytical CRM systems support companies to make better use of the information they have gathered about customers. It may include point of contact, preferences, channels, interests, and more. It analyses customer behavior and assists teams in creating more efficient campaigns. 
Benefits of CRM Software Development
Today, it doesn't matter how many customers you have because CRM can manage any clientele. It provides numerous benefits to organizations. Therefore, investing in a high-quality CRM tool is crucial because it will take customer satisfaction to the next level. 
We have curated a list of customer relationship management software:
1. Better Flow of Information
When an enterprise knows more about its customers, it tends to create a positive environment for them. Every interaction with your potential and existing customers must be identified, recorded, and documented. To do this, you need to make good use of CRM technology. It can accurately quantify and categorize data for easy use and make it available across all the departments. 
CRM allows organizations to store a vast amount of customer information. It will save a lot of time for employees working on customer data. If you know that a customer relationship management tool will benefit your business, then you must know the CRM software development cost to implement.
2. Enhanced Internal Communication
It does not just enrich the communication between customers and business but also among the internal departments. Tracking the prospect is a tedious and complicated task because you need to reach out to them and have a continuous interaction. But with the help of CRM, the whole process can be automated. It can send timely alerts and contact the customers through contact details on the company's behalf. 
CRM software makes a detailed record of customers based on the information received from different departments. The great advantage of CRM is that you can review your customer's journey and efficiently figure out the next move. 
You can also read – How Much Does It Cost To Develop A Mobile App In India?
3. Improved Customer Service
The main goal of CRM is to improve the business-customer relationship, and it is its main benefit. The CRM manages all the information of potential and existing customers like demographics, previous messages, and purchase records. In addition, the software makes the details accessible to every employee in the company who may require it from time to time. When the employees have all the information, they will be able to provide what the prospect wish. Therefore, it tends to boost customer satisfaction. 
If you want to take the advantage of this benefit, then you must develop a CRM platform for your organization. However, knowing the CRM software development cost helps you contact the right IT partner for customer relationship management solutions. 
4. Automated Customer Segmentation
CRM does automated customer segmentation out of the organization's overwhelming data. It is not easy to filter out the customers who like to know about the new product in the store via email. How will you identify them from the huge bunch of buyers? In this situation, CRM software helps you. It automatically fragments the contact lists based on location, gender, buyer stage, and age. 
Automation assists you in understanding customers' preferences, interests, and values in a better way that makes them conveniently interact. 
You can also read – How Much Does It Cost To Build An Ecommerce Website In India?
Cost of CRM Software & App Development Services
In this modern time, we cannot imagine a business without CRM embedded in its organizational system. It has boosted the company's conversion rate almost by 300%. When it comes to implementing CRM into enterprise workflows, there are three ways to do it. Such as a ready-made CRM system, customized CRM systems, and modified CRM. 
The CRM software development cost depends on multiple factors that help in determining the correct price. Following are some of those factors:
Number of features
Deployment and support cost
Cost of modules
The difficulty of the project
Rates of developer
These are the prime factors that differ the cost of development. However, the key cost drivers of CRM systems are the modules such as the sales module, marketing module, and customer support module. These modules have crucial functionalities that must be there for better efficiency, such as: 
1) The main functionalities of the sale module are sales analytics, lead & account management, and planning.
2) The crucial functionalities of the marketing module are campaign management, customer segmentation, and marketing analytics functionality.
You can also read – Cryptocurrency Mobile App Development Costs – Here's What You Must Know
3) The efficient functionalities of the customer support module are the help desk, service analytics, and knowledge base. 
Besides, there is also an additional CRM software development cost that includes the overall expense. Like project development, technical support, staff training, and system improvement cost. The total cost of development may vary depending on all the factors. But on average, the cost of building a CRM software may start from $50,000 and can go up to $7,00,000. 
Final Thoughts on CRM Software & App Development Cost
Every business today focuses on how it can earn and retain more customers. And the key to this lies in understanding them and providing what they want. But it is manually challenging for an organization to manage heavy data of customers. So, developing a CRM platform for the systematic functioning of workflows reduces the burden. It facilitates by improving conversion rates, easing communication, organizing data, and increasing customer satisfaction.
You can also read – How To Build A Travel Mobile App? A Guide On Development Costs & Features
CRM ensures that customers' expectations are met. After all, customers are the most essential part of your business, and keeping them satisfied must be your top priority. With the help of a CRM software development company, you can build a seamless platform for managing customer-business relationships. 
If you are seeking reliable IT solutions, end your search with Trank Technologies. Amongst the top firms, it is the trustworthy IT and software solution brand holding 10+ years of experience in building various CRM software. We offer top-quality CRM solutions by understanding your business preferences and needs.