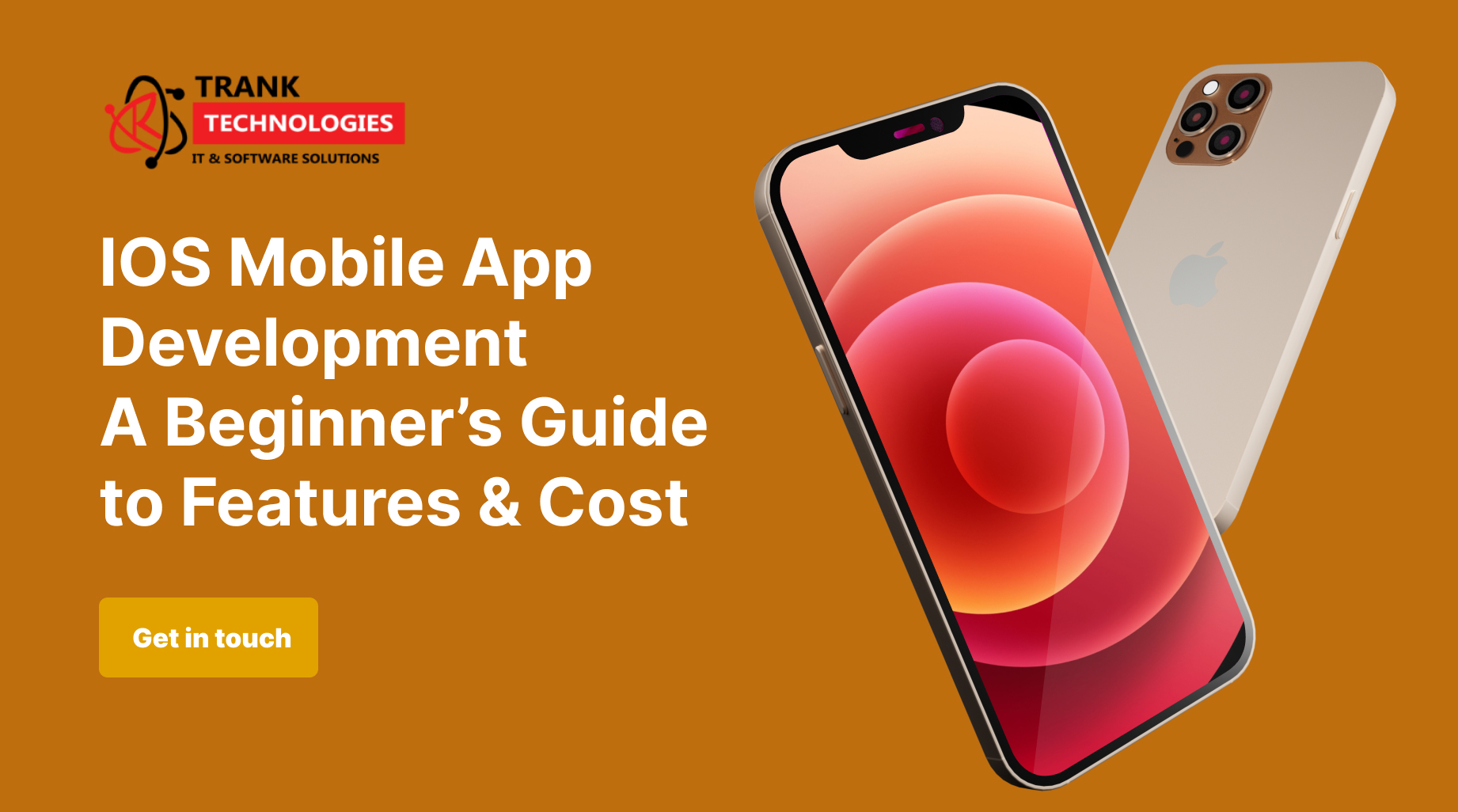 IOS Mobile App Development – A Beginner's Guide to Features & Cost
It's been decades since apple barely fell in numbers. Each year, they disclose stats that depict new figures. This year's numbers are no wonder. You will be surprised to know that there are 1.2 billion iPhone users. The number of Apple users is increasing, and so is the demand for iOS mobile app development. Currently, there are more than 2.2m apps in the Apple App store and 2,450+ apps are released every day.
Since the data gives a clear picture of how iOS apps are thriving in the market, it is the right time to invest in an iOS app development idea. To help you with a budget estimation, we have created an in-depth guide on iOS app development features, cost, and process to move further in this journey. 
iOS Mobile App Development – A Brief Overview 
iOS app development is a procedure of creating mobile apps for iPhone, iPad, and iPod Touch. An app goes through different phases such as planning, design, development, testing, and app launch & maintenance. If the majority of customers are iPhone users then you have an apparent reason for engaging in iOS application development. Building an app that assists your target audience is a high-yielding idea for your business. 
You can also read – Dating App Development – Estimated Cost To Build A Platform Like Tinder
Therefore, taking professional assistance from an iOS mobile app development company is a wise step.
Benefits of iOS Application Development
Every user loves the benefits that an app provides to them. The more advantages are there, the more users will attract to your application. Therefore, we have mentioned some of the best iOS app development benefits:
1. Better Return on Investment
As you know, there are more iOS users compared to android. It shows the demand for iPhone applications is countless. In this way, you can derive more returns by developing iOS applications. But including the right features that resonate with the user's needs is what opens the path to success for your brand. With the team of app developers, you can execute valuable tips and tricks to develop a mobile app that reaps returns. 
2. Security Advancement
Enhanced Security is one of the primary benefits of iOS mobile app development that ensures premier protection to users. It protects the application against viruses and other threats that may harm the user's information. iOS app development equips security against data encryption, duplication, and theft. Further, it maintains data privacy, user identity, and app data in the cloud. 
3. Excellent Quality Standards
iPhone app development remains incomplete until the application passes the quality standards of the Apple Play Store. After qualifying the measures, an app will be ready to launch in the market. This way, the iOS application assures users of seamless performance and flawless experience. It is one of the reasons why Apple has a massive base because they never compromise the quality of the products and services. 
You can also read – How Much Does It Cost To Develop A Mobile App In India?
4. Unlimited Scalability
A mobile application is the easiest way to expand the growth of a business. Today, every brand knows the importance of building a responsive smartphone app. It is the gateway to reach consumers directly and remain close to them. iOS mobile apps are suitable for every type of business and are more lucrative because of their wider market reach and high-paying clients. 
If you plan to build an iPhone application, then an iOS mobile app development company will be a better person to consult. 
5. Opportunity to Grow Internationally
The worldwide popularity of iOS may establish your business in developed markets like the US, UK, and Europe as it is quite popular in these nations. If you penetrate these markets, then developing an iOS app is a great opportunity. Moreover, the Apple brand's legacy is well-established to guarantee the success of your iOS app. 
6. Less Development Time
iOS apps take less time to develop than any other application with similar specifications. Low development time means less production cost. This benefit helps you reach customers more quickly and secure a top place in the competitive market. It is one of the most prominent advantages for your business. 
iOS App Development – How Much Does It Cost to Build iOS Applications?
The development cost is a primary point that everyone considers before moving to iOS mobile app development and hiring an iOS app developer. It is the business's top-most choice for building an app. As per stats, almost 42% of brands want their app to be made on the iOS development platform. It provides simplicity throughout the development process for both users and developers. 
Now, the cost of developing an iOS mobile application depends on certain factors such as:
1. iOS app size, 
2. Complex features, 
3. App design, 
4. Category of iOS app,
5. Development time,
6. Location of the developer,
7. Development platform.
If you are building a simple iOS app, then it may cost you roughly $40,000 to $120,000. With advanced features, it may reach up to $120,000 to $200,000. But if you desire to create a more complex application, then it will be $200,000 to $300,000 approximately. iOS app development is an intricate process and depends on many factors. 
Once the cost is computed, you can move further with the app development process and consult an iOS app development company.
You can also read – How Much Does It Cost To Build An Ecommerce Website In India?
Steps to Build an iOS App Development
Building a revenue-yielding application is not an easy task. It takes a few steps to execute the whole development process. We have listed below all the actions that are crucial at the time of creation.
1.  Planning
The initial stage of development includes different steps that you need to follow. First, define the purpose of creating an application. Second, identify your target audience. Third, prepare a plan to move forward. Fourth, research and analyze the market. All these initial steps create a strong foundation for the app. If your app successfully meets the needs and expectations of your target audience, it will undoubtedly enhance your brand recognition.
2. Designing
Designing is one of the significant stages in the iOS mobile app development. At the designing stage, your app idea comes to life and brings desired results. The designing stage focuses on three aspects:
Wireframing- Wireframing is the process of documenting all the requirements that show how an application will look like. It includes blueprints and digital sketches which lays the foundation of the iPhone app design process. 
UI & UX- This step determines the user experience and outlook of the app. The purpose is to create a design that is prominently appealing and intuitive. Also, the UI & UX should comply with the App store's guidelines. 
Software Architecture- It accounts for three components of the Model View Controller (MVC)- data, user, and software. It ensures the scalability and stability of the application. 
3. Development
It is the most important stage of iOS mobile app development where the application comes to life. While the above two stages assist in getting all the requirements and design of the app ready, the crucial phase begins in the development stage. Here, developers work on three integral parts of the application such as the front-end, back-end, and API. 
4. Testing
Testing is the last stage of the development cycle where the quality assurance of the application initiates. At the testing stage, a developer must evaluate the app for seamless user experience, optimized performance, optimal memory usage, debugging, security, and in-depth compliance. After ensuring that your application meets all the requirements and won't get rejected, it is further submitted for subsequent review and approval. 
You may need to wait for a few days until Apple responds and approve your iOS application. 
You can also read – Cryptocurrency Mobile App Development Costs – Here's What You Must Know
Final Thoughts on iPhone App Design & Development
Isn't it incredible to see your app idea converting into a completely new product? It is not just the result that seems fascinating but also the entire process of analyzing, learning, planning, designing, and refining. In this guide, iOS app development's benefits, cost, and process are a necessary takeaway for you. 
Apart from the technical aspects, creating an iPhone app from scratch requires time, energy, and patience. If you are planning to outsource the work, then hire an iOS app development company Trank Technologies for professional assistance on iOS app development. We are a recognized application development company based in Delhi for the last 10 years. We provide custom iOS app development and optimization services at cost-effective prices.