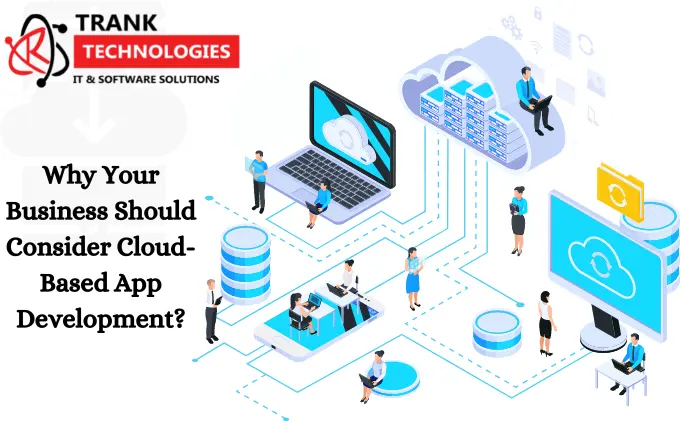 7 Reasons Why Your Business Should Consider Cloud-Based App Development
In a fully technology-driven world, you may have noticed that more people now utilize mobile devices than desktop computers. Likewise, more businesses have started switching to App Development from desktops to attract potential customers.
Mobile users are growing exponentially. Consequently, mobile applications must be highly available and scalable. It is only possible by integrating both the cloud and the smartphone platform. 
Regardless of the type of business, you should have a potent cloud-based mobile application to attract more clients. Before employing a top mobile app development company in India, you need to understand what a cloud-based app is and how it may help your organization grow.
What is Cloud-Based App Development? 
Cloud-based app development is a process that involves different stages of software development. Each phase prepares your business app to go live and hit the market. Additionally, application development on cloud infrastructure reduces overall web development costs. A cloud-based application is different from a web-based application. 
If you are in dilemma about using cloud-based solutions, let's see how cloud-based applications can benefit your business in the long run. 
Top Benefits of Using Cloud-Based Applications for Your Venture
Cloud-based mobile app development can help businesses in numerous ways. The following reasons below will give you a fair idea about the main advantages. Let's have a deeper look at the top benefits of a cloud-based mobile application – 
1 – Installation is not mandated
Users don't need to download or install cloud-based apps from app stores on their mobile devices. Cloud solutions enable users to use it directly by using a web browser. Cloud-based apps operate directly as opposed to native apps, which require installation and constant updates. The cloud-based applications directly engage with the cloud to fetch data to run smoothly for a great user experience.
2 – Cost Reduction 
Application development and maintenance are costly processes. Hence, the total expenses can quickly go out of hand. With cloud-based applications, most of these expenditures are taken care of. They don't just eliminate the need to buy equipment for the app infrastructure but also provide the necessary maintenance. 
The cloud service price already includes the cost of administration and maintenance. To stay ahead of the competition, most suppliers do their best to control costs. So, it's good if you go with cloud-based services. 
3 – Multiple-platform compatibility 
Another finest advantage of a mobile cloud app is that it is not specific to any platform. Businesses can launch their cloud-based application on both Android and iOS. Therefore, development time will be shorter, development costs will be lower, and launch will be faster.
In addition, you don't need to worry about the number the users who will be utilizing the app from Android or iOS. Instead, with cloud-based apps, users have the option to select the app according to the platform they are using. 
4 – Lesser Development Time 
The development time of an application is a key factor. It has been discovered that developing web-based applications is a complex and time-consuming procedure as compared to cloud-based apps. That means you can have your cloud-based mobile application in lesser time.
5 – High Availability 
Cloud-based platforms are known for providing high availability of applications. That means even when the cloud server which hosts the mobile app goes down, a redundant server will automatically kick in. it will make sure that the app is perfectly available. So, there is no need to worry about downtime for the cloud-based application. 
6 – Improved Scalability
Whether you use a desktop or your smartphone at a specific moment, the cloud-based application offers enhanced scalability. When users start using the app, this app goes through constant updates to improve performance and meet the user's expectations. 
7 – Easy Data Recovery 
For a native app, most of the data is maintained on a local server. Moreover, in some cases, when the server crashes or runs in an unrecoverable state, your whole data may get lost. On the other hand, if smartphone apps are hosted by the cloud, it means your data is safe and stored on multiple servers. Additionally, the recovery process is relatively easy in case of data loss. 
Conclusion 
It has been globally accepted that smartphone cloud solutions drive modern businesses ahead. This way, businesses looking for an alternative to app development may go with a top web development company in India to build a customized cloud-based app for their venture. It provides numerous exclusive benefits, the main ones being cost efficiency and security factors. 
Trank Technologies is a well-established IT & Software solutions. To help you grow your business, we support modern technologies and tools to deliver reliable mobile app solutions!