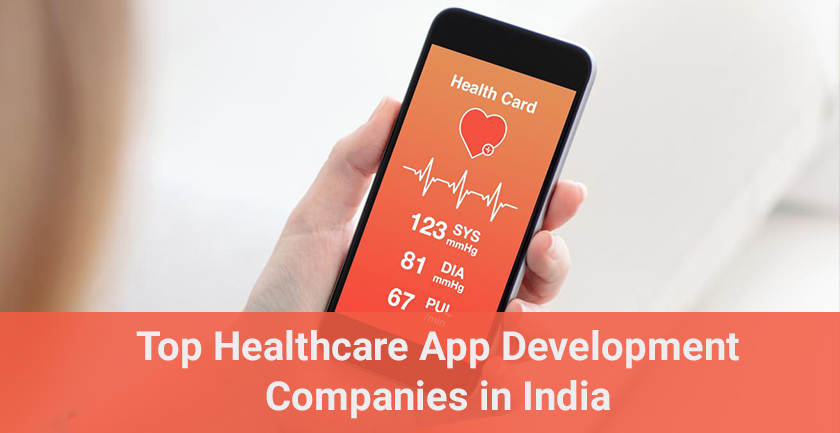 Top 10 Healthcare Mobile App Development Companies in India
Health is wealth! The digital age has revolutionized the essence of this century-old maxim by boosting the economy at an exponential rate. We all know the significance of top-notch medical facilities and service innovations in today's world. In an era where hustle is a daily job, we vividly depend on quick and accessible healthcare services. In this post, we are going to list the top ten healthcare mobile app development companies in India that made the dream of seamless medical solutions possible for billions of people.
Before moving further with the list of top agencies, we will take a closer look at the healthcare industry. It will also help us evaluate the scope of sustainable revenue in this domain. By the end of 2022, the medical and healthcare sector is deemed to surpass $10 trillion, as per the data available on Statista. India itself has a massive economy of $400 billion in medical lines. It became possible despite the fact that our country ranks 66 on global healthcare charts.
You can also read – 5 Things Only A Healthcare Mobile App Development Company Can Tell You
What comes out from the above stats is that healthcare websites and mobile app design and development services will dominate many other business sectors in India and overseas. With people being effectively dependent on mobile applications and virtual communication, mobile solutions are becoming imperative. Every growing medical service provider needs to own its digital platform to sustain its stern establishment in the market.
Healthcare App Development Companies in India
If you believe that your upcoming project might require design, development, and marketing solutions, then Trank Technologies is the answer to your search for the best IT partner. It is a nine-year-old Delhi-based website and app development agency that deals in both product and service-based technologies. Team Trank is one of the best healthcare mobile app design and development companies in India because its developers are well-versed in development methodologies.
These IT professionals are acquainted with agile development techniques with which they curate medical and healthcare platforms for their clients. Whether you run a local clinic or wish to start your own healthcare application, their project management team can suggest the best solutions for your healthcare mobile applications.
2. Mobiweb Technologies
Mobiweb Technologies is amongst the most trusted website and application development firms across the world. From Android development and IOS app development to responsive web design solutions, their specialization works everywhere. Headquartered in Indore, MP, the company has been offering its best suite of development and deployment solutions for the past few years. In addition to medical portals, music streaming and Blockchain are also included in their forte.
You can also read – Healthcare Mobile App Development – 8 Must-Have Features You Shouldn't Miss
3. Appinventiv
Started in 2015, this Noida-based mobile application design agency made its entrance into the market with only ten employees. It took passion-driven skills and ceaseless devotion that led the firm to its upsurge in the IT domain. Their collective website and app building solutions encompass iOS development, React Native development, Blockchain, AR VR, cloud computing, and AI-ML development. Aside from healthcare and medical mobile app development services, you can also hire an agency for real estate, travel, and more.
4. Space-O Technologies
Looking for credible healthcare mobile app development companies in India with a significant range of experience in every other domain? If so, then you can consult a highly-qualified team of Space-O Technologies. Their set of prominent services encircles iPhone and Android app development, startup and IT consulting, custom CMS development, PHP web development, and more. A company with this stack of expertise can help you build an error-proof medical app hassle-free.
5. Konstant Infosolutions
Konstant Infosolutions is one of those Indian application development agencies that actively cater to their clientele in the US and other regions of the world. Equipped with some of the most talented developers in the industry, they can help you figure out the best technologies needed for your upcoming venture. Their experience in ReactJS and Flutter proves that they can build amazing healthcare apps that comply with all major guidelines of healthcare.
6. Reinvently
Imagine a technology partner who knows what millennial consumers are looking for while browsing for the best healthcare and medical solutions around them? That's the kind of assistance you need the most to formulate an infallible medical service portal. Reinvently is one of those IT companies that excel in healthcare and fitness mobile app development solutions in India. 
You can also read – Headless Shopify ECommerce Development – 10 Pros & Cons For Online Stores
7. Hidden Brains
Hidden Brains is a trustworthy IT establishment with happy clients from the US, the UK, Australia, and India. Their criteria of services cover everything associated with high-tech solutions. Aside from website design, development, and application development, you can also hire Hidden Brains and their team for Chatbot design, Blockchain development, IoT, AI, and machine learning. This technology suite is more than sufficient to craft seamless apps for medical and healthcare enterprises.
8. Mind Inventory
Amongst the top healthcare app development companies in India, Mind Inventory is also a name you can trust. You should take this firm into consideration while hunting for the best tech partner for your healthcare firm. Whether you are planning a medical startup to revolutionize healthcare services for people or trying to form a digital platform for your existing fitness venture, you can always trust the super-talented developers of the agency.
9. OpenXcell
Situated in Ahmedabad, Gujarat, OpenXcell is a leading web and mobile app design agency. It is known for its exquisite and impressive UI/UX design solutions. It is a full-fledged software company that specializes in custom software development. Other specialties are product engineering, UX and UI research + design, and web application development. The agency also houses some of the best talents in the sector including DevOps engineers and cloud architects who can redefine your healthcare business.
10. Value Coders
As a leading software outsourcing agency, Value Coders is one of the most renowned app development companies in India for healthcare services. There are only a few IT enterprises in our nation that have worked with clients from different walks of life. Value Coders is one of those firms. From healthcare and travel to food and eCommerce, their extensive array of services can make or break the deal for any growing business.
You can also read – Mobile Commerce Development Services In India – An Overview Of Mobile Dominance In ECommerce Industry
Final Thoughts – Healthcare domain is rapidly transforming into a full-fledged HealthTech sector. More and more users around the world are showing a keen interest in online services. If you wish to become a part of this revolution by building a customized healthcare platform, then Trank Technologies is the best spot for you. Give us a call now to learn more about healthcare web and mobile app development services.