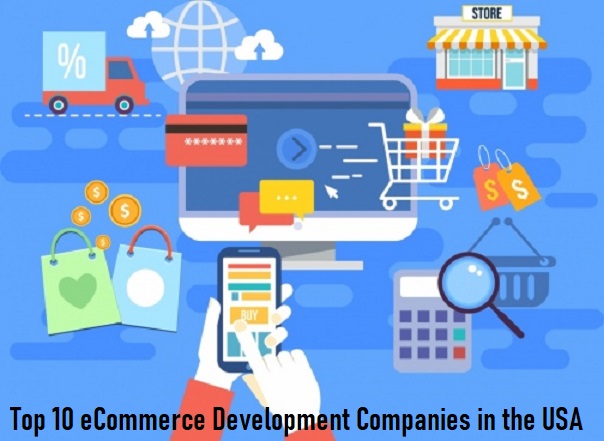 Top 10 eCommerce Development Companies in the USA
The United States of America is the land of aspirations and growth where ventures are future-ready, and people are open to market adaptabilities. This is the main reason why the digital industry grew like a wildflower across the United States in the late 90s. We don't need to dig into the history of the internet here as the eCommerce revenue rate of America in 2020 will suffice. An average count of USD 538 billion brought the US to the top eCommerce markets in the world defeating prominent countries like Japan. China still rules the game in the domain!
The entire timeline of the year 2020 was some kind of haphazard for businesses around the world. Yet, it witnessed a massive revolution in different industries including retail commerce. The online shopping domain in the USA registered a boost of 30% that led to a worldwide eCommerce growth of 29% in the previous year. Revenue increase in online retail business is relentless, and it will continue to grow exponentially in the next few years.
The external impact will be impelled by major countries from southeast Asia. The middle class in these nations is rapidly adapting to the culture of online shopping allowing retail ventures to connect with the end-users in a more direct fashion. However, the USA will always lead the race of the eCommerce market, given the availability of popular brands on websites and mobile applications.
You can also read – Headless Shopify ECommerce Development – 10 Pros & Cons For Online Stores
An Overview of eCommerce Market in the USA
Famous market analysts have made the following assumptions based on the analytic data of recent online shopping surveys:
The compound annual growth rate between 2020-2024 will cross 7% resulting in an enormous boost in the US market saturation.
The fashion industry has been continuously in action accounting for a collective revenue of 29% in the United States.
Electronics and media are rising with 22%, hobbies and DIYs for 21%, Furniture & home appliances for 17%, and groceries, food & personal care with 12%.
Now, let's talk about Amazon which covers the biggest region in the American eCommerce market. The international online shopping giant couped a whopping revenue of USD 112.5 billion in 2020. Other popular online stores such as bestbuy.com and Walmart.com also further the 30% increase rate in the USA. There are many other online shopping platforms in America selling products on national and global scales adding up to collective market development.
With this interesting transformation in the retail industry, it would be safe to say that top eCommerce development companies in the United States have rolled up their sleeves for new projects. These top-notch design and development firms have the finest conceptualization team that takes care of the online presence of budding retail businesses.
In this post, we are listing out the top 10 eCommerce development companies based in the USA. Read through the countdown to know more about these US web development agencies:
You can also read – 5 Ways To Choose The Best E-Commerce Development Technology For Online Stores
Top 10 eCommerce Development Companies in the USA
1. Iflexion
Situated in Denver, Colorado, Iflexion is one of the leading eCommerce development agencies in the United States. With an enormous team of 850+ IT professionals, the company provides software solutions across numerous domains for clients in various countries. Some of their main services include enterprise software development, web application development, and mobile app development.
Besides web and mobile apps, the agency also excels in augmented reality, big data analytics, artificial intelligence, and big data analytics. In an extensive span of 20 rich years, Iflexion has seen industries adapting to the digital realm, where finding the target audience is much simpler and faster. It has served a diverse range of clientele covering small-scale businesses and Fortune 500 companies. Some of their notable clients are Philips, Toyota, and Pepsico.
Founded in – 1999
2. Swenson He
It is an award-winning firm based in Beverly Hills, California, and founded by Nick Swenson and Chao He. Being a team of young professionals, it is known for its unconventional approach to strategy, design, and development. Their prominent software solutions include product strategy, technology assessment, design planning & roadmap, engineering, technical support, and evolution.
Some of their remarkable works encompass Stanford Medicine and chemoWave healthcare mobile apps used by US audiences. In addition to this, their pragmatic contribution in the digital industry also marks popular mobile applications such as simplehuman, Power Music, Womaze, and Reach Project. Various eCommerce and healthcare projects that the company has worked on so far represent the scale of their functional versatility.
Founded in – 2014
3. Magneto IT Solutions
This list of top 10 eCommerce development companies in the USA contains various award-winning names. Magneto IT solutions is also one of those firms where your aspired project remains in reliable hands. If you are searching for a full-fledged eCommerce company, that's where you can stop your hunt.
It is a well-recognized application development firm specializing in B2B, B2C, D2C, and marketplace building. Their clientele encompasses Hyundai, Feather Down, Kotak, HP, Gunbox, Daikin. Magneto IT solutions are renowned for all-inclusive headless eCommerce development, progressive web apps, DevOps, CloudOps, and migration services.
Founded in – 2009
You can also read – Mobile Commerce Development Services In India – An Overview Of Mobile Dominance In ECommerce Industry
4. Icecube Digital
Icecube Digital is located in Ahmedabad, India. But it is included in the top 10 eCommerce development companies in the USA because of its distinctive client base. They have a team of highly experienced professionals who can handle anything from PHP & WordPress to digital marketing projects.
Icecube Digital commenced its professional journey over a decade ago with web and mobile app development services. Now, their team actively maintains comprehensive projects related to Magento development, Magento 2 migration, WordPress design and development, Angular JS development, Shopify development, Woocommerce, and PPC advertising.
Founded in – 2008
5. Caveni Digital Solutions
Caveni was started in Philadelphia, Pennsylvania a few years back to help small businesses with online marketing. When all you have is an idea, you will need someone with realistic know-how of brand development. That's the kind of technical and creative support growing brands can expect from Caveni Digital Solutions.
The agency offers 360-degree business solutions for promising businesses that provide value to their customers. Their vital services include web and application development and digital marketing. Aside from these services, brand strategy conceptualization is also a noteworthy aspect of their high-end application and software development solutions.
Founded in – 2016
6. UPQODE
UPQODE is a Nashville-based premium web design and development company that offers integrated IT solutions for eCommerce businesses. Founded in 2015, it is a team of young minds that thrive on practical strategies and lucid outcomes. It is a custom web design and digital marketing agency that focuses on the aesthetic facet of your business. It has been in the industry for over 5 years now embedding perfection in projects with its methodical strategies.
Founded in – 2015 
7. TekRevol
There is no hard and fast rule to find the best eCommerce development company in the USA, India, or elsewhere. You can take a look at their previous works to assess the landscape of experience in operational respects. In terms of project expertise, TekRevol can win your vote as it has developed and revamped 100+ mobile applications till now. The pivotal solutions of this Texas-based agency include Android app development, iOS app development, web development, game design, app support & maintenance, and IP protection.
Founded in – 2008 
8. Storm Brain
Storm Brain is a leading brand-building firm in the United States for highly demanding retail enterprises. Your buyers are adamant about their preferences over online shopping. Hence, you need a technology partner who can think exactly like your target buyers on the web. 
Situated in San Diego, California, Storm Brain is one such eCommerce development firm that can do the same for you. This world-class creative agency has been in the domain for over two decades now. This extensive span of project development perfectly sustains the credibility factor of the development agency in the right context.
Founded in – 2001 
You can also read – Headless ECommerce Web Development – What's New For Shoppers & Sellers In India
9. SpurIT
If you are seeking a full-fledged eCommerce development company, splurge some confidence in the custom solutions of SpurIT. The eCommerce agency in Palatine, Illinois has its establishments in the United States and Europe. Their team of developers and project leads prominently tackle Shopify and Magento development apps. Aside from the vast knowledge of digital technologies, they also acquire a team of certified professionals. So, whatever you plan, your application project will always stay secure.
Founded in – 2011
10. Exaalgia
Located in Gilbert, Arizona, Exaalgia is a well-known design and development company. Apart from website and application building, the discrete team of the company also thrives in SEO solutions. The recent results procured by the agency concludes it as one of the most prominent SEO company in America. This award-winning eCommerce development and SEO agency can be a suitable fit for your new retail ventures in the USA.
Founded in – 2009
Final Thoughts on Top 10 eCommerce Development Companies in the USA
If you are working on a budding venture that needs the review and guidance of an expert, then this list might help you. Any of these top 10 eCommerce web and mobile app development companies can fabricate the glorious future of your up-and-coming retail enterprise. Besides, you can always get in touch with Trank Technologies for all-encompassing eCommerce development marketing solutions.