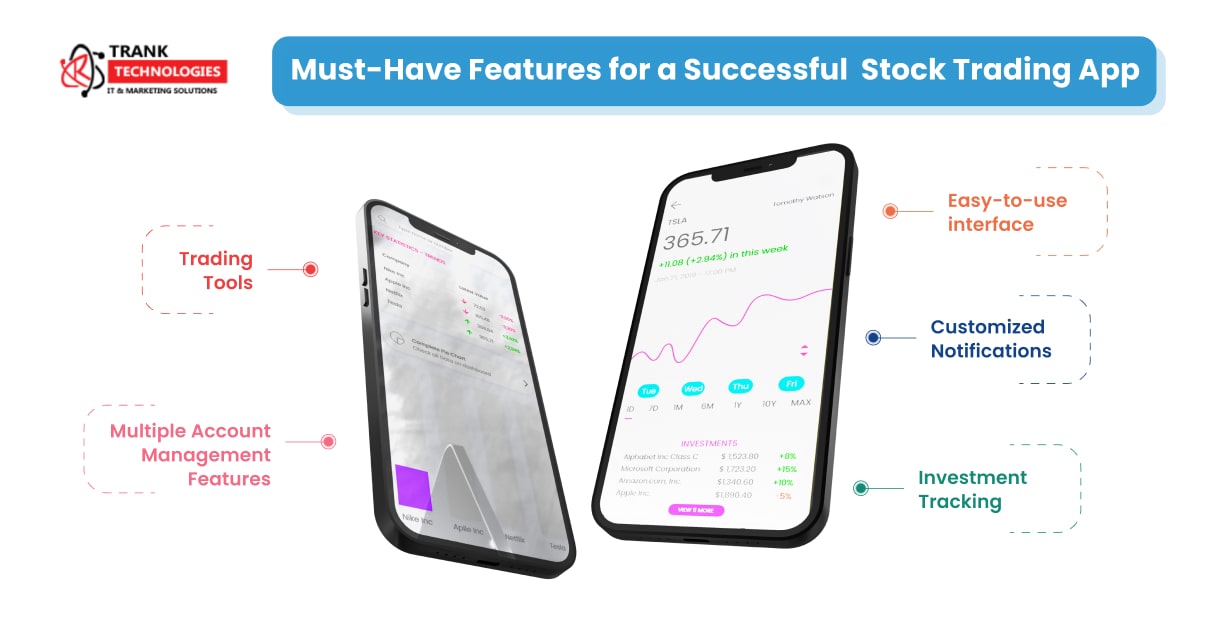 How Does User Experience Matter For Custom Trading Software Development? What's The Estimated Cost?
In recent years, trading apps have become increasingly popular in the Indian trading industry. As more and more investors turn to digital platforms, the popularity of these apps continues to skyrocket. This trend represents a major shift in the way the industry operates, as technology plays an increasingly important role in facilitating trading activities.
These apps have made it incredibly convenient for investors and traders to keep up to date with market data, trade, and manage their portfolios from anywhere. This has led to an upsurge in demand for custom trading software development in India. However, the design of the user experience can greatly affect the cost of trading app development.
Reasons Why User Experience Design is Crucial for Trading Apps
To make a trading app successful, it's important to create a good user experience. This requires careful planning and design, which may increase development costs.
However, neglecting the user experience can lead to user frustration and higher costs in the long run. Balancing between a great user experience and managing costs is important for the app's success. Listed below are the reasons why user experience is essential for trading apps:
1 – Enhanced Brand Identity
The goal of effective UX design is to improve the functionality and usability of a trading app, focusing on meeting the specific needs of investors. This is achieved through a user-centered design approach. This involves conducting research and incorporating feedback from users to create an intuitive and visually attractive interface that aligns with their expectations and requirements.
2 – Streamlining Navigation and Information Architecture
A custom trading software development in India has a lot of intricate financial information like charts, news feeds, live prices, and account data. A good user experience design should arrange this information in a way that is easy to understand. A well-planned navigation and information structure will make users feel comfortable and happy with the app's ease of use.
3 – Optimizing Performance and Speed
In the trading industry, time is crucial and any app that is slow or prone to errors can result in missed opportunities and user dissatisfaction. User experience design aims to improve app performance and speed so traders can execute trades quickly and smoothly. This can be achieved by reducing delays, enhancing responsiveness, and conducting extensive testing to create an app that fulfills the needs of active traders.
4 – Reducing Support and Maintenance Costs
If developers invest in UX design at the beginning of creating a trading app, they can decrease the trading app development cost in India. By testing the app's usability and fixing any issues before launching it, updates and customer support may not be needed as often. A well-designed app not only saves money but also makes customers happier.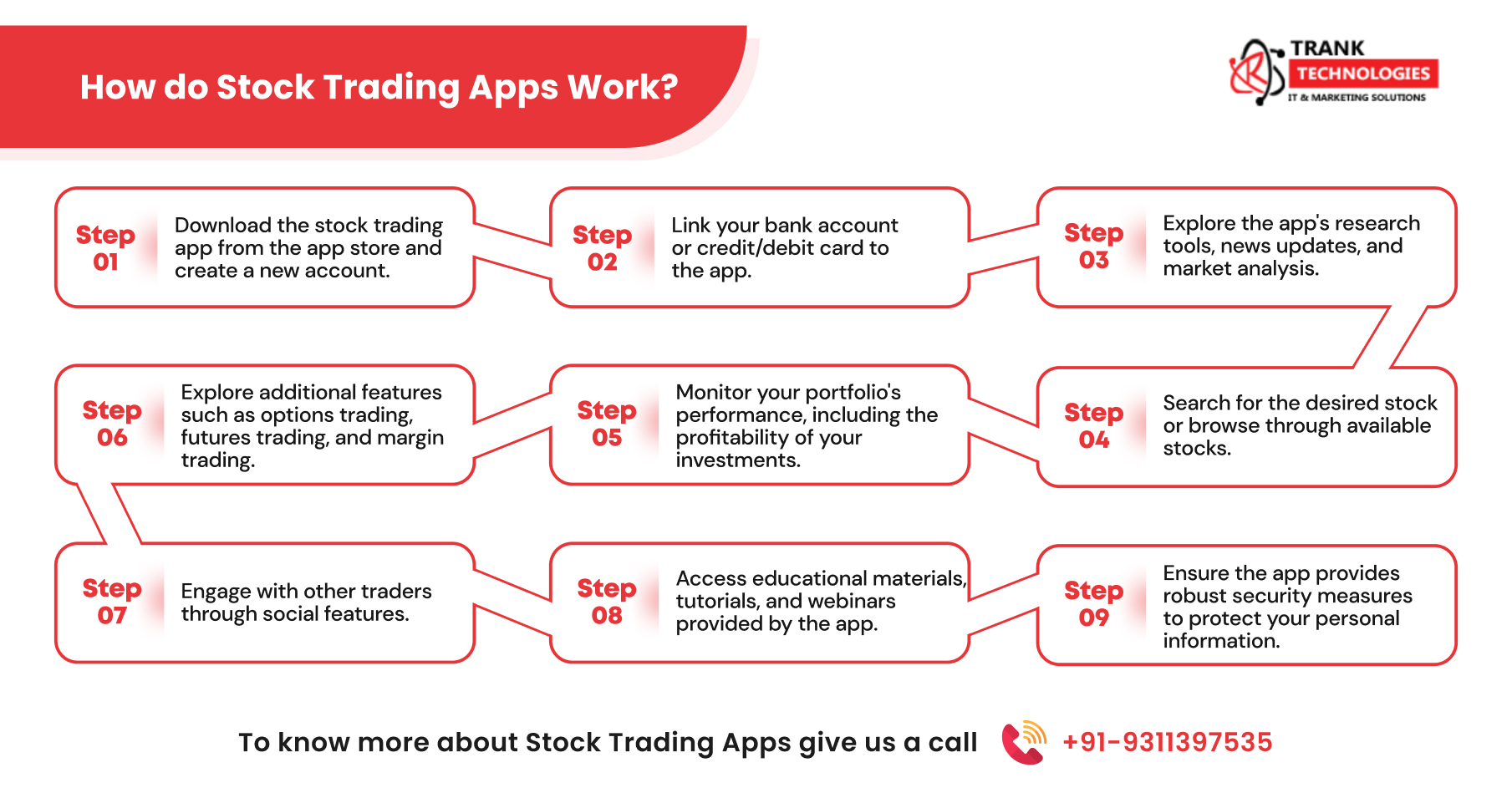 Revolutionizing the Industry: How Stock Trading App Development is Changing the Way We Invest?
A stock trading app is a mobile application that allows people to buy, sell, and trade stocks directly from their smartphones or tablets. These apps provide access to financial markets, real-time stock quotes, charts, news, and other relevant information.
They have a user-friendly interface that includes market orders, limit orders, and stop-loss orders. Some apps also offer advanced trading tools such as technical analysis indicators and customizable watchlists. Before considering the stock trading app development cost in India, it is important to assess the potential benefits. Is there a demand for such an app and will it generate revenue? To determine this, consider the advantages listed below
1 – Numerous Investors
Investors are increasingly relying on stock trading apps that offer quick, safe, and convenient transactions, as well as up-to-date information on the market. These apps enable investors to buy and sell shares from anywhere, at any time, and potentially earn greater profits.
2 – Brokers are Unnecessary
A stock trading app development company provides a direct connection between users and the stock market without the need for a broker. This results in the user and app owner receiving all profits without any intermediary charges. Compared to the traditional method of using a broker, both parties benefit more from using the app.
3- Data Analytics that is Verified and Original
Investors are looking for a trustworthy app to help them with stock trading, as they are dissatisfied with the analytics provided by traditional firms. This presents an opportunity for businesses to create an app that can provide accurate guidance for investing in the stock market, which could attract a significant number of investors.
How Much Does it Cost to Develop a Trading App in India?
The trading app development cost in India can vary depending on several factors. These include the complexity of the app, the technology used, the experience of the development team, and the time required to build the app. Other factors to consider include design, security measures, integration with external services, and ongoing maintenance.
For creating a simple trading app with the required features, the cost can range from INR 2,00,000 onwards. This estimate is for building the app for one platform (either Android or iOS) and assumes a typical development schedule. However, actual costs may vary greatly from this approximate range.
If you want more advanced features in your app, such as real-time market data or social trading, the cost will increase. Developing the app for Android and iOS platforms is also more expensive. It is important to talk to an experienced stock trading app development company in India to get an accurate estimate based on your needs. They can evaluate your project and give you a detailed cost breakdown and development insights.
How to Build a Stock Trading Platform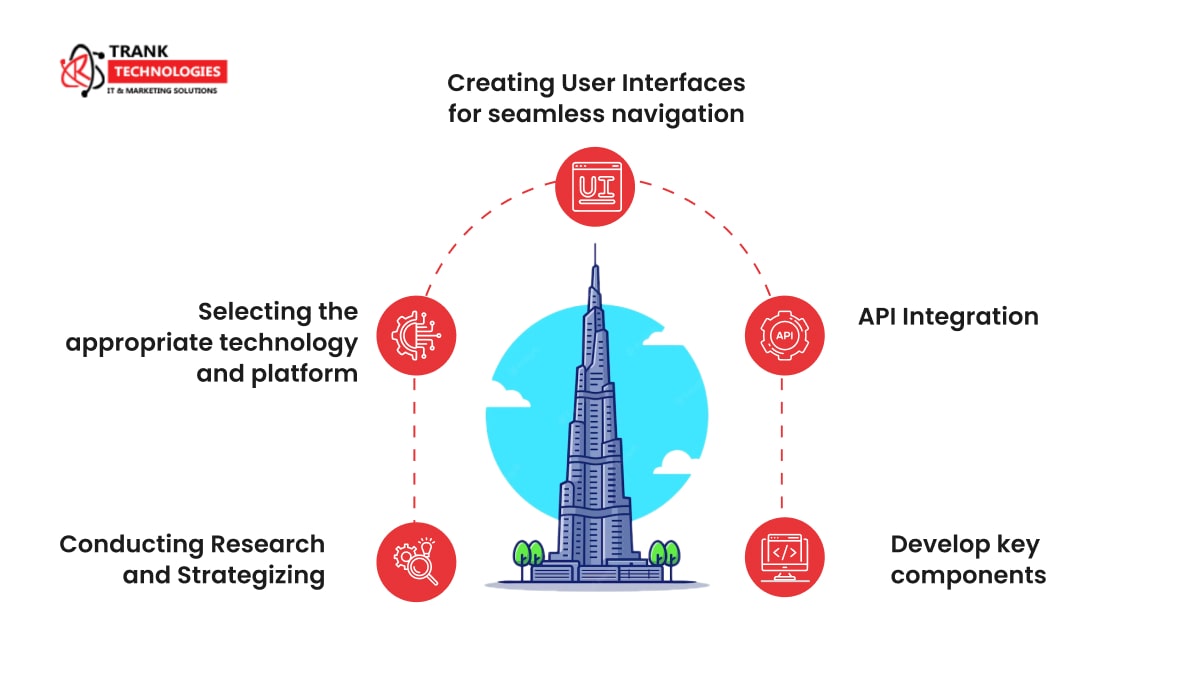 Conclusion
The success of trading apps is greatly influenced by User Experience Design, which enhances user engagement, satisfaction, and retention. Although integrating UX design may increase the initial development cost, it results in long-term advantages such as increased user activity and revenue generation.
Therefore, it is essential to invest in UX design for custom trading software development in India to create intuitive and user-friendly experiences that promote app adoption and success.
FAQ's
Q1. What is the cost of developing a trading app in India?
Ans. The trading app development cost in India can fluctuate based on different factors like complexity, platform compatibility, and development team fees. Typically, the cost ranges from INR 2,00,000 onwards.
Q2. What are the key features to consider while developing a trading app?
Ans. When creating a trading application, it is important to take into account necessary components such as:
Up-to-date market information
Safe user verification
User-friendly interface
Tools for managing investments
The ability to place orders
Alerts for trading
Notifications, and integration of payment and trading platforms.
Q3. Can I get a customized trading app developed in India within a specific budget?
Ans. It is feasible to have a custom trading software development in India with a specified budget. The expense of developing an app relies on several factors, such as its intricacy, features, design, and development duration. If you communicate your budget with a reliable app development firm in India, they can adjust the development process to correspond to your budget limitations while still providing a top-notch trading app.
Q4. What are the key factors to consider when choosing a stock trading app development company?
Ans. When selecting a stock trading app development company, it is important to consider the following factors:
Their experience in creating similar apps
Their comprehension of the stock market and its fluctuations
The excellence and security of their app development procedure
Their capacity to incorporate real-time data feeds
Their history of successful app launches.
Q5. What kind of features does a stock trading app development company offer?
Ans. When developing a stock trading app, a stock trading app development company, should provide various features such as:
Real-time updates of market data
Customizable watchlists
The ability to place and execute orders
Tracking of portfolios
Advanced tools for charting
Notifications about news and prices
Managing account functions
Effortless integration with trading platforms and brokerage services.