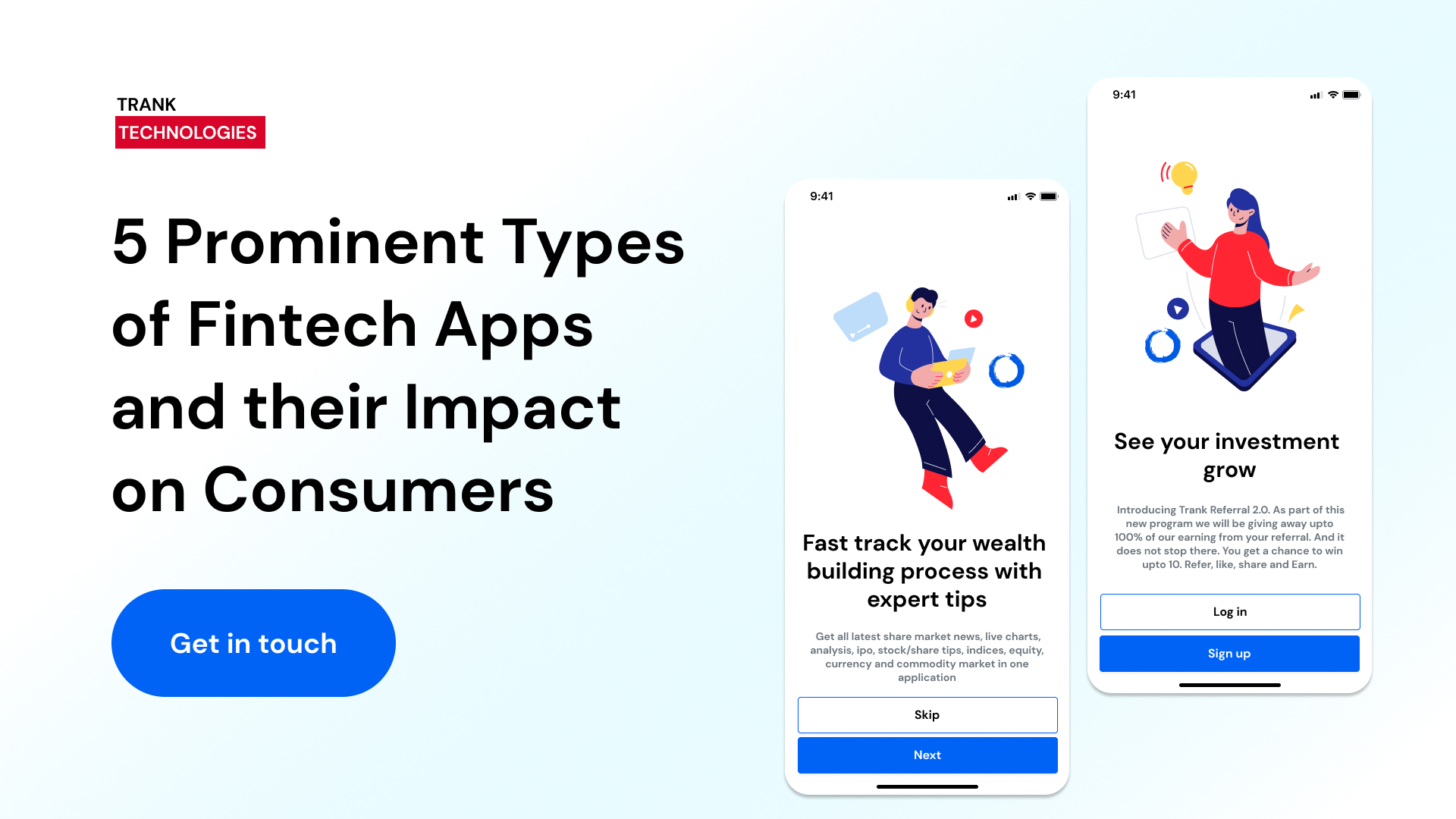 5 Prominent Types of Fintech Apps and their Impact on Consumers
Remember when people used to spend hours in queues just to get their passbook updated and check their account details or update a piece of information? Gone are the days when visiting banks for transaction-related purposes used to be a chore. Users can now manage entire banking using their mobile devices. In addition to this, the fintech revolution has opened the passage for quick payments, online trading, and long-term investments. In this post, we will go through major types of fintech mobile apps and their effect on users and the global economy.
Throughout this article, you will come across the five most used types of fintech platforms that serve diverse purposes. Before moving further, let us walk you through a reminder of our specialization as a best-in-the-industry web app development company with substantial know-how in fintech portals. If you are planning on building a banking or investment app, you can get in touch with our team today!
Let's begin the rundown of fintech mobile app development services through different types of apps that have effectively evolved the economy across the globe for good.
Fintech Mobile App Development – A Quick Industry Overview
In simple words, a fintech app is a financial technology used to assist users in managing their expenses, investments, and savings. Some of the best fintech apps are Robinhood, Mint, Paypal, Coinbase, Nubank, Revolut, MoneyLion, and more. All these apps seamlessly facilitate a user's payments, transfers, and investments. 
You can also read – How Fintech Mobile App Development Companies Assure Users' Security
Today, the fintech market is worth $179 billion. However, it may reach $213 billion by 2024. There are 30,000 fintech startups approximately. The financial mobile app development industry is massive and ever-evolving. The reason for its popularity is the comfort of handling money. It offers numerous services like mobile payments, personal finance management, lending, insurance, international transfers, etc. 
Types of Fintech Apps & their Benefits
As the fintech industry is growing, more financial apps are coming into the market. It results in the rise of fintech mobile app development, making it a competitive industry. You can become a part of this industry by analyzing which type of fintech mobile app development can revolutionize your business. Here are the types of financial apps and how they can be beneficial to users:
1. Digital Banking App
Digital Banking App is a fintech mobile application that delivers banking services online. It offers access to several solutions that are available at brick-and-mortar banks. Digital Banking is a safe way to help customers receive financial assistance. With the help of mobile technology, the banking sector has launched customer convenience products like digital banking apps. These digital banking fintech apps aim to meet a new level of expectations. 
Following are some of the benefits attached to digital banking apps:
The digital banking app provides banking convenience from the comfort of your space.
Modern banking apps are 24*7 available for a customer to access.
It involves paperless banking because all the transactions take place online.
A user can set up an automatic payment of specific utility bills. 
Even people from remote areas can use banking services with the help of their smartphones.
Banking apps also facilitate online payments for shopping and other purposes.
Fintech apps are faster than traditional banks. It takes a few minutes to settle a transaction, while banks take a few days. 
If you plan to launch a digital banking app, you should leverage fintech mobile app development solutions. 
You can also read – A Complete Guide To Stock Trading App Development Services
2. Payment Processing App
Payment processing apps are those fintech apps that enable users to make payments. It saves time and streamlines transactions for every user. A customer uses a payment processor gateway for a successful transaction. It connects the information provided by the client's bank to the merchant's bank using the payment processor. The main aim of a payment gateway is to inform the processor about payment acceptance and decline. 
Here are a few benefits of the payment processing fintech mobile app development:
Payment processing apps are user-friendly. It is ideal for ventures that are just beginning, like small businesses. 
Corporations that are always on the go can use payment processing apps to provide convenience to pay anytime and anywhere. Also, the company can accept payments from different sources. 
These payment processing fintech apps have robust security that keeps every piece of information safe. 
Unlike cheques, payment processing gateways are faster. The payment gets transferred immediately without waiting for cheques to clear in two or three days. 
The most popular payment processing applications are PayPal, Square, Apple Pay, Google Wallet, and Stripe. For building a payment processing application, you should take professional assistance from a fintech mobile app development company. 
3. Personal Finance App
A personal finance application is a fintech app that allows users to track income and expenses with variable functions. It assists the users in managing their expenditures and also advises investing in the right place. Therefore, a customer not only saves but also earns. The personal finance app takes control of your spending and saves money for substantial purchases.
Below are the benefits of personal finance app development:
A finance app allows customers to organize their finances efficiently and effectively. 
The fintech mobile app has many advanced accounting features such as fixed assets, payable & receivable accounts, and bank reconciliation. 
Your users feel confident with their financial decisions. 
The finance app helps users to meet their financial goals. 
These apps regularly access users' spending habits, monitor their expenses, and set a budget to reach their financial objectives.
No doubt, the fintech mobile portal makes banking easy for users. 
You can also read – Cryptocurrency Mobile App Development Costs – Here's What You Must Know
Overall, the finance management platforms offer fruitful features for your customers. As a result, it fuels the growth of your business.
4. Loan Mobile App
Today, most people take loans for various purposes like education, home, vehicle, etc. It is no longer a taboo. To fulfill the increasing demand for loans, many companies have started offering instant loans to fuel the dreams of young individuals. An online loan app is a type of fintech app that assists users in accessing funds in a trouble-free way. The personal loan mobile app offers a quick way to apply for loans anytime. Earlier, getting a loan from any bank was one of the biggest challenges. But with the introduction of fintech, it became easy. 
If you build a personal loan application, then your users will get the following benefits:
A loan portal will quickly respond to a user's loan application about the loan status. 
The users get lower interest rates and fewer service charges on a loan application. 
Banks used to consider several things while lending money. Today, a customer readily gets a loan if he/she has a good credit score. 
In loan fintech apps, the lending duration is flexible. As a result, users can apply for loans at their convenience. 
There are a few instant loans mobile apps in India, such as Buddy Loan, NAVI, PaySense, CASHe, Bajaj Finserve, and more. 
5. Investment Management App
Recently, the number of people investing in different stocks has increased. Every individual is trying to get their financial life back on track. A robust investing mobile app can manage routine financial tasks, track spending, and let you quickly trade stocks. Because of their multi-tasking functionality, these investing apps are getting popular. 
The benefits of developing an investment application are given under:
The essential advantage of an investment app is its simple-to-use functionality. 
It offers a convenient trading experience to users.
The significant benefit of investment apps is that they have low fees. The fees depend on the amount an investor is investing. 
Investing apps help you set your investment goals and create a professional portfolio. 
Examples of the best investment apps are Robinhood, Acorns, Betterment, Invstr, etc. If you want to spend on fintech mobile app development, then you should consider putting your money into building investing apps. 
You can also read – 7 React Native Benefits That Resonate With Mobile App Development
Major Types of Fintech Apps
The future of the Fintech mobile app market looks promising. As more and more people are hustling with their routine tasks, it is becoming increasingly impossible for them to go to the bank. So, here comes the role of fintech apps in the picture. Fintech mobile apps offer ease of doing transactions along with multiple other benefits to users without letting them move anywhere. Now and then, countless fintech apps are springing up in the market. 
You must choose from the types of fintech apps that align with your business's goal and target audience. Once you have decided on the type of financial app, you should hire a fintech app development company. Among the top firms, Trank Technologies is a reliable IT solution partner carrying 10+ years of experience in mobile app design and development. We offer a personalized approach and streamlined client support. We cater to an array of clientele with fintech app development services for trading, investment, lending, and supply chain mobile applications.